Abstract
Background
Experimental experience and the technological evolution of minimally invasive surgical devices have allowed initial reports describing the clinical applicability of natural orifice translumenal endoscopic surgery (NOTES). Colorectal resections are an interesting target for the NOTES platform. Theoretically, the transrectal approach could overcome the proposed limitations of transvaginal access, increasing NOTES clinical applicability. Hybrid procedures such as minilaparoscopy-assisted natural orifice surgery (MA-NOS) are the safe progression to pure NOTES. This report describes the first clinical case of a transrectal MA-NOS total colectomy.
Methods
The patient was a 36-year-old man with severe ulcerative colitis (UC) who experienced failure of immunosuppressive therapy. The standard steps of laparoscopic total colectomy were respected, with basic triangulation maintained throughout the case. A transrectal endoscopic device was used for optic assistance, colon dissection, ileum section, and specimen retrieval. Transrectal MA-NOS total colectomy was assisted by three laparoscopic ports: a 12-mm port used as the terminal ileostomy site, a 2-mm needle epigastric port, and a 5-mm umbilical port used as a drain site at the final intervention. No intraoperative complications occurred.
Results
The total operative time was 240 min. Oral intake was initiated on postoperative day 2. Because of UC rectal activity, a course with azathioprine was completed, and the patient was discharged receiving 1 g of rectal mesalazine for maintenance. The final pathology demonstrated pancolonic inflammatory bowel disease in the form of UC with severe activity.
Conclusions
Transrectal MA-NOS total colectomy was feasible and safe in the reported case. Improvement in NOTES instrumentation and selective clinical applications are mandatory before clinical trials.
This is a preview of subscription content, log in to check access.
Access options
Buy single article
Instant access to the full article PDF.
US$ 39.95
Price includes VAT for USA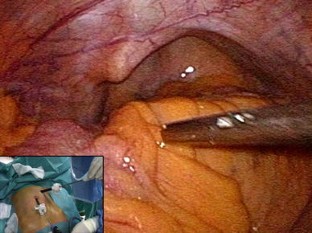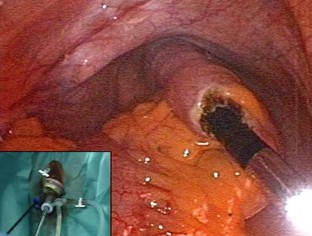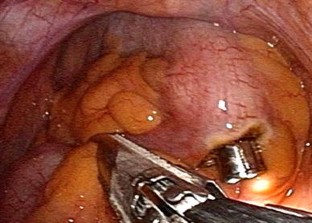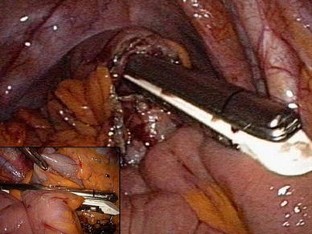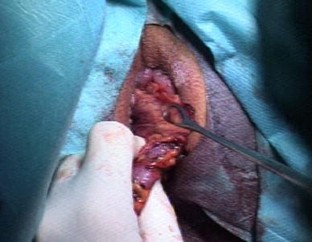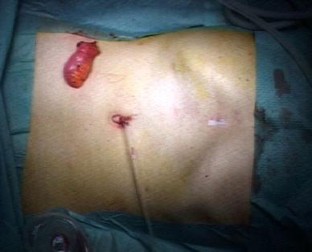 References
1.

Della Flora E, Wilson TG, Martin IJ, O'Rourke NA, Maddern GJ (2008) A review of natural orifice translumenal endoscopic surgery (NOTES) for intra-abdominal surgery: experimental models, techniques, and applicability to the clinical setting. Ann Surg 247:583–602

2.

Horgan S, Cullen JP, Talamini MA, Mintz Y, Ferreres A, Jacobsen GR, Sandler B, Bosia J, Savides T, Easter DW, Savu MK, Ramamoorthy SL, Whitcomb E, Agarwal S, Lukacz E, Dominguez G, Ferraina P (2009) Natural orifice surgery: initial clinical experience. Surg Endosc 23:1512–1518

3.

Lacy AM, Delgado S, Rojas OA, Almenara R, Blasi A, Llach J (2008) MA-NOS radical sigmoidectomy: report of a transvaginal resection in the human. Surg Endosc 22:1717–1723

4.

Lacy AM, Delgado S, Rojas OA, Ibarzabal A, Fernández G, Taura P (2009) Hybrid vaginal MA-NOS sleeve gastrectomy: technical note on the procedure in a patient. Surg Endosc 23:1130–1137

5.

Fong DG, Pai RD, Thompson CC (2007) Transcolonic endoscopic abdominal exploration: a NOTES survival study in a porcine model. Gastrointest Endosc 65:312–318

6.

Tsai BM, Finne CO, Nordenstam JF, Christoforidis D, Madoff RD, Mellgren A (2010) Transanal endoscopic microsurgery resection of rectal tumors: outcome and recommendations. Dis Colon Rectum 53:16–23

7.

Sylla P, Rattner DW, Delgado S, Lacy AM (2010) NOTES transanal rectal cancer resection using transanal endoscopic microsurgery and laparoscopic assistance. Surg Endosc 24:1205–1210

8.

Kornbluth A, Sachar DB (2004) Ulcerative colitis practice guidelines in adults (update): American college of gastroenterology, practice parameters committee. Am J Gastroenterol 99:1371–1385

9.

Telem DA, Vine AJ, Swain G, Divino CM, Salky B, Greenstein AJ, Harris M, Katz LB (2010) Laparoscopic subtotal colectomy for medically refractory ulcerative colitis: the time has come. Surg Endosc 24:1616–1620

10.

Mattioli G, Pini-Prato A, Barabino A, Gandullia P, Avanzini S, Guida E, Rossi V, Pio L, Disma N, Mameli L, Mirta DR, Montobbio G, Jasonni V (2011) Laparoscopic approach for children with inflammatory bowel diseases. Pediatr Surg Int 27:839–846
Acknowledgements
Disclosures
Antonio M. Lacy is a consultant for Covidien and Olympus Medical. David Saavedra-Perez, Cedric Adelsdorfer, Raquel Bravo, Montserrat Aceituno, and Jaume Balust have no conflicts of interest or financial ties to disclose.
About this article
Cite this article
Lacy, A.M., Saavedra-Perez, D., Bravo, R. et al. Minilaparoscopy-assisted natural orifice total colectomy: technical report of a minilaparoscopy-assisted transrectal resection. Surg Endosc 26, 2080–2085 (2012). https://doi.org/10.1007/s00464-011-2117-z
Received:

Accepted:

Published:

Issue Date:
Keywords
MANOS

Minilaparoscopy

NOTES

Total colectomy

Transrectal

Ulcerative colitis