Abstract
Background
Reconstruction of esophageal defects has challenged reconstructive surgeons for a long time. Problems that affect the continuity of the orogastic tract influence the patient's quality of life and general health. Bare free fascial flaps are used to restore soft tissue defects of the oral cavity because they provide thin, pliable tissues with a high capacity for epithelialization to preserve the local anatomy. An experimental study was planned to investigate reconstruction of anterior cervical esophageal defects using a pedicled dorsal thoracic fascial flap.
Methods
Eight hybrid dogs were used in the study. All operations were planned in three steps and performed with the animals under general anesthesia. For the two-layered reconstruction, the bare dorsal thoracic fascial flap was harvested and adapted like a patch to the defect.
Results
No partial or total flap loss was observed. On postoperative day 20 surgery, a complete epithelial lining on the same plane as the esophageal mucosa was observed over the flap tissue. A 4- to 5-mm longitudinal scar that did not form even a minimal stricture in any dog also was observed. No significant changes from postoperative day 20 to postoperative days 40 and 60 were observed.
Conclusion
Bare fascial flaps in the oral cavity heal with spontaneous epithelialization and with no need for skin and mucosal grafts. Fascial flaps are easy to harvest and do not cause any functional loss because they are nonfunctional units. Their thin constitution helps the surgeon to shape the tissue and even form tubed flaps.
This is a preview of subscription content, log in to check access.
Access options
Buy single article
Instant access to the full article PDF.
US$ 39.95
Price includes VAT for USA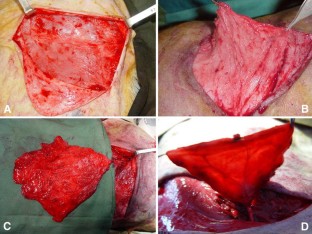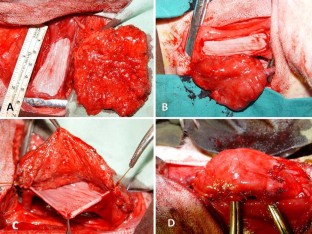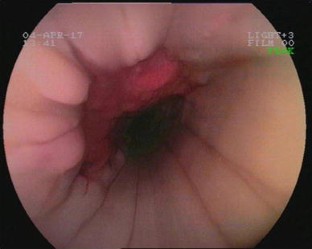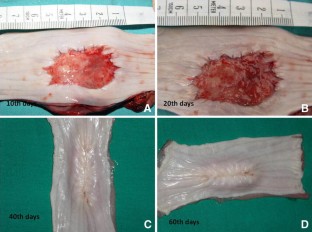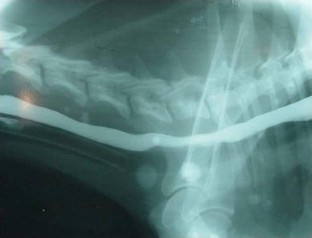 References
1.

Chen HC, Tang YB (2000) Microsurgical reconstruction of the esophagus. Semin Surg Oncol 19:235–245

2.

Li KK, Salibian AH, Allison GR, Krugman ME, Armstrong M, Wong B, Kelly T (1998) Pharyngoesophageal reconstruction with the ulnar forearm flap. Arch Otolaryngol Head Neck Surg 124:1146–1151

3.

Chen H, Kuo Y, Hwang T, Chen H, Chang C, Tang Y (1999) Microvascular prefabricated free skin flaps for esophageal reconstruction in difficult patients. Ann Thorac Surg 67:911–916

4.

Rand RP, Lin YP, Wood ED (2001) Total esophageal reconstruction using a tubed parascapular free flap. Ann Thorac Surg 72:267–270

5.

Nakatsuka T, Harii K, Asato H, Ebihara S, Saikawa M (1999) Reconstruction of the cervical esophagus with a free inferior rectus abdominis flap. J Reconst Microsurg 15:509–513

6.

Ugurlu K, Huthut I, Ozelick D, Ozer K, Sakız D, Yıldız K, Bas L (2004) Epithelialization process of free fascial flaps used in reconstruction of oral cavity mucosa defects in dogs. Plast Reconstr Surg 113:915–923

7.

Genden EM, Kaufman MR, Katz B, Vine A, Urken ML (2001) Tubed gastro-omental free flap for pharyngoesophageal reconstruction. Arch Otolaryngol Head Neck Surg 127:847–853

8.

Azizadeh B, Yafai S, Rawnsley D, Abemayor E, Sercarz JA, Calcaterra TC, Berke GS, Blackwell KE (2001) Radial forearm free flap for pharyngoesophageal reconstruction. Laryngoscope 111:807–810

9.

Varvares MA, Cheney ML, Gliklich R, Boyd JM, Goldsmith T, Lazor J, Baron JCM, Montgomery WW (2001) Use of the radial forearm fasciocutaneous free flap and Montgomery salivary bypass tube for pharyngoesophageal reconstruction. Head Neck Surg 8:463–468

10.

Jovan R, Srdja D, Ljiljana S (1996) Subaponeurotic connective tissue: A safe way to reconstruct facial and oropharyngeal defects. J Craniomaxillofac Surg 24:276–280

11.

Samman N, Cheung DLK, Tideman H (1993) The buccal fat pad in oral reconstruction. Int J Oral Maxillofac Surg 22:2–6

12.

Kim PS, Gottlieb JR, Harris GD, Nagle DJ, Lewis VL (1987) The dorsal thoracic fascia: anatomic significance with clinical applications in the reconstructive microsurgery. Plast Reconstr Surg 79:72–80

13.

Fassio E, Ugurlu K, Goga D, Ballon G (1999) Reconstruction of a mandibular and maxillary defect with a biscapular bifascial flap as a single transplant. J Oral Maxillofac Surg 57:1134–1137

14.

Elshal EE, Inokuchi T, Yoshida S (1998) A comparative study of epithelialization of subcutaneous fascial flaps and muscle-only flaps in the oral cavity: a rabbit model. Int J Oral Maxillofac Surg 27:141–148

15.

Cheung LK (1997) The epithelialization process in the healing temporalis myofascial flap in oral reconstruction. Int J Oral Maxillofac Surg 26:303–309
Disclosures
Kemal Ugurlu, Tamer Karsidag, Ilkay Huthut, Semra Karsidag, Kürsat Ozer, Bulent Sacak, and Arzu Akcal have no conflicts of interest or financial ties to disclose.
About this article
Cite this article
Ugurlu, K., Karsidag, T., Huthut, I. et al. Bare dorsal thoracic fascial flap for esophageal defects: an experimental study with dogs. Surg Endosc 26, 1682–1689 (2012). https://doi.org/10.1007/s00464-011-2093-3
Received:

Accepted:

Published:

Issue Date:
Keywords
Bare dorsal thoracic fascial flap

Epithelialization

dEsophageal defect