Abstract
Background
Fully covered esophageal self-expandable metallic stents (SEMS) often are used for palliation of malignant dysphagia. However, experience and data on these stents are still limited. The purpose of this multicenter study was to evaluate the efficacy and safety of fully covered nitinol SEMS in patients with malignant dysphagia.
Methods
37 patients underwent placement of a SEMS during a 3 year period. Five patients underwent SEMS placement as a bridge to surgery: one for tracheoesophageal fistula in the setting of squamous cell carcinoma of the esophagus, one for perforation in setting of esophageal adenocarcinoma, 27 for unresectable esophageal cancer (16 adenocarcinoma, 11 squamous cell carcinoma), two for lung cancer, and one for breast-cancer-related esophageal strictures.
Results
SEMS placement was successful in all 37 patients. Immediate complications after stent deployment included chest pain (n = 6), severe heartburn (n = 1), and upper gastrointestinal bleeding requiring SEMS revision (n = 1). Dysphagia scores improved significantly from 3.2 ± 0.4 before stent placement to 1.4 ± 1.0 at 1 month (P < 0.0001), 1.1 ± 1.2 (P < 0.0001) at 3 months, and 1.3 ± 1.4 (P = 0.0018) at 6 months. The stent was removed in 11 patients (30%) for the following indications: resolution of stricture (n = 3), stent malfunction (n = 5), and stent migration (n = 3). After stent removal, three patients were restented, three underwent dilation, and two underwent PEG placement. Mean survival for the 37 patients after stent placement was 146.3 ± 143.6 (range, 13–680) days.
Conclusions
Our study suggests that fully covered SEMS placement improve dysphagia scores in patients with malignant strictures, particularly in the unresectable population. Further technical improvements in design to minimize long-term malfunction and migration are required.
This is a preview of subscription content, log in to check access.
Access options
Buy single article
Instant access to the full article PDF.
US$ 39.95
Price includes VAT for USA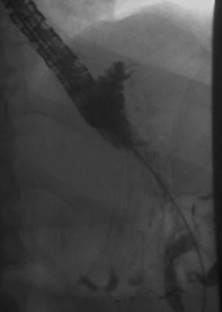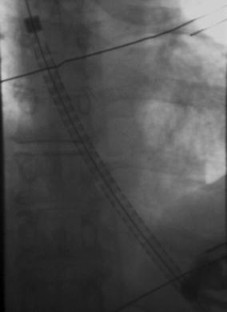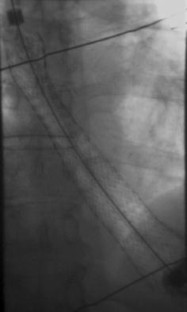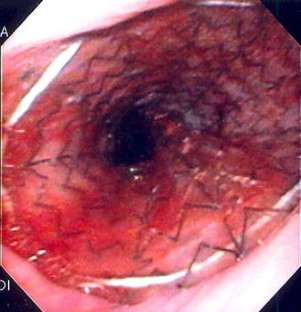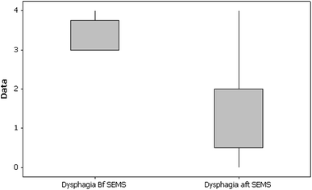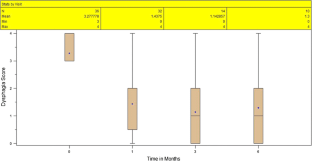 References
1.

Enzinger PC, Mayer RJ (2003) Esophageal cancer. N Engl J Med 349:2241–2252

2.

Sundelof M, Ye W, Dickman PW, Lagergren J (2002) Improved survival in both histologic types of oesophageal cancer in Sweden. Int J Cancer 99:751–754

3.

Berrino F, Gatta G, Chessa E, Valente F, Capocaccia R (1998) The EUROCARE II study. Eur J Cancer 34:2139–2153

4.

Wong R, Malthaner R (2000) Esophageal cancer: a systematic review. Curr Probl Cancer 24:297–373

5.

Watson A (1988) Surgery for carcinoma of the oesophagus. Postgrad Med J 64:860–864

6.

Earlam R, Cunha-Melo JR (1980) Oesophageal squamous cell carcinoma. I. A critical review of surgery. Br J Surg 67:381–390

7.

Knyrim K, Wagner H, Bethge N, Keymling M, Vakil N (1993) A controlled trial of an expansile metal stent for palliation of esophageal obstruction due to inoperable cancer. New Engl J Med 329:1302–1307

8.

Keller R, Flieger D, Fischbach W, Christl S (2007) Self-expanding metal stents for malignant esophagogastric obstruction: experience with a new design covered nitinol stent. J Gastrointest Liver Dis 16(3):239–243

9.

Karbowski M, Schembre D, Kozarek R, Ayub K, Low D (2008) Polyflex self-expanding, removable plastic stents: assessment of treatment efficacy and safety in a variety of benign and malignant conditions of the esophagus. Surg Endosc 22(5):1326–1333

10.

De Palma GD, Di Matteo E, Romano G, Fimmano A, Rondinone G, Catanzano C (1996) Plastic prosthesis versus expandable metal stents for palliation of inoperable esophageal thoracic carcinoma: a controlled prospective study. Gastrointest Endosc 43:478–482

11.

Siersema PD, Hop WC, Dees J, Tilanus HW, van Blankenstein M (1998) Coated self-expanding metal stents versus latex prostheses for esophagogastric cancer with special reference to prior radiation and chemotherapy: a controlled prospective study. Gastrointest Endosc 47:113–120

12.

Elphick DA, Smith BA, Bagshaw J, Riley SA (2005) Self-expanding metal stents in the palliation of malignant dysphagia: outcome analysis in 100 consecutive patients. Dis Esophagus 18:93–95

13.

Vakil N, Morris AI, Marcon N, Segalin A, Peracchia A, Bethge N, Zuccaro G, Bosco JJ, Jones WF (2001) A prospective, randomized, controlled trial of covered expandable metal stents in the palliation of covered expandable metal stents in the palliation of malignant esophageal obstruction at the gastroesophageal junction. Am J Gastroenterol 96:1791–1796

14.

Siersema PD, Hop WC, van Blankenstein M, van Tilburg AJ, Bac DJ, Homs MY, Kuipers EJ (2001) A comparison of 3 types of covered metal stents for the palliation of patients with dysphagia caused by esophagogastric carcinoma: a prospective, randomized study. Gastrointest Endosc 54:145–153

15.

Sabharwal T, Hamady MS, Chui S, Atkinson S, Mason R, Adam A (2003) A randomized prospective comparison of the Flamingo Wallstent and Ultraflex stent for palliation of dysphagia associated with lower third oesophageal carcinoma. Gut 52:922–926

16.

Homs MY, Steyerberg EW, Kuipers EJ, van der Gaast A, Haringsma J, van Blankenstein M, Siersema PD (2004) Causes and treatment for recurrent dysphagia after self-expanding metal stent placement for palliation of esophageal carcinoma. Endoscopy 36:880–886

17.

Siersema PD (2008) Treatment options for esophageal strictures. Nat Clin Pract Gastroenterol Hepatol 5(3):142–152

18.

Conigliaro R, Battaglia G, Repici A, De Pretis G, Ghezzo L, Bittinger M, Messmann H, Demarquay JF, Togni M, Blanchi S, Filiberti R, Conio M (2007) Polyflex stents for malignant oesophageal and oesophagogastric stricture: a prospective, multicentric study. Eur J Gastroenterol Hepatol 19:195–203

19.

Szegedi L, Gál I, Kósa I, Kiss GG (2006) Palliative treatment of esophageal carcinoma with self-expanding plastic stents: a report on 69 cases. Eur J Gastroenterol Hepatol 18:1197–1201

20.

Verschuur EM, Repici A, Kuipers EJ, Steyerberg EW, Siersema PD (2008) New design esophageal stents for the palliation of dysphagia from esophageal or gastric cardia cancer: a randomized trial. Am J Gastroenterol 103(2):304–312

21.

Conio M, Repici A, Battaglia G, De Pretis G, Ghezzo L, Bittinger M, Messman H, Demarquay J, Blanchi S, Togni M, Coniglario R, Filiberti R (2007) A randomized prospective comparison of self-expandable plastic stents and partially covered self-expandable metal stents in the palliation of malignant esophageal dysphagia. Am J Gastroenterol 102:2667–2677

22.

Dua KS (2007) Stents for palliating malignant dysphagia and fistula: Is the paradigm shifting? Gastrointest Endosc 65:77–81

23.

Uitdehaag MJ, van Hooft JE, Verschuur EM, Repici A, Steyerberg EW, Fockens P, Kuipers EJ, Siersema PD (2009) A fully-covered stent (Alimaxx-E) for the palliation of malignant dysphagia: a prospective follow-up study. Gastrointest Endosc 70(6):1082–1089 Epub 2009 Jul 28

24.

Eloubeidi MA, Lopes TL (2009) Novel removable internally fully covered self-expanding metal esophageal stent: feasibility, technique of removal, and tissue response in humans. Am J Gastroenterol 104(6):1374–1381

25.

Lopes TL, Eloubeidi MA (2010) A pilot study of fully covered self-expandable metal stents prior to neoadjuvant therapy for locally advanced esophageal cancer. Dis Esophagus 23(4):309–315 Epub 2009 Sep 24
Disclosures
Dr. Eloubeidi has received speaker honoraria from Merritt Endotek and is a consultant to Boston Scientific, Merritt Endotek, and Olympus Medical. Dr. Shami is consultant for Olympus Medical. Dr. Kahaleh has received grant support from Boston Scientific, Fujinon, Emcison, and Mi Tech and is a consultant for Boston Scientific and XLumina. Dr. Talreja, Dr. Lopez, Dr. Al-Awabdy, and Dr. Sauer have no conflicts of interest or financial ties to disclose.
About this article
Cite this article
Talreja, J.P., Eloubeidi, M.A., Sauer, B.G. et al. Fully covered removable nitinol self-expandable metal stents (SEMS) in malignant strictures of the esophagus: a multicenter analysis. Surg Endosc 26, 1664–1669 (2012). https://doi.org/10.1007/s00464-011-2089-z
Received:

Accepted:

Published:

Issue Date:
Keywords
Esophageal cancer

Esophageal stent

Self-expanding metal stent