Abstract
Background
Adipose tissue is the most abundant endocrine tissue in the body, producing leptin, a hormone important in regulating hunger, and adiponectin, a hormone involved in insulin sensitivity and inflammation. This study aimed to assess the impact of gastric bypass surgery (GBS) on leptin levels and its relation to the adipose tissue expression of adiponectin.
Methods
Omental and subcutaneous adipose tissue and serum were obtained from 40 obese patients undergoing GBS, from 13 patients 1 year or more after GBS, and from 16 non-obese individuals with a body mass index of 20 to 29 kg/m2. Adiponectin gene expression was measured by quantitative real-time polymerase chain reaction, and the gene expression was normalized for the GAPDH gene. Serum leptin and adiponectin were measured by a high-sensitivity enzymatic assay.
Results
Leptin levels were significantly lower in the post-GBS patients (19.8 ± 6.7) than in the pre-GBS patients (59.0 ± 5.1; P = 0.0001), and similar to those in the non-obese control subjects (18.2 ± 4; P = 0.8). Univariate analysis showed an inverse correlation between serum leptin levels and omental adiponectin gene expression (r = −0.32; P = 0.01).
Conclusions
Gastric bypass surgery results in resolution of the leptin resistance status that characterizes obese subjects. The study also demonstrated a significant correlation between leptin and adiponectin. This correlation provides preliminary evidence for studying a potential adiponectin–leptin cross-talking that may represent one of the physiologic pathways responsible for the regulation of food intake in humans.
This is a preview of subscription content, log in to check access.
Access options
Buy single article
Instant access to the full article PDF.
US$ 39.95
Price includes VAT for USA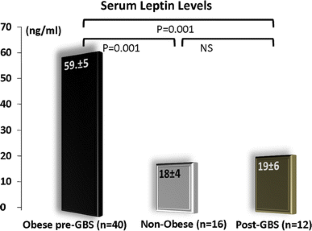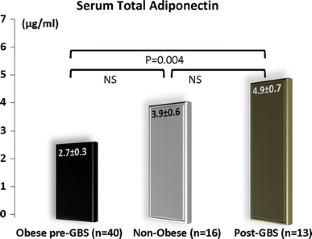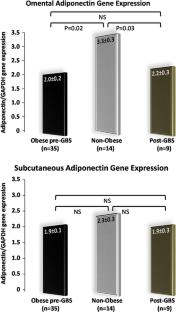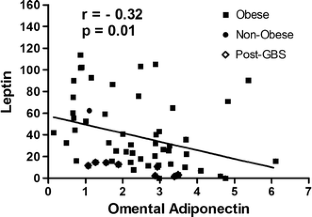 References
1.

Trujillo ME, Scherer PE (2006) Adipose tissue-derived factors: impact on health and disease. Endocr Rev 27:762–778

2.

Farooqi S, O'Rahilly S (2006) Genetics of obesity in humans. Endocr Rev 27:710–718

3.

Kadowaki T, Yamauchi T (2005) Adiponectin and adiponectin receptors. Endocr Rev 26:439–451

4.

Fain JN, Buehrer B, Tichansky DS, Madan AK (2008) Regulation of adiponectin release and demonstration of adiponectin mRNA as well as release by the nonfat cells of human omental adipose tissue. Int J Obes Lond 32:429–435

5.

Minokoshi Y, Alquier T, Furukawa N, Kim YB, Lee A, Xue B, Mu J, Foufelle F, Ferre P, Birnbaum MJ, Stuck BJ, Kahn BB (2004) AMP-kinase regulates food intake by responding to hormonal and nutrient signals in the hypothalamus. Nature 428:569–574

6.

Kubota N, Yano W, Kubota T, Yamauchi T, Itoh S, Kumagai H, Kozono H, Takamoto I, Okamoto S, Shiuchi T, Suzuki R, Satoh H, Tsuchida A, Moroi M, Sugi K, Noda T, Ebinuma H, Ueta Y, Kondo T, Araki E, Ezaki O, Nagai R, Tobe K, Terauchi Y, Ueki K, Minokoshi Y, Kadowaki T (2007) Adiponectin stimulates AMP-activated protein kinase in the hypothalamus and increases food intake. Cell Metab 6:55–68

7.

Modan-Moses D, Stein D, Pariente C, Yaroslavsky A, Ram A, Faigin M, Loewenthal R, Yissachar E, Hemi R, Kanety H (2007) Modulation of adiponectin and leptin during refeeding of female anorexia nervosa patients. J Clin Endocrinol Metab 92:1843–1847

8.

Kershaw EE, Flier JS (2004) Adipose tissue as an endocrine organ. J Clin Endocrinol Metab 89:2548–2556

9.

Fain JN, Madan AK, Hiler ML, Cheema P, Bahouth SW (2004) Comparison of the release of adipokines by adipose tissue, adipose tissue matrix, and adipocytes from visceral and subcutaneous abdominal adipose tissues of obese humans. Endocrinology 145:2273–2282

10.

Kalra SP, Dube MG, Pu S, Xu B, Horvath TL, Kalra PS (1999) Interacting appetite-regulating pathways in the hypothalamic regulation of body weight. Endocr Rev 20:68–100

11.

Dridi S, Taouis M (2009) Adiponectin and energy homeostasis: consensus and controversy. J Nutr Biochem 20:831–839

12.

Yamauchi T, Kamon J, Minokoshi Y, Ito Y, Waki H, Uchida S, Yamashita S, Noda M, Kita S, Ueki K, Eto K, Akanuma Y, Froguel P, Foufelle F, Ferre P, Carling D, Kimura S, Nagai R, Kahn BB, Kadowaki T (2002) Adiponectin stimulates glucose utilization and fatty-acid oxidation by activating AMP-activated protein kinase. Nat Med 8:1288–1295

13.

Coope A, Milanski M, Araujo EP, Tambascia M, Saad MJ, Geloneze B, Velloso LA (2008) AdipoR1 mediates the anorexigenic and insulin/leptin-like actions of adiponectin in the hypothalamus. FEBS Lett 582:1471–1476

14.

Saito K, Arata S, Hosono T, Sano Y, Takahashi K, Choi-Miura NH, Nakano Y, Tobe T, Tomita M (2006) Adiponectin plays an important role in efficient energy usage under energy shortage. Biochim Biophys Acta 1761:709–716

15.

Korner J, Inabnet W, Febres G, Conwell IM, McMahon DJ, Salas R, Taveras C, Schrope B, Bessler M (2009) Prospective study of gut hormone and metabolic changes after adjustable gastric banding and Roux-en-Y gastric bypass. Int J Obes Lond 33:786–795

16.

Vila G, Riedl M, Maier C, Struck J, Morgenthaler NG, Handisurya A, Prager G, Ludvik B, Clodi M, Luger A (2009) Plasma MR-proADM correlates to BMI and decreases in relation to leptin after gastric bypass surgery. Obes Silver Spring 17:1184–1188

17.

Joao Cabrera E, Valezi AC, Delfino VD, Lavado EL, Barbosa DS (2009) Reduction in plasma levels of inflammatory and oxidative stress indicators after Roux-en-Y gastric bypass. Obes Surg 20:42–49

18.

Swarbrick MM, Stanhope KL, Austrheim-Smith IT, Van Loan MD, Ali MR, Wolfe BM, Havel PJ (2008) Longitudinal changes in pancreatic and adipocyte hormones following Roux-en-Y gastric bypass surgery. Diabetologia 51:1901–1911

19.

Garcia de la Torre N, Rubio MA, Bordiu E, Cabrerizo L, Aparicio E, Hernandez C, Sanchez-Pernaute A, Diez-Valladares L, Torres AJ, Puente M, Charro AL (2008) Effects of weight loss after bariatric surgery for morbid obesity on vascular endothelial growth factor-A, adipocytokines, and insulin. J Clin Endocrinol Metab 93:4276–4281

20.

Savu MK, Phillips SA, Oh DK, Park K, Gerlan C, Ciaraldi TP, Henry RR (2009) Response of adiponectin and its receptors to changes in metabolic state after gastric bypass surgery: dissociation between adipose tissue expression and circulating levels. Surg Obes Relat Dis 5:172–180

21.

Engl J, Bobbert T, Ciardi C, Laimer M, Tatarczyk T, Kaser S, Weiss H, Molnar C, Tilg H, Patsch JR, Spranger J, Ebenbichler CF (2007) Effects of pronounced weight loss on adiponectin oligomer composition and metabolic parameters. Obesity Silver Spring 15:1172–1178

22.

Swarbrick MM, Austrheim-Smith IT, Stanhope KL, Van Loan MD, Ali MR, Wolfe BM, Havel PJ (2006) Circulating concentrations of high-molecular-weight adiponectin are increased following Roux-en-Y gastric bypass surgery. Diabetologia 49:2552–2558

23.

Coughlin CC, Finck BN, Eagon JC, Halpin VJ, Magkos F, Mohammed BS, Klein S (2007) Effect of marked weight loss on adiponectin gene expression and plasma concentrations. Obesity Silver Spring 15:640–645

24.

Guijarro A, Kirchner H, Meguid MM (2006) Catabolic effects of gastric bypass in a diet-induced obese rat model. Curr Opin Clin Nutr Metab Care 9:423–435
Acknowledgment
The authors thank Dr. Sarah Evans for her comments on earlier versions of this article. The study was supported by a National Institutes of Health Grant (K23DK075907 (to A.T.).
Disclosures
Alfonso Torquati receives an honorarium from Cinemed and Allergan and research funding from Covidien. Jiegen Chen, Zehra Pamuklar, and Anna Spagnoli have no conflicts of interest or financial ties to disclose.
About this article
Cite this article
Chen, J., Pamuklar, Z., Spagnoli, A. et al. Serum leptin levels are inversely correlated with omental gene expression of adiponectin and markedly decreased after gastric bypass surgery. Surg Endosc 26, 1476–1480 (2012). https://doi.org/10.1007/s00464-011-2059-5
Received:

Accepted:

Published:

Issue Date:
Keywords
Adiponectin

Adipose tissue

Bariatric surgery

Gastric bypass surgery

Leptin

Visceral fat