Abstract
Background
Thoracoscopic bilateral sympathicolysis of the T3 sympathetic ganglia is an effective treatment for palmar hyperhidrosis, though not without potential complications and consequences such as Horner's syndrome. The objective of our study is to evaluate the repercussion of T3 sympathetic denervation on pupillary tone in patients with primary hyperhidrosis.
Methods
A prospective descriptive study of 25 patients (50 pupils) ranging in age from 18 to 40 years with an indication of T3 sympathectomy for palmar hyperhidrosis or palmar–plantar hyperhidrosis from 1 December 2009 to 31 December 2010 was carried out. We excluded all patients with previous eye surgery or other ocular pathologies and those with pathologies that contraindicate denervation surgery and ocular study. All patients were evaluated before surgery and at 24 h and 1 month after sympathetic denervation. Pupil/iris (P/I) ratio was measured before and after instillation of sympathicomimetic eye drops containing 1% apraclonidine.
Results
No statistically significant differences were found when we compared the preoperative P/I ratio of the left eyes versus the right eyes (P = 0.917). We found statistically significant differences (P < 0.001) between the preoperative P/I ratio [0.40 mm (standard deviation, SD 0.07 mm)] and the postoperative basal ratio [0.33 (SD 0.05)] at 24 h. The P/I ratio at 24 h increased from 0.33 to 0.36 (SD 0.09), a nonsignificant increase (P = 0.45), after instillation of medicated eye drops. No differences were observed between the preoperative [0.40 (SD 0.07)] and 1-month basal values [0.38 (SD 0.07)], and instillation of apraclonidine no longer induced a hypersensitivity response.
Conclusions
T3 sympathectomy leads to subclinical pupillary dysfunction with a tendency for miosis, even though this impairment is not generally evident on standard physical examination or reported by patients. This subclinical dysfunction may be caused by injury to an undefined group of presympathetic nerve cell axons in caudocranial direction that communicate with the cervical sympathetic ganglia and whose function is mydriatic pupillary innervation.
This is a preview of subscription content, log in to check access.
Access options
Buy single article
Instant access to the full article PDF.
US$ 39.95
Price includes VAT for USA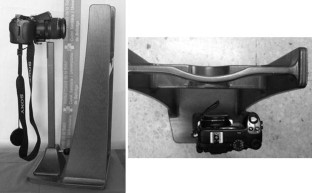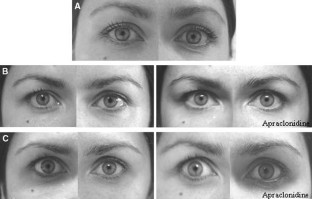 References
1.

Gossot D, Galeta D, Pascal A, Debrosse D, Caliandro R, Girard P, Stern JB, Grunenwald D (2003) Long-term of endoscopic thoracic sympathectomy for upper limb hyperhidrosis. Ann Thorac Surg 75:1075–1079

2.

Moya J, Ramos R, Morera R, Villalonga R, Perna V, Macia I, Ferrer G (2006) Thoracic sympathicolysis for primary hyperhidrosis. Surg Endosc 20:598–602

3.

Moya J, Ramos R, Morera R, Villalonga R, Perna V, Macia I, Ferrer G (2006) Results of high bilateral endoscopic thoracic sympathectomy and sympatholysis in the treatment of primary hyperhidrosis: a study of 1016 procedures. Arch Bronconeumol 42(5):230–234

4.

Ramos R, Moya J, Macia I, Morera R, Escobar I, Perna V, Rivas F, Masuet C, Saumench J, Villalonga R (2007) Anatomical redistribution of sweating after T2–T3 thoracoscopic sympathicolysis. A study of 210 patients. Surg Endosc 21(11):2030–2033

5.

Miller DL, Bryant AS, Force SD, Miller JI (2009) Effect of sympathectomy level on the incidence of compensatory hyperhidrosis after sympathectomy for palmar hyperhidrosis. J Thorac Cardiovasc Surg 138:581–585

6.

Weksler B, Blaine G, Souza ZB, Gavina R (2009) Transection of more than one sympathetic chain ganglion for hyperhidrosis increases the severity of compensatory hyperhidrosis and decreases patient satisfaction. J Surg Res 156:110–115

7.

Lin TS, Chou MC (2004) Treatment of palmar hyperhidrosis using needlescopic T2 sympathetic block by clipping: analysis of 102 cases. Int Surg 89(4):198–201

8.

Reisfeld R (2006) Sympathectomy for hyperhidrosis: should we place the clamps at T2–T3 or T3–T4? Clin Auton Res 16:384–389

9.

Sugimura H, Spratt EH, Compeau CG, Kattail D, Shargall Y (2009) Thoracoscopic sympathetic clipping for hyperhidrosis: long-term results and reversibility. J Thorac Cardiovasc Surg 137:1370–1376

10.

Moya J, Ramos R, Vives N, Pérez J, Morera R, Perna V, Villalonga R, Ferrer G (2004) Compensatory sweating after upper thoracic sympathectomy. Prospective study of 123 cases. Arch Bronconeumol 40(8):360–363

11.

Chou SH, Kao EL, Lin CC, Chang YT, Huang MF (2006) The importance of classification in sympathetic surgery and a proposed mechanism for compensatory hyperhidrosis: experience with 464 cases. Surg Endosc 20:1749–1753

12.

Oliveira HA, Ximenes MIII, Fiho FB, Carvalho PH, Gamafilho JB, Parra ER, Capelozzi VL, de Campos JRM (2009) Experimental selective sympathicotomy (ramicotomy) and sympathetic regeneration. Interact Cardiovasc Thorac Surg 9:411–415

13.

Adar R (1994) Surgical treatment of plantar hyperhidrosis before thoracoscopy: experience with 475 patients. Eur J Surg 572:9–11

14.

Doolabh N, Horswell S, Williams M, Huber L, Prince S, Meyer DM, Mack MJ (2004) Thoracoscopic sympathectomy for hyperhidrosis: indications and results. Ann Thorac Surg 77:410–414

15.

Neumayer CH, Bischof G, Fugger R, Imhof M, Jakesz R, Plas EG, Herbst FR, Zacherl J (2001) Efficacy and safety of thoracoscopic sympathectomy for hyperhidrosis of the upper limb: results of 734 sympathectomies. Ann Chir Gynaecol 90:195–199

16.

Lin TS, Fang HY (2000) Transthoracic endoscopic sympathectomy in the treatment of palmar hyperhidrosis with emphasis on perioperative management (1360 case analyses). Surg Neurol 52:453–457

17.

Koc F, Kavuncu S, Kansu T, Acaroglu G, Firat E (2005) The sensitivity and specificity of 0.5% apraclonidine in the diagnosis of oculosympathetic paresis. Br J Ophthalmol 89:1442–1444

18.

Lebas M, Seror J, Debroucker T (2010) Positive apraclonidine test 36 hours after acute onset of horner syndrome in dorsolateral pontomedullary stroke. J Neuro Ophthalmol 30:12–17

19.

Ramos R, Moya J, Morera R, Masuet C, Perna V, Macia I, Escobar I, Villalonga R (2006) An assessment of anxiety in patients with primary hyperhidrosis before and after endoscopic thoracic sympathicolysis. Eur J Cardiothorac Surg 30(2):228–231

20.

Li X, Tu YR, Lin M, Lai FC, Chen JF, Dai ZJ (2008) Endoscopic thoracic sympathectomy for palmar hyperhidrosis: a randomized control trial comparing T3 and T2–T4 ablation. Ann Thorac Surg 85:1747–1751

21.

Liu Y, Yang J, Liu J, Yang F, Jiang G, Li J, Huang Y, Wang J (2009) Surgical treatment of primary palmar hyperhidrosis: a prospective randomized study comparing T3 and T4 sympathicotomy. Eur J Cardiothorac Surg 35:398–402

22.

Scognamillo F, Serventi F, Attene F, Torre C, Paliogiannis P, Pala C, Trignano E, Trignano M (2011) T2–T4 sympathectomy versus T3–T4 sympathicotomy for palmar and axillary hyperhidrosis. Clin Auton Res 21(2):97–102

23.

Ishy A, de Campos JR, Wolosker N, Kauffman P, Tedde ML, Chiavoni CR, Jatene FB (2011) Objective evaluation of patients with palmar hyperhidrosis submitted to two levels of sympathectomy: T3 and T4. Interact Cardiovasc Thorac Surg 12(4):545–549

24.

Gossot D, Kabiri H, Caliandro R, Debrosse D, Girard P, Grunenwald D (2001) Early complications of thoracic endoscopic sympathectomy: a prospective study of 940 procedures. Ann Thorac Surg 71:1116–1119

25.

Watson C, Vijayan N (1995) The sympathetic innervation of eyes and face: a clinicoanatomic review. Clin Anat 8:262–272

26.

Reeves A, Posner J (1969) The ciliospinal response in man. Neurology 19:1145–1152

27.

Freedman KA, Brown SM (2005) Topical apraclonidine in the diagnosis of suspected Horner syndrome. J Neuroophthalmol 25(2):83–85

28.

Thompson HS, Mensher JH (1971) Adrenergic mydriasis in Horner's syndrome. Hydroxyamphetamine test for diagnosis of postganglionic defects. Am J Ophthalmol 72:472–480

29.

Kao CC, Chen YL, Lin JY, Hsieh CS, Tsai JC (1996) Endoscopic sympathectomy treatment for craniofacial hyperhidrosis. Arch Surg 131:1091–1094

30.

Poole TR, Acheson JF, Smith SE, Steiger MJ (1997) Horner's syndrome due to herpes zoster in the T3–T4 dermatome. J R Soc Med 90(7):395–396
Disclosures
Authors Ramos, Ureña, Rivas, Macia, Rosado, Pequeño, Masuet, Badia, Miguel, Delgado, Escobar, and Moya have no conflicts of interest or financial ties to disclose.
About this article
Cite this article
Ramos, R., Ureña, A., Rivas, F. et al. Impact of T3 thoracoscopic sympathectomy on pupillary function: a cause of partial Horner's syndrome?. Surg Endosc 26, 1146–1152 (2012). https://doi.org/10.1007/s00464-011-2022-5
Received:

Accepted:

Published:

Issue Date:
Keywords
Thoracoscopy

Sympathicolysis

Hyperhidrosis

Horner's syndrome