Abstract
Background
Robotic colorectal surgery is gaining interest in general and colorectal surgery. The use of the da Vinci® Robotic system has been postulated to improve outcomes, primarily by increasing the dexterity and facility with which complex dissections can be performed. We report a large, single institution, comparative study of laparoscopic and robotic colectomies, attempting to better elucidate the benefits of robotic surgery in patients with colorectal disease.
Methods
We conducted a retrospective review of 171 patients who underwent robotic and laparoscopic colectomies (79 and 92, respectively) at our institution between November 2004 and November 2009. Patients in both groups had well-matched preoperative parameters. All cases were further subdivided by their anatomical location into right-sided and left-sided colectomy, and analysis was performed within these two subgroups. Perioperative outcomes reported include operative time, operative blood loss, time to return of bowel function, time to discontinuation of patient controlled analgesia, length of stay, and intraoperative or postoperative complications.
Results
Our results indicate that there is no statistical difference in length of stay, time to return of bowel function, and time to discontinuation of patient-controlled analgesia between robotic and laparoscopic left and right colectomies. Interestingly, the total procedure time difference between the laparoscopic and robotic colectomies was much smaller than previously published accounts (mean 140 min vs. 135 min for right colectomy; mean 168 min vs. 203 min for left colectomy).
Conclusions
Our study is one of the largest reviews of robotic colorectal surgery to date. We believe that our results further demonstrate the equivalence of robotic surgery to laparoscopic surgery in colorectal procedures. Future research should focus on surgeon-specific variables, such as comfort, ergonomics, distractibility, and ease of use, as other ways to potentially distinguish robotic from laparoscopic colorectal surgery.
This is a preview of subscription content, log in to check access.
Access options
Buy single article
Instant access to the full article PDF.
US$ 39.95
Price includes VAT for USA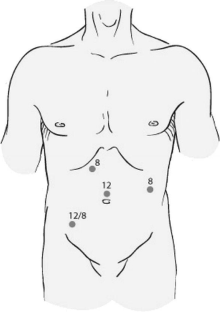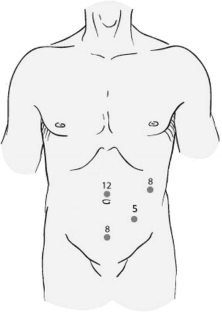 References
1.

Patel CB, Ragupathi M, Ramos-Valadez DI, Haas EM (2011) A three-arm (laparoscopic, hand-assisted, and robotic) matched-case analysis of intraoperative and postoperative outcomes in minimally invasive colorectal surgery. Dis Colon Rectum 54(2):144–150

2.

Rawlings AL, Woodland JH, Crawford DL (2006) Telerobotic surgery for right and sigmoid colectomies: 30 consecutive cases. Surg Endosc 20(11):1713–1718

3.

Hanly EJ, Talamini MA (2004) Robotic abdominal surgery [review]. Am J Surg 188(4A Suppl):19S–26S

4.

D'Annibale A, Morpurgo E, Fiscon V, Trevisan P, Sovernigo G, Orsini C, Guidolin D (2004) Robotic and laparoscopic surgery for treatment of colorectal diseases. Dis Colon Rectum 47(12):2162–2168

5.

Rawlings AL, Woodland JH, Vegunta RK, Crawford DL (2007) Robotic versus laparoscopic colectomy. Surg Endosc 21(10):1701–1708

6.

Delaney CP, Lynch AC, Senagore AJ, Fazio VW (2003) Comparison of robotically performed and traditional laparoscopic colorectal surgery. Dis Colon Rectum 46(12):1633–1639

7.

Anvari M, Birch DW, Bamehriz F, Gryfe R, Chapman T (2004) Robotic-assisted laparoscopic colorectal surgery. Surg Laparosc Endosc Percutan Tech 14(6):311–315

8.

DeNoto G, Rubach E, Ravikumar TS (2006) A standardized technique for robotically performed sigmoid colectomy. J Laparoendosc Adv Surg Tech A 16(6):551–556

9.

Spinoglio G, Summa M, Priora F, Quarati R, Testa S (2008) Robotic colorectal surgery: first 50 cases experience. Dis Colon Rectum 51(11):1627–1632

10.

Luca F, Cenciarelli S, Valvo M, Pozzi S, Faso FL, Ravizza D, Zampino G, Sonzogni A, Biffi R (2009) Full robotic left colon and rectal cancer resection: technique and early outcome. Ann Surg Oncol 16(5):1274–1278

11.

Bokhari MB, Patel CB, Ramos-Valadez DI, Ragupathi M, Haas EM (2011) Learning curve for robotic-assisted laparoscopic colorectal surgery. Surg Endosc 25(3):855–860

12.

Ragupathi M, Ramos-Valadez DI, Patel CB, Haas EM (2011) Robotic-assisted laparoscopic surgery for recurrent diverticulitis: experience in consecutive cases and a review of the literature. Surg Endosc 25(1):199–206

13.

D'Annibale A, Pernazza G, Morpurgo E, Monsellato I, Pende V, Lucandri G, Termini B, Orsini C, Sovernigo G (2010) Robotic right colon resection: evaluation of first 50 consecutive cases for malignant disease. Ann Surg Oncol 17(11):2856–2862

14.

Mirnezami AH, Mirnezami R, Venkatasubramaniam AK, Chandrakumaran K, Cecil TD, Moran BJ (2010) Robotic colorectal surgery: hype or new hope? A systematic review of robotics in colorectal surgery. Colorectal Dis 12(11):1084–1093

15.

deSouza AL, Prasad LM, Marecik SJ, Blumetti J, Park JJ, Zimmern A, Abcarian H (2010) Total mesorectal excision for rectal cancer: the potential advantage of robotic assistance. Dis Colon Rectum 53(12):1611–1617

16.

deSouza AL, Prasad LM, Park JJ, Marecik SJ, Blumetti J, Abcarian H (2010) Robotic assistance in right hemicolectomy: Is there a role? Dis Colon Rectum 53(7):1000–1006

17.

Huettner F, Dynda D, Ryan M, Doubet J, Crawford DL (2010) Robotic-assisted minimally invasive surgery; a useful tool in resident training–the Peoria experience, 2002–2009. Int J Med Robot 6(4):386–393

18.

Nguyen NT, Ho HS, Smith WD, Philipps C, Lewis C, De Vera RM, Berguer R (2001) An ergonomic evaluation of surgeons' axial skeletal and upper extremity movements during laparoscopic and open surgery. Am J Surg 182(6):720–724

19.

Stefanidis D, Wang F, Korndorffer JR Jr, Dunne JB, Scott DJ (2010) Robotic assistance improves intracorporeal suturing performance and safety in the operating room while decreasing operator workload. Surg Endosc 24(2):377–382

20.

Park A, Lee G, Seagull FJ, Meenaghan N, Dexter D (2010) Patients benefit while surgeons suffer: an impending epidemic. J Am Coll Surg 210(3):306–313

21.

Zimmern A, Prasad L, Desouza A, Marecik S, Park J, Abcarian H (2010) Robotic colon and rectal surgery: a series of 131 cases. World J Surg 34(8):1954–1958

22.

Ng KH, Lim YK, Ho KS, Ooi BS, Eu KW (2009) Robotic-assisted surgery for low rectal dissection: from better views to better outcome. Singapore Med J 50(8):763–767

23.

Wexner SD, Bergamaschi R, Lacy A, Udo J, Brölmann H, Kennedy RH, John H (2009) The current status of robotic pelvic surgery: results of a multinational interdisciplinary consensus conference. Surg Endosc 23(2):438–443

24.

Maeso S, Reza M, Mayol JA, Blasco JA, Guerra M, Andradas E, Plana MN (2010) Efficacy of the da Vinci surgical system in abdominal surgery compared with that of laparoscopy: a systematic review and meta-analysis. Ann Surg 252(2):254–262
Acknowledgment
The authors thank Myriam Kline, PhD, Department of Biostatistics, Janet Bernstein, Department of General Surgery, and Gerri Ogawa, Medical Records.
Disclosures
Dr. DeNoto is a consultant for Intuitive Surgical, Inc. and Covidien, Inc. and occasionally collects an honorarium for invited lectures. Dr. Deutsch, Dr. Anantha Sathyanarayana, Dr. Gunabushanam, Dr. Mishra, Dr. Rubach, Dr. Zemon, and Dr. Klein have no conflicts of interest or financial ties to disclose.
About this article
Cite this article
Deutsch, G.B., Sathyanarayana, S.A., Gunabushanam, V. et al. Robotic vs. laparoscopic colorectal surgery: an institutional experience. Surg Endosc 26, 956–963 (2012). https://doi.org/10.1007/s00464-011-1977-6
Received:

Accepted:

Published:

Issue Date:
Keywords
Robotic

Laparoscopic

Colectomy

Colorectal