Abstract
Background
Various techniques for endoscopic thyroidectomy have been introduced in the past decade, and the cosmetic superiority of these techniques has been universally acknowledged. We developed the endoscopic thyroidectomy via bilateral axillo-breast approach (BABA) and have performed more than 500 operations. The aims of this study are to analyze the surgical outcomes and to evaluate the effectiveness and safety of BABA endoscopic thyroidectomy.
Patients and methods
Between February 2004 and March 2008, 512 patients with thyroid diseases underwent BABA endoscopic thyroidectomy. The criteria analyzed were clinicopathologic characteristics, types of operation, operation time, tumor–node–metastasis (TNM) stage on the basis of the 7th edition of the American Joint Committee on Cancer (AJCC), results after radioactive ablation therapy, and recurrence of disease in these patients.
Results
Of 512 patients, 397 had a malignant tumor and 115 had benign thyroid disease. Eight patients were diagnosed with Graves' disease, and nine patients underwent completion thyroidectomy. Three cases were subjected to open thyroidectomy due to uncontrolled bleeding. Mean operation time was 151.2 ± 38.1 min for total and near-total thyroidectomy, and 141.7 ± 50.1 min for subtotal thyroidectomy and lobectomy. Regarding postoperative complications, transient hypocalcemia occurred in 31.1% of patients and permanent hypoparathyroidism occurred in 4.2% of patients. Transient hoarseness occurred in 20.3% of patients, and permanent vocal cord palsy occurred in 1.7%. Mean hospital stay after operation was 3.34 ± 0.8 days (range 3–7 days), and mean follow-up period was 57.1 ± 17.6 months (range 38.5–71.7 months). There were eight cases of recurrent thyroid carcinoma, and no mortality has occurred up to the present time.
Conclusions
Endoscopic thyroidectomy via bilateral axillo-breast approach is a safe and effective method that gives good surgical completeness, a low rate of postoperative complications and recurrence, and an excellent cosmetic result. Therefore, this method is a good choice for patients with surgical thyroid diseases.
This is a preview of subscription content, log in to check access.
Access options
Buy single article
Instant access to the full article PDF.
US$ 39.95
Price includes VAT for USA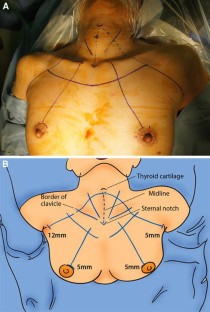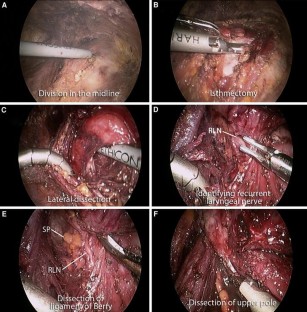 References
1.

Gagner M (1996) Endoscopic subtotal parathyroidectomy in patients with primary hyperparathyroidism. Br J Surg 83:875

2.

Huscher CS, Chiodini S, Napolitano C, Recher A (1997) Endoscopic right thyroid lobectomy. Surg Endosc 11:877

3.

Choe JH, Kim SW, Chung KW et al (2007) Endoscopic thyroidectomy using a new bilateral axillo-breast approach. World J Surg 31:601–606

4.

Chung YS, Choe JH, Kang KH et al (2007) Endoscopic thyroidectomy for thyroid malignancies: comparison with conventional open thyroidectomy. World J Surg 31:2302–2306 discussion 7–8

5.

Park J (2005) Korea central cancer registry cancer incidence in Korea. Minister of Health & Welfare, Republic of Korea:40

6.

Miccoli P, Berti P, Bendinelli C, Conte M, Fasolini F, Martino E (2000) Minimally invasive video-assisted surgery of the thyroid: a preliminary report. Langenbecks Arch Surg 385:261–264

7.

Shimizu K, Akira S, Tanaka S (1998) Video-assisted neck surgery: endoscopic resection of benign thyroid tumor aiming at scarless surgery on the neck. J Surg Oncol 69:178–180

8.

Ohgami M, Ishii S, Arisawa Y et al (2000) Scarless endoscopic thyroidectomy: breast approach for better cosmesis. Surg Laparosc Endosc Percutan Tech 10:1–4

9.

Shimizu K, Tanaka S (2003) Asian perspective on endoscopic thyroidectomy—a review of 193 cases. Asian J Surg 26:92–100

10.

Inabnet WB 3rd, Jacob BP, Gagner M (2003) Minimally invasive endoscopic thyroidectomy by a cervical approach. Surg Endosc 17:1808–1811

11.

Ikeda Y, Takami H, Sasaki Y, Takayama J, Niimi M, Kan S (2003) Clinical benefits in endoscopic thyroidectomy by the axillary approach. J Am Coll Surg 196:189–195

12.

Lee KE, Kim HY, Park WS et al (2009) Postauricular and axillary approach endoscopic neck surgery: a new technique. World J Surg 33:767–772

13.

Lee KE, Rao J, Youn YK (2009) Endoscopic thyroidectomy with the da Vinci robot system using the bilateral axillary breast approach (BABA) technique: our initial experience. Surg Laparosc Endosc Percutan Tech 19:e71–e75

14.

Bellantone R, Lombardi CP, Raffaelli M et al (2003) Video-assisted thyroidectomy for papillary thyroid carcinoma. Surg Endosc 17:1604–1608

15.

Kim JH, Choi YJ, Kim JA et al (2008) Thyroid cancer that developed around the operative bed and subcutaneous tunnel after endoscopic thyroidectomy via a breast approach. Surg Laparosc Endosc Percutan Tech 18:197–201

16.

Randolph G (2003) Surgery of the thyroid and parathyroid glands. Saunders, Philadelphia

17.

Yeung GH (2002) Endoscopic thyroid surgery today: a diversity of surgical strategies. Thyroid 12:703–706

18.

Jeong JJ, Kang SW, Yun JS et al (2009) Comparative study of endoscopic thyroidectomy versus conventional open thyroidectomy in papillary thyroid microcarcinoma (PTMC) patients. J Surg Oncol 100:477–480

19.

Brunt LM, Jones DB, Wu JS, Quasebarth MA, Meininger T, Soper NJ (1997) Experimental development of an endoscopic approach to neck exploration and parathyroidectomy. Surgery 122:893–901

20.

Gottlieb A, Sprung J, Zheng XM, Gagner M (1997) Massive subcutaneous emphysema and severe hypercarbia in a patient during endoscopic transcervical parathyroidectomy using carbon dioxide insufflation. Anesth Analg 84:1154–1156
Disclosures
June Young Choi, M.D., Kyu Eun Lee, M.D., Ki-Wook Chung, M.D., Jun-Ho Choe, M.D., Do Hoon Koo, M.D., Su-jin Kim, M.D., Jeonghun Lee, M.D., Yoo Seung Chung, M.D., Seung Keun Oh, M.D., and Yeo-Kyu Youn, M.D. have no conflicts of interest or financial ties to disclose.
About this article
Cite this article
Choi, J.Y., Lee, K.E., Chung, K. et al. Endoscopic thyroidectomy via bilateral axillo-breast approach (BABA): review of 512 cases in a single institute. Surg Endosc 26, 948–955 (2012). https://doi.org/10.1007/s00464-011-1973-x
Received:

Accepted:

Published:

Issue Date:
Keywords
Endoscopic thyroidectomy

Bilateral axillo-breast approach

BABA endoscopic thyroidectomy