Abstract
Background
The use of carbon dioxide (CO2) insufflation during endoscopic procedures is effective in reducing patient discomfort caused by bloating. However, transcutaneous arterial CO2 (PtCO2) monitoring usually is required for safety during long endoscopic procedures. To evaluate a new capnometer for monitoring end-tidal carbon dioxide (EtCO2) concentrations and to compare PtCO2 with EtCO2 measured in the same patient, a prospective comparative study of EtCO2 and PtCO2 values measured simultaneously was designed.
Methods
The study enrolled 20 consecutive patients (18 men and two women; mean age, 70.1 years) with upper gastrointestinal neoplasms scheduled for endoscopic submucosal dissection (ESD) using conscious sedation with CO2 insufflation, and EtCO2 and PtCO2 were simultaneously measured by each capnometer. Patient status was evaluated before ESD by the American Society of Anesthesiologists (ASA) physical status classification system, and eight patients were judged as class 1, nine patients as class 2, and three patients as class 3. The exclusion criteria ruled out patients with chronic obstructive pulmonary disease or ASA class 4 or 5 physical status. The correlation between EtCO2 and PtCO2 values and the availability of EtCO2 capnography were investigated.
Results
The mean EtCO2 value during ESD was 34.7 ± 4.5 mmHg, and the mean PtCO2 value was 51.6 ± 2.4 mmHg. There was a statistically significant correlation between EtCO2 and PtCO2 (r = 0.331; P = 0.002). Hypoxic events (<90% oxygen saturation [SpO2]) caused by decreased respiratory rate occurred for 12 patients. In 10 (83%) of 12 events, a significant reduction in EtCO2 was seen before the decrease in SpO2.
Conclusions
The EtCO2 values correlated with the PtCO2 values, and the respiratory monitoring methods allowed earlier detection of hypoxia during ESD with conscious sedation than transcutaneous monitoring. The EtCO2 capnometer was considered to be available for the ESD procedure with the patient under conscious sedation using CO2 insufflation.
This is a preview of subscription content, log in to check access.
Access options
Buy single article
Instant access to the full article PDF.
US$ 39.95
Price includes VAT for USA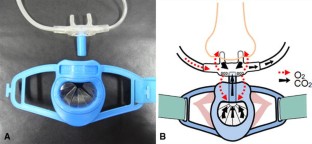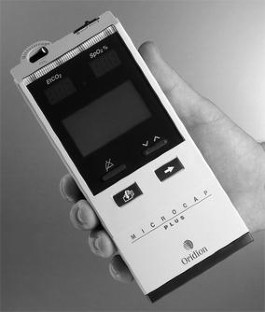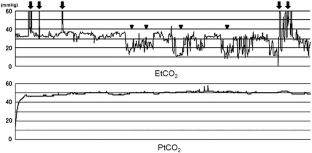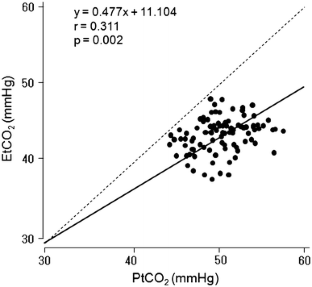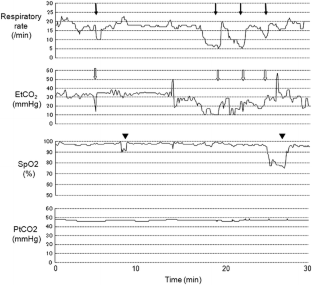 References
1.

Sumanac K, Zealley I, Fox BM, Rawlinson J, Salena B, Marshall JK, Stevenson GW, Hunt RH (2002) Minimizing postcolonoscopy abdominal pain by using CO2 insufflation: a prospective, randomized, double-blind, controlled trial evaluating a new commercially available CO2 delivery system. Gastrointest Endosc 56:190–194

2.

Bretthauer M, Thiis-Evensen E, Huppertz-Hauss G, Gisselsson L, Grotmol T, Skovlund E, Hoff G (2002) NORCCAP (Norwegian colorectal cancer prevention): a randomised trial to assess the safety and efficacy of carbon dioxide versus air insufflation in colonoscopy. Gut 50:604–607

3.

Church J, Delaney C (2003) Randomized, controlled trial of carbon dioxide insufflation during colonoscopy. Dis Colon Rectum 46:322–326

4.

Bretthauer M, Lynge AB, Thiis-Evensen E, Hoff G, Fausa O, Aabakken L (2005) Carbon dioxide insufflation in colonoscopy: safe and effective in sedated patients. Endoscopy 37:706–709

5.

Bretthauer M, Seip B, Aasen S, Kordal M, Hoff G, Aabakken L (2007) Carbon dioxide insufflation for more comfortable endoscopic retrograde cholangiopancreatography: a randomized, controlled, double-blind trial. Endoscopy 39:58–64

6.

Dellon ES, Velayudham A, Clarke BW, Isaacs KL, Gangarosa LM, Galanko JA, Grimm IS (2010) A randomized, controlled, double-blind trial of air insufflation versus carbon dioxide insufflation during ERCP. Gastrointest Endosc 72:68–77

7.

Domagk D, Bretthauer M, Lenz P, Aabakken L, Ullerich H, Maaser C, Domschke W, Kucharzik T (2007) Carbon dioxide insufflation improves intubation depth in double-balloon enteroscopy: a randomized, controlled, double-blind trial. Endoscopy 39:1064–1067

8.

Hirai F, Matsui T, Yao K, Sou S, Seki T (2007) Efficacy of carbon dioxide insufflation in endoscopic balloon dilation therapy by using double balloon endoscopy. Gastrointest Endosc 66:S26–S29

9.

Saito Y, Uraoka T, Matsuda T, Emura F, Ikehara H, Mashimo Y, Kikuchi T, Kozu T, Saito D (2007) A pilot study to assess the safety and efficacy of carbon dioxide insufflation during colorectal endoscopic submucosal dissection with the patient under conscious sedation. Gastrointest Endosc 65:537–542

10.

Kikuchi T, Fu KI, Saito Y, Uraoka T, Fukuzawa M, Fukunaga S, Sakamoto T, Nakajima T, Matsuda T (2010) Transcutaneous monitoring of partial pressure of carbon dioxide during endoscopic submucosal dissection of early colorectal neoplasia with carbon dioxide insufflation: a prospective study. Surg Endosc 24(5):2231–2235

11.

Nonaka S, Saito Y, Takisawa H, Kim Y, Kikuchi T, Oda I (2010) Safety of carbon dioxide insufflation for upper gastrointestinal tract endoscopic treatment of patients under deep sedation. Surg Endosc 24:1638–1645

12.

Paul J, Ling E, Hajgato J, McDonald L (2003) Both the OxyArm and Capnoxygen mask provide clinically useful capnographic monitoring capability in volunteers. Can J Anaesth 50:137–142

13.

Dellon ES, Hawk JS, Grimm IS, Shaheen NJ (2009) The use of carbon dioxide for insufflation during GI endoscopy: a systematic review. Gastrointest Endosc 69:843–849

14.

Sakata DJ, Matsubara I, Gopalakrishnan NA, Westenskow DR, White JL, Yamamori S, Egan TD, Pace NL (2009) Flow-through versus sidestream capnometry for detection of end tidal carbon dioxide in the sedated patient. J Clin Monit Comput 23:115–122

15.

Bendjelid K, Schütz N, Stotz M, Gerard I, Suter PM, Romand JA (2005) Transcutaneous pCO2 monitoring in critically ill adults: clinical evaluation of a new sensor. Crit Care Med 33:2203–2206

16.

Bolliger D, Steiner LA, Kasper J, Aziz OA, Filipovic M, Seeberger MD (2007) The accuracy of noninvasive carbon dioxide monitoring: a clinical evaluation of two transcutaneous systems. Anaesthesia 62:394–399

17.

Janssens JP, Howarth-Frey C, Chevrolet JC, Abajo B, Rochat T (1998) Transcutaneous pCO2 to monitor noninvasive mechanical ventilation in adults: assessment of a new transcutaneous pCO2 device. Chest 113:768–773

18.

Nishiyama T, Nakamura S, Yamashita K (2006) Comparison of the transcutaneous oxygen and carbon dioxide tension in different electrode locations during general anaesthesia. Eur J Anaesthesiol 23:1049–1054

19.

Vargo JJ, Zuccaro G Jr, Dumot JA, Conwell DL, Morrow JB, Shay SS (2002) Automated graphic assessment of respiratory activity is superior to pulse oximetry and visual assessment for the detection of early respiratory depression during therapeutic upper endoscopy. Gastrointest Endosc 55:826–831

20.

Lightdale JR, Goldmann DA, Feldman HA, Newburg AR, DiNardo JA, Fox VL (2006) Microstream capnography improves patient monitoring during moderate sedation: a randomized, controlled trial. Pediatrics 117:e1170–e1178

21.

Donald MJ, Paterson B (2006) End-tidal carbon dioxide monitoring in prehospital and retrieval medicine: a review. Emerg Med J 23:728–730

22.

Qadeer MA, Vargo JJ, Dumot JA, Lopez R, Trolli PA, Stevens T, Parsi MA, Sanaka MR, Zuccaro G (2009) Capnographic monitoring of respiratory activity improves safety of sedation for endoscopic cholangiopancreatography and ultrasonography. Gastroenterology 136:1568–1576

23.

Owens WD, Felts JA, Spitznagel EL Jr (1978) ASA physical status classifications: a study of consistency of ratings. Anesthesiology 49:239–243

24.

Rodriguez P, Lellouche F, Aboab J, Buisson CB, Brochard L (2006) Transcutaneous arterial carbon dioxide pressure monitoring in critically ill adult patients. Intensive Care Med 32:309–312

25.

Oshibuchi M, Cho S, Hara T, Tomiyasu S, Makita T, Sumikawa K (2003) A comparative evaluation of transcutaneous and end-tidal measurements of CO2 in thoracic anesthesia. Anesth Analg 97:776–779

26.

Takano Y, Sakamoto O, Kiyofuji C, Ito K (2003) A comparison of the end-tidal CO2 measured by portable capnometer and the arterial pCO2 in spontaneously breathing patients. Respir Med 97:476–481

27.

Yazigi A, Zeeni C, Richa F, Chalhoub V, Sleilaty G, Noun R (2007) The accuracy of noninvasive nasal capnography in morbidly obese patients after bariatric surgery. Middle East J Anesthesiol 19:483–494

28.

Lujan M, Canturri E, Moreno A, Arranz M, Vigil L, Domingo C (2008) Capnometry in spontaneously breathing patients: the influence of chronic obstructive pulmonary disease and expiration maneuvers. Med Sci Monit 14:CR485–CR492

29.

Eberhard P, Gisiger PA, Gardaz JP, Spahn DR (2002) Combining transcutaneous blood gas measurement and pulse oximetry. Anesth Analg 94(1 Suppl):S76–S80
Acknowledgment
The authors greatly appreciate the excellent technical support from Miss Rika Toma.
Disclosures
Ryusaku Kusunoki, Yuji Amano, Takafumi Yuki, Akihiko Oka, Mayumi Okada, Yasumasa Tada, Goichi Uno, Ichiro Moriyama, Norihisa Ishimura, Shunji Ishihara, and Yoshikazu Kinoshita have no conflicts of interest or financial ties to disclose.
About this article
Cite this article
Kusunoki, R., Amano, Y., Yuki, T. et al. Capnographic monitoring for carbon dioxide insufflation during endoscopic mucosal dissection: comparison of transcutaneous and end-tidal capnometers. Surg Endosc 26, 501–506 (2012). https://doi.org/10.1007/s00464-011-1908-6
Received:

Accepted:

Published:

Issue Date:
Keywords
Capnography

ESD

EtCO2
PtCO2