Abstract
Introduction
Dysphagia is a common postoperative symptom after laparoscopic antireflux surgery, usually attributed to postoperative edema or a "too tight" fundoplication. Although it is usually self-limited, it occasionally requires endoscopic dilation and rarely revisionary surgery. It has not been previously described whether postoperative dysphagia is associated with poorer long-term reflux control after fundoplication.
Methods
We hypothesized that the presence of dysphagia in the early postoperative period is associated with long-term failure of the antireflux procedure and recurrence of gastroesophageal reflux disease (GERD) symptoms. A retrospective review of a prospectively maintained database of patients undergoing antireflux surgery was performed. The study population included patients, who underwent primary laparoscopic Nissen fundoplication between the years 1991 and 2010. The presence of dysphagia on their first postoperative visit (<30 days) was used to classify them in the early-dysphagia (ED) and the no-early-dysphagia (NED) groups. The recurrence of heartburn or regurgitation, as well as the pH studies on long-term follow-up (more than 6 months) were compared between the two groups. A grading system (range 0–4) was used to measure the severity of foregut symptoms.
Results
1223 patients underwent primary laparoscopic Nissen fundoplications during the study period and met the inclusion criteria. Both short and long-term follow-up was available in 821 patients, who were analyzed. 423 patients were included in the ED group, whereas 398 in the NED group. The mean regurgitation score of the ED group on the long-term follow-up was 0.25 compared to 0.20 for the NED group (P = 0.21). The heartburn score was 0.38 for the ED group compared to 0.33 for the NED group (P = 0.38). Long-term dysphagia was higher in the ED group. These findings were confirmed when ED patients were subclassified based on the degree of early post-operative dysphagia. Of the 821 patients, 599 underwent routine postoperative pH testing. The mean DeMeester score in the ED group (n = 308) was 11.7 compared to 13.2 for the NED group (n = 291; P = 0.54). The percentage of patients with abnormal pH testing was similar between the two groups.
Conclusions
Early postoperative dysphagia is not associated with worse long-term GERD symptom control after primary laparoscopic antireflux surgery.
This is a preview of subscription content, log in to check access.
Access options
Buy single article
Instant access to the full article PDF.
US$ 39.95
Price includes VAT for USA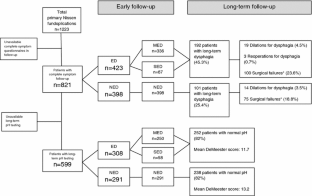 References
1.

Ronkainen J, Aro P, Storskrubb T, Johansson SE, Lind T, Bolling-Sternevald E, Graffner H, Vieth M, Stolte M, Engstrand L, Talley NJ, Agréus L (2005) High prevalence of gastroesophageal reflux symptoms and esophagitis with or without symptoms in the general adult Swedish population: a Kalixanda study report. Scand J Gastroenterol 40(3):275–285

2.

Kelly JJ, Watson DI, Chin KF, Devitt PG, Game PA, Jamieson GG (2007) Laparoscopic Nissen fundoplication: clinical outcomes at 10 years. J Am Coll Surg 205(4):570–575

3.

Gee DW, Andreoli MT, Rattner DW (2008) Measuring the effectiveness of laparoscopic antireflux surgery: long-term results. Arch Surg 143(5):482–487

4.

Swanstrom L, Wayne R (1994) Spectrum of gastrointestinal symptoms after laparoscopic fundoplication. Am J Surg 167(5):538–541

5.

Wills VL, Hunt DR (2001) Dysphagia after antireflux surgery. Br J Surg 88(4):486–499

6.

Hibbard ML, Dunst CM, Swanström LL (2011) Laparoscopic and endoscopic pyloroplasty for gastroparesis results in sustained symptom improvement. J Gastrointest Surg 26(8):1275–1282

7.

Sgromo B, Irvine LA, Cuschieri A, Shimi SM (2008) Long-term comparative outcome between laparoscopic total Nissen and Toupet fundoplication: symptomatic relief, patient satisfaction and quality of life. Surg Endosc 22(4):1048–1053

8.

Funch-Jensen P, Jacobsen B (2007) Dysphagia after laparoscopic Nissen fundoplication. Scand J Gastroenterol 42(4):428–431

9.

Herron DM, Swanström LL, Ramzi N, Hansen PD (1999) Factors predictive of dysphagia after laparoscopic Nissen fundoplication. Surg Endosc 13:1180–1183

10.

DeMeester TR, Bonavina L, Albertucci M (1986) Nissen fundoplication for gastroesophageal reflux disease: evaluation of primary repair in 100 consecutive patients. Ann Surg 204:9–20

11.

Hunter JG, Swanstrom L, Waring JP (1995) Dysphagia after laparoscopic antireflux surgery; the impact of operative technique. Ann Surg 224:51–57

12.

Horgan S, Pohl D, Bogetti D, Eubanks T, Pellegrini C (1999) Failed antireflux surgery; what have we learned from reoperations? Arch Surg 134:809–817

13.

Soper N, Dunnegan D (1999) Anatomic fundoplication failure after laparoscopic antireflux surgery. Ann Surg 229:669–677

14.

Granderath FA, Schweiger UM, Kamolz T, Pointner R (2005) Dysphagia after laparoscopic antireflux surgery: a problem of hiatal closure more than a problem of the wrap. Surg Endosc 19(11):1439–1446

15.

Hui JM, Hunt DR, de Carle DJ, Williams R, Cook IJ (2002) Esophageal pneumatic dilation for postfundoplication dysphagia: safety, efficacy, and predictors of outcome. Am J Gastroenterol 97(12):2986–2991

16.

Patterson EJ, Herron DM, Hansen PD, Ramzi N, Standage BA, Swanström LL (2000) Effect of an esophageal bougie on the incidence of dysphagia following nissen fundoplication: a prospective, blinded, randomized clinical trial. Arch Surg 135(9):1055–1061 discussion 1061–1062
Disclosures
Drs Makris, Cassera, Kastenmeier, Dunst and Swanström have no conflicts of interest or financial ties to disclose.
Appendix 1
Appendix 1
See Table 6.
About this article
Cite this article
Makris, K.I., Cassera, M.A., Kastenmeier, A.S. et al. Postoperative dysphagia is not predictive of long-term failure after laparoscopic antireflux surgery. Surg Endosc 26, 451–457 (2012). https://doi.org/10.1007/s00464-011-1898-4
Received:

Accepted:

Published:

Issue Date:
Keywords
Postoperative Dysphagia

Distal Esophageal Acid Exposure

Preoperative Dysphagia

Regurgitation Score

Early Dysphagia