Abstract
Background
Surgical smoke containing potentially carcinogenic and irritant chemicals is an inevitable consequence of intraoperative energized dissection. Different energized dissection methods have not been compared directly in human laparoscopic surgery or against commonly encountered pollutants. This study undertook an analysis of carcinogenic and irritant volatile hydrocarbon concentrations in electrocautery and ultrasonic scalpel plumes compared with cigarette smoke and urban city air control samples.
Methods
Once ethical approval was obtained, gas samples were aspirated from the peritoneal cavity after human laparoscopic intraabdominal surgery solely using either electrocautery or ultrasonic scalpels. All were adsorbed in Tenax tubes and concentrations of carcinogenic or irritant volatile hydrocarbons measured by gas chromatography. The results were compared with cigarette smoke and urban city air control samples. The analyzing laboratory was blinded to sample origin.
Results
A total of 10 patients consented to intraoperative gas sampling in which only one method of energized dissection was used. Six carcinogenic or irritant hydrocarbons (benzene, ethylbenzene, styrene, toluene, heptene, and methylpropene) were identified in one or more samples. With the exception of styrene (P = 0.016), a nonsignificant trend toward lower hydrocarbon concentrations was observed with ultrasonic scalpel use. Ultrasonic scalpel plumes had significantly lower hydrocarbon concentrations than cigarette smoke, with the exception of methylpropene (P = 0.332). No significant difference was observed with city air. Electrocautery samples contained significantly lower hydrocarbon concentrations than cigarette smoke, with the exception of toluene (P = 0.117) and methyl propene (P = 0.914). Except for toluene (P = 0.028), city air showed no significant difference.
Conclusions
Both electrocautery and ultrasonic dissection are associated with significantly lower concentrations of the most commonly detected carcinogenic and irritant hydrocarbons than cigarette smoke. A nonsignificant trend toward lower hydrocarbon concentrations was seen with ultrasonic scalpel dissection compared with diathermy. The contamination levels in city air were largely comparable with those seen after ultrasonic scalpel use. Although hydrocarbon concentrations are low, cumulative exposures may increase health risks. Where concerns arise, ultrasonic scalpel dissection may be preferable.
This is a preview of subscription content, log in to check access.
Access options
Buy single article
Instant access to the full article PDF.
US$ 39.95
Price includes VAT for USA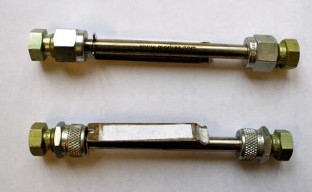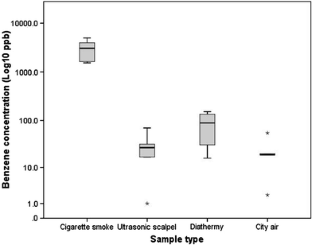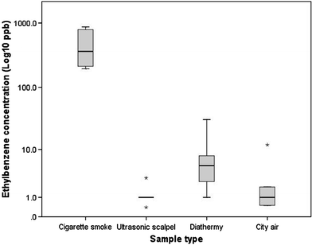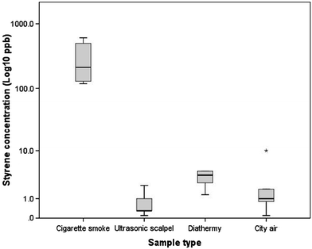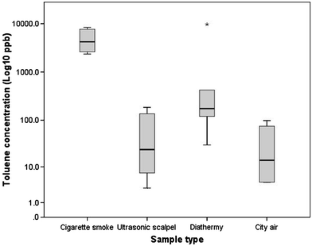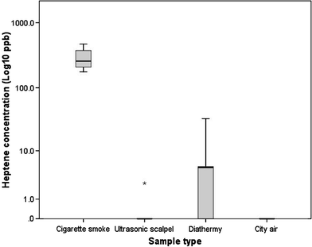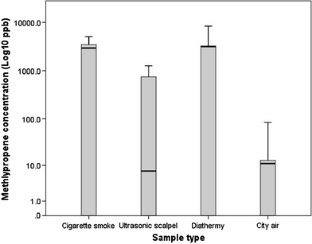 References
1.

Mihashi S, Ueda S, Hirano M, Tomita Y, Hirohata T (1981) Some problems about condensates induced by CO2 laser irradiation. Paper presented at the Fourth International Society for Laser Surgery, Tokyo, Japan, November 1981

2.

Ott DE (1997) Smoke and particulate hazards during laparoscopy procedures. Surg Serv Manag 3:11–13

3.

Al Sahaf OS, Vega-Carrascal I, Cunningham FO, McGrath JP, Bloomfield FJ (2007) Chemical composition of smoke produced by high-frequency electrosurgery. Ir J Med Sci 176:229–232

4.

Spearman J, Tsavellas G, Nichols P (2007) Current attitudes and practices towards diathermy smoke. Ann R Coll Surg Engl 89:162–165

5.

Gianella M, Sigrist MW (2010) Infrared spectroscopy on smoke produced by cauterization of animal tissue. Sensor 10:2694–2708

6.

Mattes D, Silajdzic E, Mayer M, Horn M, Scheidbach D, Wackernagel W, Langmann G, Wedrich A (2010) Surgical smoke management for minimally invasive (micro)endoscopy: an experimental study. Surg Endosc 24:2492–2501

7.

Krones CJ, Conze J, Hoelzl F, Stumpf M, Klinge U, Moller M, Dott W, Schumpelick V, Hollender J (2007) Chemical composition of surgical smoke produced by electrocautery, harmonic scalpel, and argon beaming: a short study. Eur Surg 39:118–121

8.

Gianella M, Rey JM, Hahnloser D, Sigrist MW (2008) CO2 laser-photoacoustic analysis of smoke emitted during minimal invasive electro-knife surgery. Eur Phys J Spec Top 153:459–462

9.

United States Department of Labor Table Z-1 limits for air contaminants. Retrieved 2 November 2010 at http://www.osha.gov/pls/oshaweb/owadisp.show_document?p_table=standards&p_id=9992

10.

Health and Safety Executive Bootle, Merseyside, UK. List of approved workplace exposure limits (as consolidated with amendments October 2007). Retrieved 2 November 2010 at http://www.hse.gov.uk/coshh/table1.pdf

11.

IARC Monographs on the Evaluation on Carcinogenic Risks to Humans (2010) (updated 30 August 2010). Retrieved 2 November 2010 at http://monographs.iarc.fr/ENG/Classification/index.php

12.

Treaty of Rome Council Directive 67/ 548/EEC–Annex I, 27 June 1967

13.

Tomita Y, Mihashi S, Nagata K, Ueda S, Fujiki M, Hirano M, Hirohata T (1989) Mutagenecity of smoke condensates induced by CO2-laser irradiation and electrocauterization. Mutat Res 89:145–149

14.

Hensman C, Newman EL, Shimi SM, Cuschieri A (1998) The cytotoxicity of electrosurgical smoke produced in an anoxic environment. Am J Surg 175:240–241

15.

Wu JS, Monk T, Luttmannn RN, Meininger TA, Soper NJ (1998) Production and systemic absorption of toxic byproducts of tissue combustion during laparoscopic cholecystectomy. J Gastrointest Surg 2:399–405

16.

Brandon HJ, Young LV (1997) Characterisation and removal of electrosurgical smoke. Surg Serv Manag 3:14–16

17.

Ott DE (1998) Carboxyhemoglobinemia due to peritoneal smoke absorption from laser tissue combustion at laparoscopy. J Clin Laser Med Surg 16:309–315
Acknowledgment
The authors gratefully acknowledge the support received from the University of Aberdeen through an unrestricted research grant provided by Ethicon Endo-Surgery GmbH, Norderstedt, Germany.
Disclosures
J. Edward F. Fitzgerald, Momin Malik, and Irfan Ahmed have no conflicts of interest or financial ties to disclose.
About this article
Cite this article
Fitzgerald, J.E.F., Malik, M. & Ahmed, I. A single-blind controlled study of electrocautery and ultrasonic scalpel smoke plumes in laparoscopic surgery. Surg Endosc 26, 337–342 (2012). https://doi.org/10.1007/s00464-011-1872-1
Received:

Accepted:

Published:

Issue Date:
Keywords
Carcinogen

Diathermy

Electrocautery

Smoke plume

Ultrasonic scalpel