Abstract
Background
This study was designed to assess the satisfaction or otherwise of a proportion of the U.K. population who have undergone standard four-port laparoscopic cholecystectomy within the past 18 months. The results should indicate whether there is potential demand for a new, improved approach to surgery.
Methods
Patients who underwent laparoscopic cholecystectomy between October 2008 and October 2009 in two geographically separated general hospitals were identified from hospital databases. Notes were reviewed to confirm the technique and lack of conversion to an open procedure. Those who had immediate complications were excluded. A telephone questionnaire was conducted to answer questions related to long-term cosmetic and general satisfaction of the current procedure.
Results
Of the patients surveyed, 93% were happy or extremely happy with the current procedure, 48% experienced some wound-related issues (pain, infection), and 65% of those were at the umbilicus (a possible reflection of location and retrieval site for gallbladder). Cosmesis was rated less important than hospital cleanliness and experience of the surgeon.
Conclusions
Overall satisfaction was high with the existing technique. The high rate of umbilical wound problems is an issue that will not be eradicated by introduction of single-port laparoscopic surgery.
This is a preview of subscription content, log in to check access.
We're sorry, something doesn't seem to be working properly.
Please try refreshing the page. If that doesn't work, please contact support so we can address the problem.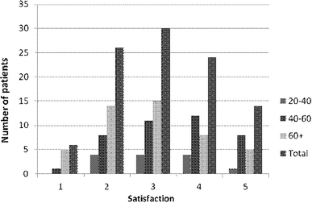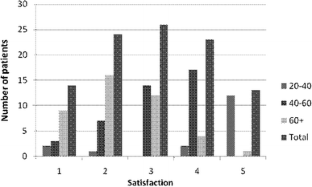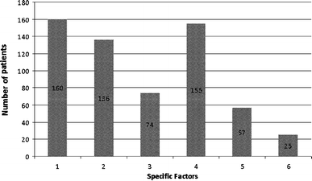 References
1.

Hirano Y, Watanabe T et al (2010) Single-incision laparoscopic cholecystectomy: single-institution experience and literature review. World J Gastroenterol 16(2):270–274

2.

National Institute for Health and Clinical Excellence. IPG346 Single-incision laparoscopic cholecystectomy: guidance. http://guidance.nice.org.uk/IPG346

3.

Rhodes M (2010) Commentary: critical appraisal of single-port access cholecystectomy. Br J Surg 97:1481

4.

Curicillio PG, Wu AS, Podolosky ER, Graybeal C, Katkhouda N, Saenz A et al (2010) Single-port access (SPA) cholecystectomy: a multi-institutional report of the first 297 cases. Surg Endosc 24:1854–1860

5.

Rao PP, Bhagwat SM, Rane A, Rao PP (2008) The feasibility of single port laparoscopic cholecystectomy: a pilot study of 20 cases. HPB (Oxford) 10:336–340

6.

McGregor C, Sodergren M et al (2010) Evaluating systemic stress response in single port vs. multiport laparoscopic cholecystectomy [abstract 29]. Assoc Laparosc Surg

7.

Chula A, Romeo G, Genova G, Tomasello G, Agnello G, Cstronovo G (2006) Gallbladder carcinoma late metastases and incisional hernia at umbilical port site after laparoscopic cholecystectomy. G Chir 27(5):214–216

8.

Froghi F, Sodergren MH, Darzi A, Paraskeva P (2010) Single-incision laparoscopic surgery (SILS) in general surgery: a review of current practice. Surg Laparosc Endosc Percutan Tech 20(4):191–204

9.

Keller D (2010) Patients prefer single-incision cholecystectomy to conventional laparoscopic approach. Presented at the American College of Surgeons 96th annual clinical congress

10.

Solomon D, Bell R, Duffy A, Roberts K (2010) Single-port cholecystectomy: small scar, short learning curve. Surg Endosc 24:2954–2957

11.

Cameron J, Gadacz T (1991) Laparoscopic cholecystectomy. Ann Surg 213(1):1–2
Disclosures
S.J.W. Monkhouse, E.L. Court, L.A. Beard, J. Bunni, and P. Burgess have no conflicts of interest or financial ties to disclose. All authors contributed equally to this study.
Appendix: Telephone questionnaire
Appendix: Telephone questionnaire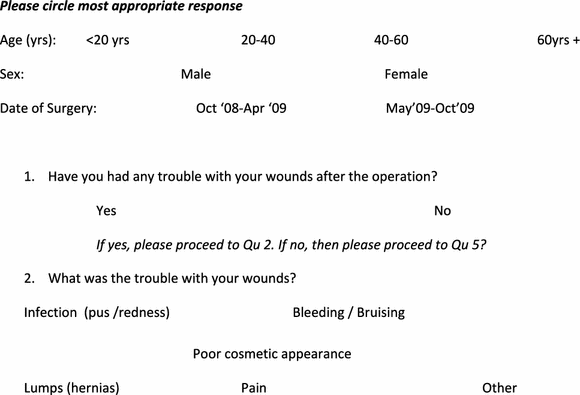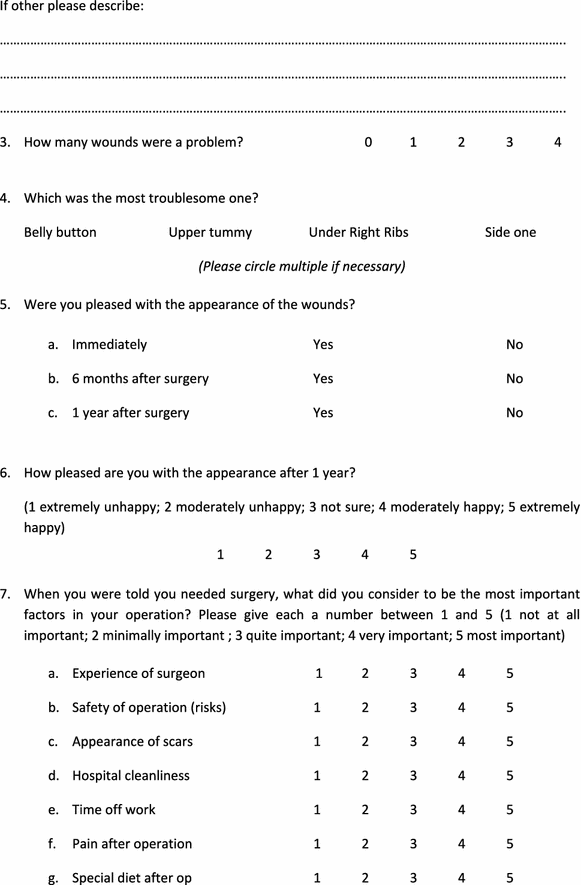 About this article
Cite this article
Monkhouse, S.J.W., Court, E.L., Beard, L.A. et al. A retrospective wound review of standard four-port laparoscopic cholecystectomy: Is there need for single-port laparoscopic surgery?. Surg Endosc 26, 255–260 (2012). https://doi.org/10.1007/s00464-011-1863-2
Received:

Accepted:

Published:

Issue Date:
Keywords
Laparoscopic

Cholecystectomy

Single incision

Cosmesis

Satisfaction