Abstract
Background
Surgical site infection (SSI) in patients who underwent colorectal surgery is a common complication associated with increased morbidity and costs. The aim of this study was to assess risk factors for SSI in laparoscopic sigmoid resection for benign disease.
Methods
Using a multicenter database of the Swiss Association of Laparoscopic and Thoracoscopic Surgery, we prospectively identified 4,488 patients who underwent laparoscopic colorectal surgery between 1995 and 2008; of these, 2,571 patients who underwent sigmoid resection for benign disease were included. Uni- and multivariate analyses were used to determine risk factors for SSI.
Results
The incidence of SSI was 3.5% (90/2,571). Among SSI patients, incisional superficial infections were found in 71%, incisional deep infections in 22%, and organ–space infections in 7%. Patients' age, underlying disease, and surgeons' experience had no impact on SSI. Multivariate analyses showed that operation time >240 min (odds ratio [OR] 1.7; 95% confidence interval [CI] 1.0–2.8), BMI ≥ 27 kg/m2 (OR 2.3 [1.3–4.5]), organ lesions (OR 7.9 [2.0–31.8]), and male gender (OR 2.3 [1.2–4.5]) were significant risk factors for SSI. Reoperations in the SSI group were significantly more frequent than in the Non-SSI group (30% vs. 3%; p < 0.001). SSI was associated with a significantly longer median hospital stay (15 days, range = 2–69 vs. 8 days, range = 1–69; p < 0.001) and higher mortality rate (2.2% vs. 0.4%; p = 0.019).
Conclusion
Significant risk factors for SSI were operation time >240 min, BMI ≥27 kg/m2, organ lesions, and male gender. SSI was significantly associated with more reoperations, longer hospital stay, and higher mortality rate.
This is a preview of subscription content, log in to check access.
Access options
Buy single article
Instant access to the full article PDF.
US$ 39.95
Price includes VAT for USA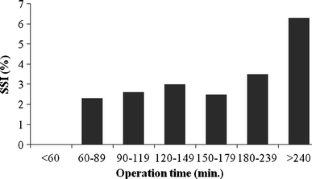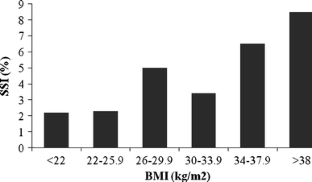 References
1.

Imai E, Ueda M, Kanao K, Kubota T, Hasegawa H, Omae K, Kitajima M (2008) Surgical site infection risk factors identified by multivariate analysis for patient undergoing laparoscopic, open colon, and gastric surgery. Am J Infect Control 36:727–731

2.

Tanner J, Khan D, Aplin C, Ball J, Thomas M, Bankart J (2009) Post-discharge surveillance to identify colorectal surgical site infection rates and related costs. J Hosp Infect 72:243–250

3.

Konishi T, Watanabe T, Kishimoto J, Nagawa H (2006) Elective colon and rectal surgery differ in risk factors for wound infection: results of prospective surveillance. Ann Surg 244:758–763

4.

Blumetti J, Luu M, Sarosi G, Hartless K, McFarlin J, Parker B, Dineen S, Huerta S, Asolati M, Varela E, Anthony T (2007) Surgical site infections after colorectal surgery: do risk factors vary depending on the type of infection considered? Surgery 142:704–711

5.

National Nosocomial Infections Surveillance System (2004) National Nosocomial Infections Surveillance (NNIS) System Report, data summary from January 1992 through June 2004, issued October 2004. Am J Infect Control 32:470-485

6.

Urban JA (2006) Cost analysis of surgical site infections. Surg Infect (Larchmt) 7(Suppl 1):S19–S22

7.

Mahmoud NN, Turpin RS, Yang G, Saunders WB (2009) Impact of surgical site infections on length of stay and costs in selected colorectal procedures. Surg Infect (Larchmt) 10:539–544

8.

Romy S, Eisenring MC, Bettschart V, Petignat C, Francioli P, Troillet N (2008) Laparoscope use and surgical site infections in digestive surgery. Ann Surg 247:627–632

9.

Beldi G, Bisch-Knaden S, Banz V, Muhlemann K, Candinas D (2009) Impact of intraoperative behavior on surgical site infections. Am J Surg 198:157–162

10.

Wick EC, Vogel JD, Church JM, Remzi F, Fazio VW (2009) Surgical site infections in a "high outlier" institution: are colorectal surgeons to blame? Dis Colon Rectum 52:374–379

11.

Falagas ME, Kompoti M (2006) Obesity and infection. Lancet Infect Dis 6:438–446

12.

Fleischmann E, Kurz A, Niedermayr M, Schebesta K, Kimberger O, Sessler DI, Kabon B, Prager G (2005) Tissue oxygenation in obese and non-obese patients during laparoscopy. Obes Surg 15:813–819

13.

Ives CL, Harrison DK, Stansby GS (2007) Tissue oxygen saturation, measured by near-infrared spectroscopy, and its relationship to surgical-site infections. Br J Surg 94:87–91

14.

Gawande A, Denno DW, Truog RD, Waisel D (2008) Physicians and execution—highlights from a discussion of lethal injection. N Engl J Med 358:448–451
Disclosure
Drs. Anita Kurmann, Stephan A. Vorburger, Daniel Candinas, and Guido Beldi have no conflicts of interest or financial ties to disclose.
About this article
Cite this article
Kurmann, A., Vorburger, S.A., Candinas, D. et al. Operation time and body mass index are significant risk factors for surgical site infection in laparoscopic sigmoid resection: a multicenter study. Surg Endosc 25, 3531–3534 (2011). https://doi.org/10.1007/s00464-011-1753-7
Received:

Accepted:

Published:

Issue Date:
Keywords
Surgical site infection

Risk factors

Laparoscopic surgery

Sigmoid resection