Abstract
Background
Laparoscopic exposure of pelvic nerves has opened a new area in the field of neuromodulation. However, electrode design and material deterioration remain issues that limit clinical application. The objective of this study was to evaluate experimentally the laparoscopic implantation of different types of neural electrodes in order to achieve functional and selective electrical stimulation of pelvic nerves.
Methods
This was a prospective comparative study of the laparoscopic implantation and tolerance and efficacy of three monopolar cuff electrodes implanted on the obturator nerve in ten Göttingen minipigs (18–20 months old; 14.5–24 kg body weight). Animals were allocated to two groups. A 3-mm-diameter laparoscopic instrument was used during dissection of paravesical fossa and obturator nerve on both sides in order to minimize nerve damage. In all animals, a "split-cylinder" cuff electrode was implanted around the left obturator nerve. On the right side, a "lasso" cuff electrode was implanted in the first group and a "closed-cylinder" cuff was implanted in the second group. Electrical stimulation (0–5 V, 20 Hz) was performed for implanted electrodes on days 0, 7, 15, 30, 45, 60, and 90. Current intensity thresholds were identified by palpation of muscle contraction. Strength developed according to stimulation level and was measured using weight transducers.
Results
All procedures were performed by laparoscopy. Mean operative times differed significantly among groups, the shortest being for split-cylinder electrodes (P = 0.0002). No electrical spread phenomena were observed. Initial thresholds were below 1.5 V (range = 0.5–1.3); however, a significant rise was observed, with time to a maximum of 2.7 V (P < 0.0001). Only split-cylinder electrodes remained functional after 3 months. The mean value of maximum strength remained stable during the study period (P = 0.21, NS).
Conclusions
The laparoscopic approach to implanting neuroprostheses seems to be very attractive. Furthermore, this approach could allow highly selective nerve stimulation to be achieved using simpler devices such as split-cylinder monopolar electrodes.
This is a preview of subscription content, log in to check access.
Access options
Buy single article
Instant unlimited access to the full article PDF.
US$ 39.95
Price includes VAT for USA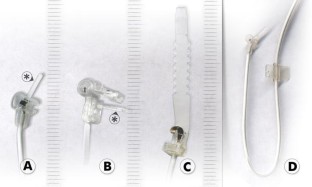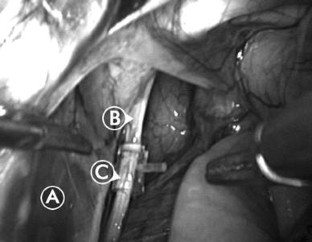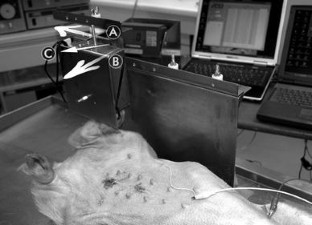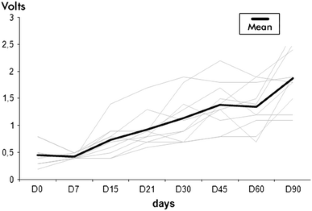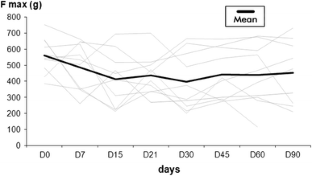 References
1.

Kadar N (1996) Surgical anatomy and dissection techniques for laparoscopic surgery. Curr Opin Obstet Gynecol 8:266–277

2.

Park NY, Cho YL, Park IS, Lee IS (2010) Laparoscopic pelvic anatomy of nerve-sparing radical hysterectomy. Clin Anat 23:186–191

3.

Possover M, Chiantera V, Baekelandt J (2007) Anatomy of the sacral roots and the pelvic splanchnic nerves in women using the LANN technique. Surg Laparosc Endosc Percutan Tech 17:508–510

4.

Jimenez AM, Colomer AT (2008) An update of anatomical references in total laparoscopic radical hysterectomy: from surgical anatomy to anatomical surgery. J Minim Invasive Gynecol 15:4–10

5.

Kadar N (1995) Dissecting the pelvic retroperitoneum and identifying the ureters. A laparoscopic technique. J Reprod Med 40:116–122

6.

Possover M, Quakernack J, Chiantera V (2005) The LANN technique to reduce postoperative functional morbidity in laparoscopic radical pelvic surgery. J Am Coll Surg 6:913–917

7.

Possover M, Stöber S, Plaul K, Schneider A (2000) Identification and preservation of the motoric innervation in the bladder in radical hysterectomy type III. Gynecol Oncol 79:154–157

8.

Rob L, Halaska M, Robova H (2010) Nerve-sparing and individually tailored surgery for cervical cancer. Lancet Oncol 11:292–301

9.

Skret-Magierlo J, Naróg M, Kruczek A, Kluza R, Kluz T, Magon T, Skret A, Wicherek L (2010) Radical hysterectomy during the transition period from traditional to nerve-sparing technique. Gynecol Oncol 116:502–505

10.

Takenaka A, Soga H, Sakai I, Nakano Y, Miyake H, Tanaka K, Fujisawa M (2009) Influence of nerve-sparing procedure on early recovery of urinary continence after laparoscopic radical prostatectomy. J Endourol 23:1115–1119

11.

Liang JT, Lai HS, Lee PH, Chang KJ (2008) Laparoscopic pelvic autonomic nerve-preserving surgery for sigmoid colon cancer. Ann Surg Oncol 15:1609–1616

12.

Volpi E, Ferrero A, Sismondi P (2004) Laparoscopic identification of pelvic nerves in patients with deep infiltrating endometriosis. Surg Endosc 18:1109–1112

13.

Landi S, Ceccaroni M, Perutelli A, Allodi C, Barbieri F, Fiaccavento A, Ruffo G, McVeigh E, Zanolla L, Minelli L (2006) Laparoscopic nerve-sparing complete excision of deep endometriosis: is it feasible? Hum Reprod 21:774–781

14.

Possover M (2010) New surgical evolutions in management of sacral radiculopathies. Surg Technol Int 19:123–128

15.

Guiraud D, Stieglitz T, Koch KP, Divoux JL, Rabischong P (2006) An implantable neuroprosthesis for standing and walking in paraplegia: 5-year patient follow-up. J Neural Eng 3:268–275

16.

Peckham PH, Kilgore KL, Keith MW, Bryden AM, Bhadra N, Montague FW (2002) An advanced neuroprosthesis for restoration of hand and upper arm control using an implantable controller. J Hand Surg Am 27:265–276

17.

Possover M, Baekelandt J, Chiantera V (2007) The laparoscopic implantation of neuroprosthesis (LION) procedure to control intractable abdomino-pelvic neuralgia. Neuromodulation 10:18–23

18.

Possover M, Baekelandt J, Kaufmann A, Chiantera V (2008) Laparoscopic endopelvic sacral implantation of a Brindley controller for recovery of bladder function in a paralyzed patient. Spinal Cord 46:70–73

19.

Lonroth H, Abrahamsson H (2004) Laparoscopic and open placement of electronic implants for gastric electrical stimulation (GES): technique and results. Minim Invasiv Ther Allied Technol 13:336–339

20.

Navarro X, Krueger TB, Lago N, Micera S, Stieglitz T, Dario P (2005) A critical review of interfaces with the peripheral nervous system for the control of neuroprostheses and hybrid bionic systems. J Peripher Nerv Syst 10:229–258

21.

Loeb GE, Peck RA (1996) Cuff electrodes for chronic stimulation and recording of peripheral nerve activity. J Neurosci Methods 64:95–103

22.

Mirilas P, Skandalakis JE (2010) Surgical anatomy of the retroperitoneal spaces, part IV: retroperitoneal nerves. Am Surg 76:253–262

23.

Prochazka A, Mushahwar VK, McCreery DB (2001) Neural prostheses. J Physiol 533:99–109

24.

Grill WM, Mortimer JT (2000) Neural and connective tissue response to long-term implantation of multiple contact nerve cuff electrodes. J Biomed Mater Res 50:215–226

25.

Vince V, Thil MA, Gérard AC, Veraart C, Delbeke J, Colin IM (2005) Cuff electrode implantation around the sciatic nerve is associated with an upregulation of TNF-α and TGF-β1. J Neuroimmunol 159:75–86

26.

Thil MA, Duy DT, Colin IM, Delbeke J (2007) Time course of tissue remodeling and electrophysiology in the rat sciatic nerve after spiral cuff electrode implantation. J Neuroimmunol 185:103–114

27.

Al-Juburi A, Granger S, Barnes J, Voeller G, Beech D, Amiri H, Abell TL (2005) Laparoscopy shortens length of stay in patients with gastric electrical stimulators. JSLS 9:305–310

28.

Romero E, Denef JF, Delbeke J, Robert A, Veraart C (2001) Neural morphological effects of long-term implantation of the self-sizing spiral cuff nerve electrode. Med Mol Eng Comput 39:90–100

29.

Crampon MA, Brailovski V, Sawan M, Trochu F (2002) Nerve cuff electrode with shape memory alloy armature: design and fabrication. Biomed Mater Eng 12:397–410

30.

Grill WM, Mortimer JT (1994) Electrical properties of implant encapsulation tissue. Ann Biomed Eng 22:23–33

31.

Veraart C, Grill WM, Mortimer JT (1993) Selective control of muscle activation with a multipolar nerve cuff electrode. IEEE Trans Biomed Eng 40:640–653

32.

Possover M, Chiantera V (2007) Isolated infiltrative endometriosis of the sciatic nerve: a report of three patients. Fertil Steril 87:e417.17–e417.19
Disclosures
Benoit Rabischong, Demetrio Larraín, Pierre Rabischong, Revaz Botchorishvili, Georges Fraisse, Stephane Gallego, Philippe Gaydiér, Jean Michel Chardigny, and Paul Avan have no conflicts of interest or financial ties to disclose.
Electronic supplementary material
Below is the link to the electronic supplementary material.
The online version of this article (doi: 10.1007/s00464-011-1750-x) contains supplementary material which is available to authorized users. (MPG 52453 kb)
The online version of this article (doi:
10.1007/s00464-011-1750-x
) contains supplementary material which is available to authorized users. (MPG 52453 kb)
About this article
Cite this article
Rabischong, B., Larraín, D., Rabischong, P. et al. Laparoscopic implantation of neural electrodes on pelvic nerves: an experimental study on the obturator nerve in a chronic minipig model. Surg Endosc 25, 3706–3712 (2011) doi:10.1007/s00464-011-1750-x
Received:

Accepted:

Published:

Issue Date:
Keywords
Laparoscopy

Nerve cuff electrodes

Chronic electrical stimulation

Pelvic nerves