Abstract
Background
The pathophysiology of hiatal hernias is incompletely understood. This study systematically reviewed the literature of hiatal hernias to provide an evidence-based explanation of the pathogenetic theories and to identify any risk factors at the molecular and cellular levels.
Methods
A systematic search of the Medline and Pubmed databases on the pathophysiology of hiatal hernias was performed to identify English-language citations from the database inception to December 2010.
Results
Although few studies have examined the relationship of molecular and cellular changes of the diaphragm to the pathogenesis of hiatal hernias, there appear to be three dominant pathogenic theories: (1) increased intraabdominal pressure forces the gastroesophageal junction (GEJ) into the thorax; (2) esophageal shortening due to fibrosis or excessive vagal nerve stimulation displaces the GEJ into the thorax; and (3) GEJ migrates into the chest secondary to a widening of the diaphragmatic hiatus in response to congenital or acquired molecular and cellular changes, such as the abnormalities of collagen type 3 alpha 1.
Conclusions
The pathogenesis of hiatal hernias at the molecular and cellular levels is poorly described. To date, no single theory has proved to be the definitive explanation for hiatal hernia formation, and its pathogenesis appears to be multifactorial.
This is a preview of subscription content, log in to check access.
Access options
Buy single article
Instant access to the full article PDF.
US$ 39.95
Price includes VAT for USA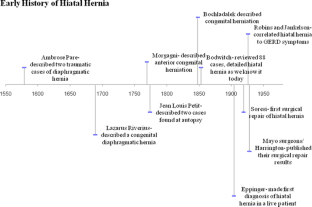 References
1.

Morison JMW (1930) Diaphragmatic hernia. Proc R Soc Med 23:1615–1634

2.

Stylopoulos N, Rattner DW (2005) The history of hiatal hernia surgery: from Bowditch to laparoscopy. Ann Surg 241:185–193

3.

Morgagni GB (1769) The seats and causes of diseases investigated by anatomy, vol 3. Miller and Cadell, London, p 205

4.

Bowditch HI (1853) A treatise on diaphragmatic hernia. Jewett Thomas, Buffalo, NY

5.

Schwarz GS (1967) Historical aspects of the anatomy of the cardia with special reference to hiatus hernia. Bull N Y Acad Med 43:112–125

6.

Eppinger H (1911) Allgemeine und spezielle Pathologie des Zwerchfells. In: Frankl-Hochwart L (ed) Supplemente zu H. Nothnagel, Spezielle Pathologie und Therapie. Holder, Wien

7.

Harrington SW (1945) The surgical treatment of the more common types of diaphragmatic hernia: esophageal hiatus, traumatic, pleuroperitoneal hiatus, congenital absence and foramen of Morgagni: report of 404 cases. Ann Surg 122:546–568

8.

Soresi AL (1919) Diaphragmatic hernia: its unsuspected frequency: diagnosis and technique for radical cure. Ann Surg 69:254–270

9.

Robins SA, Jankelson IR (1926) Cardioesophageal relaxation. JAMA 87:1961–1964

10.

Akerlund A, Onnell H, Key E (1926) Hernia diaphragmatica hiatus oesophagei vom anastomischen und roentgenologischen gesichtspunkt. Acta Radiol 6:3–22

11.

Pandolfino JE, El-Serag HB, Zhang Q, Shah N, Ghosh SK, Kahrilas PJ (2006) Obesity: a challenge to esophagogastric junction integrity. Gastroenterology 130:639–649

12.

Christensen J, Miftakhov R (2000) Hiatus hernia: a review of evidence for its origin in esophageal longitudinal muscle dysfunction. Am J Med 108:3S–7S

13.

Curci JA, Melman LM, Thompson RW, Soper NJ, Matthews BD (2008) Elastic fiber depletion in the supporting ligaments of the gastroesophageal junction: a structural basis for the development of hiatal hernia. J Am Coll Surg 207:191–196

14.

Rosch R, Klinge U, Si Z, Junge K, Klosterhalfen B, Schumpelick V (2002) A role for collagen I/III and MMP-1/13 genes in primary inguinal hernia? BMC Med Genet 3:1–6

15.

Si Z, Bhardwaj R, Rosch R, Mertens PR, Klosterhalfen B, Klinge U (2002) Impaired balance of type I and type III procollagen mRNA in cultured fibroblasts of patients with incisional hernia. Surgery 131:324–331

16.

Klinge U, Si ZY, Zheng H, Schumpelick V, Bhardwaj RS, Klosterhalfen B (2001) Collagen I/III and matrix metalloproteinases (MMP) 1 and 13 in the fascia of patients with incisional hernias. J Invest Surg 13:47–54

17.

Zheng H, Si Z, Kasperk R et al (2002) Recurrent inguinal hernia: disease of collagen matrix? World J Surg 26:401–408

18.

Wagh PV, Leverich AP, Sun CN, White HJ, Read RC (1974) Direct inguinal herniation in men: a disease of collagen. J Surg Res 17:425–433

19.

Asling B, Jirholt J, Hammond P, Knutsson M, Walentinsson A, Davidson G, Agreus L, Lehmann A, Lagerström-Fermer M (2009) Collagen type III alpha I is a gastro-oesophageal reflux disease susceptibility gene and a male risk factor for hiatus hernia. Gut 58:1063–1069

20.

Hovsepian DM, Ziporin SJ, Sakurai MK, Lee JK, Curci JA, Thompson RW (2000) Elevated plasma levels of matrix metalloproteinase-9 in patients with abdominal aortic aneurysms: a circulating marker of degenerative aneurysm disease. J Vasc Intervent Radiol 11:1345–1352

21.

Molet S, Belleguic C, Lena H, Germain N, Bertrand CP, Shapiro SD, Planquois JM, Delaval P, Lagente V (2005) Increase in macrophage elastases (MMP-12) in lungs from patients with chronic obstructive pulmonary disease. Inflam Res 54:31–36

22.

Bellón JM, Bajo A, Ga-Honduvilla N, Gimeno MJ, Pascual G, Guerrero A, Buján J (2001) Fibroblasts from the transversalis fascia of young patients with direct inguinal hernias show constitutive MMP-2 overexpression. Ann Surg 233:287–291

23.

Melman L, Chisholm PR, Curci JA, Arif B, Pierce R, Jenkins ED, Brunt LM, Eagon C, Frisella M, Miller K, Matthews BD (2010) Differential regulation of MMP-2 in the gastrohepatic ligament of the gastroesophageal junction. Surg Endosc 24:1562–1565

24.

Fei L, del Genio G, Rossetti G, Sampaolo S, Moccia F, Trapani V, Cimmino M, del Genio A (2009) Hiatal hernia recurrence: surgical complication or disease? Electron microscope findings of the diaphragmatic pillars. J Gastrointest Surg 13:459–464

25.

Fei L, del Genio G, Brusciano L, Esposito V, Cuttitta D, Pizza F, Rossetti G, Trapani V, Filippone G, Moccia F, del Genio A (2007) Crura ultrastructural alterations in patients with hiatal hernia: a pilot study. Surg Endosc 21:907–911
Disclosures
C. Weber, C. S. Davis, V. Shankaran, and P. M. Fisichella have no conflicts of interest or financial ties to disclose.
Additional information
Accepted for presentation at the Annual Meeting of the Society of American Gastrointestinal and Endoscopic Surgeons (SAGES), San Antonio, TX. 30 March–2 April 2011.
About this article
Cite this article
Weber, C., Davis, C.S., Shankaran, V. et al. Hiatal hernias: a review of the pathophysiologic theories and implication for research. Surg Endosc 25, 3149 (2011). https://doi.org/10.1007/s00464-011-1725-y
Received:

Accepted:

Published:
Keywords
Gastroesophageal reflux disease

GERD

Hiatal hernias

Paraesophageal hernias