Abstract
Background
This pilot study aimed to evaluate the optical performance and clinical handling of a new variable-view rigid endoscope with angulation from 0º to 120º in gynecologic laparoscopic surgery.
Methods
The EndoCAMeleon endoscope was assessed by experienced surgeons and assistants during a variety of advanced gynecologic laparoscopic procedures. After each procedure, both the surgeon and the assistant each completed questionnaires designed to assess the endoscope's ease of handling and optical performance.
Results
The endoscope was assessed during 21 advanced procedures. Questionnaire responses confirmed surgeon and assistant satisfaction with the mechanical handling and vision provided by the endoscope. In particular, the ability to vary the viewing angles enabled the surgeon to visualize the surgical site without moving the endoscope shaft.
Conclusions
The new endoscope performed well in the hands of experienced surgeons and assistants undertaking advanced procedures. The variable-view rigid endoscope allows the use of visual ports during primary port entry and enhances vision. Further study is required to evaluate its performance in routine practice.
This is a preview of subscription content, log in to check access.
Access options
Buy single article
Instant access to the full article PDF.
US$ 39.95
Price includes VAT for USA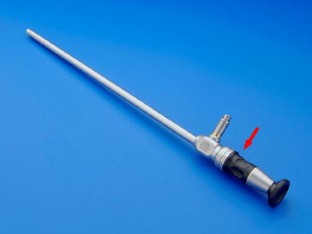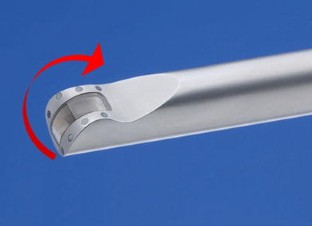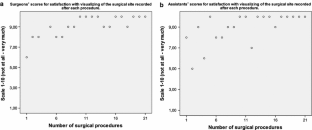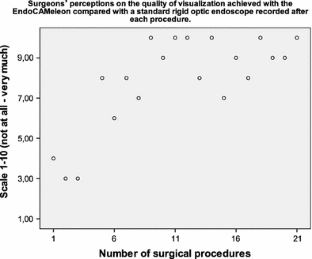 References
1.

Sinha R, Hegde A, Mahajan C, Dubey N, Sundaram M (2008) Laparoscopic myomectomy: do size, number, and location of the myomas form limiting factors for laparoscopic myomectomy? J Minim Invas Gynecol 15:292–300

2.

Puntambekar S, Kudchadkar RJ, Gurjar AM, Sathe RM, Chaudhari YC, Agarwal GA, Rayate NV (2006) Laparoscopic pelvic exenteration for advanced pelvic cancers: a review of 16 cases. Gynecol Oncol 102:513–516

3.

Ames C, Frisella AJ, Yan Y, Shulam P, Landman J (2006) Evaluation of laparoscopic performance with alteration in angle of vision. J Endourol 20:281–283

4.

Minor Martinez A, Ordorica Flores R, Simon JL (2009) Thirty-degree optical system for laparoscopic training. Minim Invasive Ther Allied Technol 18:239–241

5.

Hanna GB, Cuschierei A (1999) Influence of the optical axis-to-target view angle on endoscopic task performance. Surg Endosc 13:371–375

6.

Kang SK, White PS, Lee MS, Ram B, Ogston S (2002) A randomized control trial of surgical task performance in frontal recess surgery: zero degree versus angled telescopes. Am J Rhinol 16:33–36

7.

Ternamian AM, Deitel M (1999) Endoscopic threaded imaging port (Endo TIP) for laparoscopy: experience with different body weights. Obes Surg 9:44–47

8.

Ebner FH, Marquardt JS, Hirt B, Feigl GC, Tatagiba M, Schuhmann MU (2010) Broadening horizons of neuroendoscopy with a variable-view rigid endoscope: an anatomical study. Eur J Surg Oncol 36:195–200

9.

Tamaki N, Hara Y, Takaishi Y, Shimada S (2001) Angled rigid neuroendoscope for continuous intraoperative visual monitoring: technical note. J Clin Neruosci 8:148–150

10.

Hopf NJ (1999) Endoscopic neurosurgery "around the corner" with a rigid endoscope: technical note. Minim Invasive Neurosurg 42:27–31

11.

Patil PV, Hanna GB, Cuschieri A (2004) Effect of the angle between the optical axis of the endoscope and the instruments' plane on monitor image and surgical performance. Surg Endosc 18:111–114

12.

Yee KA, Karmali S, Sherman V (2009) Validation of a simple camera navigation trainer. J Am Coll Surg 209:753–757
Acknowledgment
We thank Karl Storz GmbH, Tuttlingen, for providing the EndoCAMeleon used in this study.
Disclosures
H.-R. Tinneberg is a consultant for Ethicon Endo-Surgery, Ethicon products, Nordic Pharma, and Covidien. A. Hackethal is a consultant for Ethicon Endo-Surgery, Ethicon products, Terumo, and Nordic Pharma. K. Eskef, F. Oehmke, G. Tchartchian, and K. Muenstedt have no conflicts of interest or financial ties to disclose.
About this article
Cite this article
Eskef, K., Oehmke, F., Tchartchian, G. et al. A new variable-view rigid endoscope evaluated in advanced gynecologic laparoscopy: a pilot study. Surg Endosc 25, 3260–3265 (2011). https://doi.org/10.1007/s00464-011-1702-5
Received:

Accepted:

Published:

Issue Date:
Keywords
Laparoscopy

Endoscope

Gynecology

Viewing angle EndoCAMeleon