Abstract
Background
Endoscopic submucosal dissection (ESD) has been used recently for successful en bloc resection of even large lesions, although no consensus appears in medical literature concerning its application to elderly patients. This prospective cohort study aimed to evaluate the efficacy and safety of colorectal ESD for patients 80 years of age or older.
Methods
Colorectal ESD procedure findings were compared with clinical outcomes, including associated complications and mortalities, for two age groups totaling 196 consecutive patients with 202 colorectal lesions. Of the 196 patients, 31 patients (16%) were 80 years of age or older (group E), and 165 patients (84%) were younger than 80 years (group Y).
Results
The median ages were 82 years in group E and 68 years in group Y. The frequency of chronic concomitant diseases was significantly higher in group E (65%) than in group Y (27%) (p = 0.003). No significant pressure decrease or need for oxygenation was observed in either group. In addition, groups E and Y did not differ significantly in terms of mean lesion sizes (40.9 vs. 39.7 mm) en bloc resection rates (84% vs. 93%), curative rates (78% vs. 84%), median procedure times (65 vs. 70 min), or associated complications (no perforation or delayed bleeding cases [0%] vs. 5 perforations [3%]) The median postprocedure hospitalization period was 3 days in both groups. Except for 10 cases requiring subsequent lymph node dissection surgery, follow-up colonoscopy examinations showed no recurrences or ESD-related mortalities in either group.
Conclusion
Colorectal ESD is a safe and effective treatment for elderly patients (age ≥ 80 years) despite a significantly higher frequency of chronic concomitant diseases than among younger patients.
This is a preview of subscription content, log in to check access.
Access options
Buy single article
Instant access to the full article PDF.
US$ 39.95
Price includes VAT for USA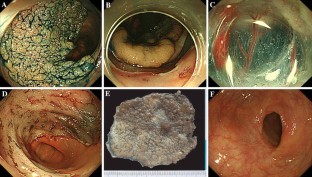 References
1.

Kamangar F, Dores GM, Anderson WF (2006) Patterns of cancer incidence, mortality, and prevalence across five continents: defining priorities to reduce cancer disparities in different geographic regions of the world. J Clin Oncol 24:2137–2150

2.

Cooper GS, Yuan Z, Landefeld S, Johanson JF, Rimm AA (1995) A national population-based study of incidence of colorectal cancer and age: implications for screening in older Americans. Cancer 75:775–781

3.

Mönkemüller K, Fry LC, Malfertheiner P, Schuckardt W (2009) Gastrointestinal endoscopy in the elderly: current issues. Best Pract Res Clin Gastroenterol 23:821–827

4.

Qureshi WA, Zuckerman MJ, Adler DG, Davila RE, Egan JV, Gan SI, Lichtenstein DR, Rajan E, Shen B, Fanelli RD, Van Guilder T, Baron TH, Standards of Practice Committee, American Society for Gastrointestinal Endoscopy Standards of Practice Committee (2006) ASGE guideline: modifications in endoscopic practice for the elderly. Gastrointest Endosc 63:566–569

5.

Walsh RM, Ackroyd FW, Shellito PC (1992) Endoscopic resection of large sessile colorectal polyps. Gastrointest Endosc 38:308–309

6.

Soetikno RM, Gotoda T, Nakanishi Y, Soehendra N (2003) Endoscopic mucosal resection. Gastrointest Endosc 57:567–579

7.

Bufalari A, Ferri M, Cao P, Cirocchi R, Bisacci R, Moggi L (1996) Surgical care in octogenarians. Br J Surg 83:1783–1787

8.

Ohkuwa M, Hosokawa K, Boku N, Ohtu A, Tajiri H, Yoshida S (2001) New endoscopic treatment for intramucosal gastric tumors using an insulated-tip diathermic knife. Endoscopy 33:221–226

9.

Gotoda T, Yamamoto H, Soetikno RM (2006) Endoscopic submucosal dissection of early gastric cancer. J Gastroenterol 41:929–942

10.

Yamamoto H, Kawata H, Sunada K, Sasaki A, Nakazawa K, Miyata T, Sekine Y, Yano T, Satoh K, Ido K, Sugano K (2003) Successful en bloc resection of large superficial tumors in the stomach and colon using sodium hyaluronate and small-caliber-tip transparent hood. Endoscopy 35:690–694

11.

Fujishiro M, Yahagi N, Nakamura M, Kakushima N, Kodashima S, Ono S, Kobayashi K, Hashimoto T, Yamamichi N, Tateishi A, Shimizu Y, Oka M, Ogura K, Kawabe T, Ichinose M, Omata M (2006) Successful outcomes of a novel endoscopic treatment for GI tumors: endoscopic submucosal dissection with a mixture of high-molecular-weight hyaluronic acid, glycerin, and sugar. Gastrointest Endosc 63:243–249

12.

Saito Y, Uraoka T, Matsuda T, Emura F, Ikehara H, Mashimo Y, Kikuchi T, Fu KI, Sano Y, Saito D (2007) Endoscopic treatment of large superficial colorectal tumors: a case series of 200 endoscopic submucosal dissections (with video). Gastrointest Endosc 66:966–973

13.

Uraoka T, Kato J, Ishikawa S, Harada K, Kuriyama M, Takemoto K, Kawahara Y, Saito Y, Okada H (2007) Thin endoscope-assisted endoscopic submucosal dissection for large colorectal tumors (with videos). Gastrointest Endosc 66:836–839

14.

Uraoka T, Kawahara Y, Kato J, Saito Y, Yamamoto K (2009) Endoscopic submucosal dissection in the colorectum: present status and future prospects. Dig Endosc 21(Suppl 1):S13–S16

15.

Uraoka T, Saito Y, Matsuda T, Ikehara H, Gotoda T, Saito D, Fujii T (2006) Endoscopic indications for endoscopic mucosal resection of laterally spreading tumours in the colorectum. Gut 55:1592–1597

16.

Matsuda T, Fujii T, Saito Y, Uraoka T, Kobayashi N, Ikehara H, Ikematsu H, Fu KI, Emura F, Ono A, Sano Y, Shimoda T, Fujimori T (2008) Efficacy of the invasive/noninvasive pattern by magnifying chromoendoscopy to estimate the depth of invasion of early colorectal neoplasms. Am J Gastroenterol 103:2700–2706

17.

Ikehara H, Saito Y, Matsuda T, Uraoka T, Murakami Y (2010) Diagnosis of depth of invasion for early colorectal cancer using magnifying colonoscopy. J Gastroenterol Hepatol 25:905–912

18.

Uraoka T, Fujii T, Saito Y, Sumiyoshi T, Emura F, Bhandari P, Matsuda T, Fu KI, Saito D (2005) Effectiveness of glycerol as a submucosal injection for EMR. Gastrointest Endosc 61:736–740

19.

Yamamoto H, Kawata H, Sunada K, Satoh K, Kaneko Y, Ido K, Sugano K (2002) Success rate of curative endoscopic mucosal resection with circumferential mucosal incision assisted by submucosal injection of sodium hyaluronate. Gastrointest Endosc 56:507–512

20.

Sano Y, Fu KI, Saito Y, Hanafusa M, Fujii S, Fujimori T, Ohtsu A (2006) A newly developed endoscopic needle knife using bipolar current for large colorectal tumors. Endoscopy 38(Suppl 5):E95

21.

Saito Y, Uraoka T, Matsuda T, Emura F, Ikehara H, Mashimo Y, Kikuchi T, Kozu T, Saito D (2007) A pilot study to assess safety and efficacy of carbon dioxide insufflation during colorectal endoscopic submucosal dissection under conscious sedation. Gastrointest Endosc 65:537–542

22.

Japanese Research Society for Cancer of the Colon and Rectum (1998) General rules for clinical and pathological studies on cancer of the colon, rectum, and anus: histopathological classification. 6th ed. Kanehara Syuppan, Tokyo pp 60–90

23.

Kudo S (1993) Endoscopic mucosal resection of flat and depressed type of early colorectal cancer. Endoscopy 25:455–461

24.

Weeks JC, Nelson H, Gelber S, Sargent D, Schroeder G, Clinical Outcomes of Surgical Therapy (COST) Study Group (2002) Short-term quality-of-life outcomes following laparoscopic-assisted colectomy vs open colectomy for colon cancer. JAMA 287:321–328

25.

Stewart BT, Stitz RW, Lumley JW (1999) Laparoscopically assisted colorectal surgery in the elderly. Br J Surg 86:938–941

26.

Senagore AJ, Madbouly KM, Fazio VW, Duepree HJ, Brady KM, Delaney CP (2003) Advantages of laparoscopic colectomy in older patients. Arch Surg 138:252–256

27.

Saito Y, Fukuzawa M, Matsuda T, Fukunaga S, Sakamoto T, Uraoka T, Nakajima T, Ikehara H, Fu KI, Itoi T, Fujii T (2010) Clinical outcome of endoscopic submucosal dissection versus endoscopic mucosal resection of large colorectal tumors as determined by curative resection. Surg Endosc 24:343–352

28.

Tanaka S, Haruma K, Oka S, Takahashi R, Kunihiro M, Kitadai Y, Yoshihara M, Shimamoto F, Chayama K (2001) Clinicopathologic features and endoscopic treatment of superficially spreading colorectal neoplasms larger than 20 mm. Gastrointest Endosc 54:62–66

29.

Higaki S, Hashimoto S, Harada K, Nohara H, Saito Y, Gondo T, Okita K (2003) Long-term follow-up of large flat colorectal tumors resected endoscopically. Endoscopy 35:845–849

30.

Luigiano C, Consolo P, Scaffidi MG, Strangio G, Giacobbe G, Alibrandi A, Pallio S, Tortora A, Melita G, Familiari L (2009) Endoscopic mucosal resection for large and giant sessile and flat colorectal polyps: a single-center experience with long-term follow-up. Endoscopy 41:829–835

31.

Conio M, Repici A, Demarquay JF, Blanchi S, Dumas R, Filiberti R (2004) EMR of large sessile colorectal polyps. Gastrointest Endosc 60:234–241

32.

Kakushima N, Fujishiro M, Kodashima S, Muraki Y, Tateishi A, Yahagi N, Omata M (2007) Technical feasibility of endoscopic submucosal dissection for gastric neoplasms in the elderly Japanese population. J Gastroenterol Hepatol 22:311–314

33.

Isomoto H, Ohnita K, Yamaguchi N, Fukuda E, Ikeda K, Nishiyama H, Akiyama M, Ozawa E, Nakao K, Kohno S, Shikuwa S (2010) Clinical outcomes of endoscopic submucosal dissection in elderly patients with early gastric cancer. Eur J Gastroenterol Hepatol 22:311–317

34.

Yoshida N, Naito Y, Sakai K, Kanemasa K, Inoue K, Morimoto Y, Konishi H, Wakabayashi N, Kokura S, Yagi N, Yanagisawa A, Yoshikawa T (2010) Outcome of endoscopic submucosal dissection for colorectal tumors in elderly people. Int J Colorectal Dis 25:455–461

35.

Saito Y, Uraoka T, Yamaguchi Y, Hotta K, Sakamoto N, Ikematsu H, Fukuzawa M, Kobayashi N, Nasu J, Michida T, Yoshida S, Ikehara H, Otake Y, Nakajima T, Matsuda T, Saito D (2010) A multicenter study of 1,111 colorectal endoscopic submucosal dissections using a prospectively completed database. Gastrointest Endosc 72:1217–1225
Disclosures
Toshio Uraoka, Reiji Higashi, Jun Kato, Eisuke Kaji, Hideyuki Suzuki, Shin Ishikawa, Mitsuhiro Akita, Tomoko Hirakawa, Shunsuke Saito, Keisuke Hori, Yoshiro Kawahara, Robert J. Mead, and Kazuhide Yamamoto have no conflicts of interest or financial ties to disclose.
About this article
Cite this article
Uraoka, T., Higashi, R., Kato, J. et al. Colorectal endoscopic submucosal dissection for elderly patients at least 80 years of age. Surg Endosc 25, 3000 (2011). https://doi.org/10.1007/s00464-011-1660-y
Received:

Accepted:

Published:
Keywords
Colorectum

Elderly

EMR

Endoscopic mucosal resection

Endoscopic submucosal dissection

ESD