Abstract
Background
Transgastric endoscopy may represent a viable platform for diagnostic and therapeutic pancreatic interventions with reduced morbidity. In a human cadaver model, we aimed to determine the feasibility of transgastric endoscopic access to the lesser sac, creation of an adequate working space within the lesser sac, and reliable identification of lesser sac anatomic structures.
Methods
In six human cadavers, endoscopic guidance was used to determine an appropriate access site to the lesser sac. Subsequently, endosonographic guidance was used to introduce an aspiration needle into the potential space between the stomach and the pancreas. After creating a fluid cushion and dilating the needle tract, an endoscope was advanced through the gastrotomy into the lesser sac and air insufflation was used to create a working space. Predetermined anatomic structures were systematically sought and marked when recognized. In the final two cadavers, endoscopic closure of the access site was performed.
Results
All six procedures were successful in achieving access to the lesser sac and establishing an adequate working space. The access sites appeared amenable to endoscopic closure. Reliable organ identification, however, was not achieved in all cases, representing one of the immediate barriers to clinical application.
Conclusions
Transgastric endoscopic access to the lesser sac can be achieved reliably and an adequate working space can be established. Additional research addressing endoscopic orientation and organ recognition within the lesser sac is necessary. The immediate potential applications of this approach include differentiating benign from malignant pancreatic pathology.
This is a preview of subscription content, log in to check access.
Access options
Buy single article
Instant unlimited access to the full article PDF.
US$ 39.95
Price includes VAT for USA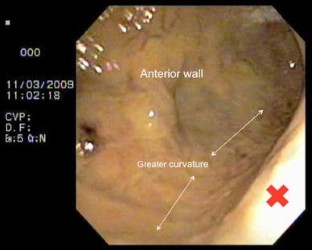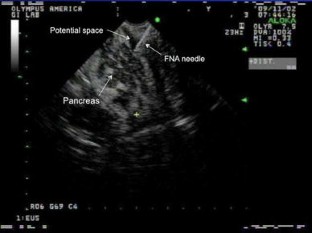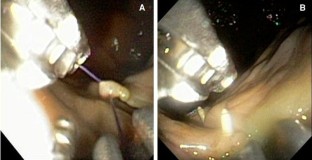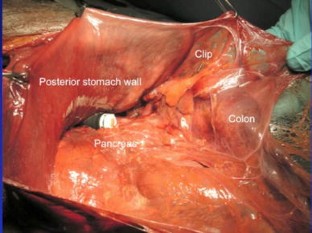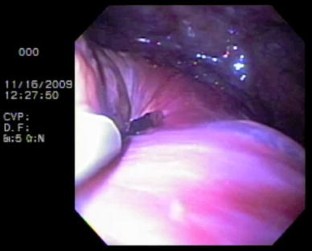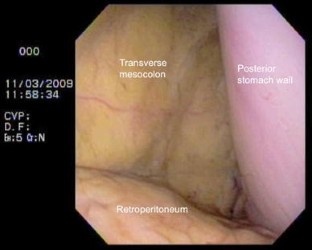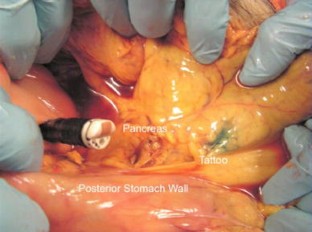 Abbreviations
ERCP:

Endoscopic retrograde cholangiopancreatography

EUS:

Endoscopic ultrasound

FNA:

Fine-needle aspiration

NOTES:

Natural orifice transluminal endoscopic surgery
References
1.

Chari RS, Shah SA (2007) Biliary system. In: Townsend CM Jr, Beauchamp RD, Evers BM, Mattox KL (eds) Sabiston textbook of surgery, chap 54, 18th edn. Saunders Elsevier Co, Philadelphia

2.

Hutter MM, Randall S, Khuri SF, Henderson WG, Abbott WM, Warshaw AL (2006) Laparoscopic versus open gastric bypass for morbid obesity: a multicenter, prospective, risk-adjusted analysis from the National Surgical Quality Improvement Program. Ann Surg 243(5):657–662

3.

Brunt LM, Langer JC, Quasebarth MA, Whitman ED (1996) Comparative analysis of laparoscopic versus open splenectomy. Am J Surg 172:596–599

4.

Knaebel HP, Diener MK, Wente MN, Büchler MW, Seiler CM (2005) Systematic review and meta-analysis of technique for closure of the pancreatic remnant after distal pancreatectomy. Br J Surg 92:539–546

5.

Rodriguez JR, Germes SS, Pandharipande PV, Gazelle GS, Thayer SP, Warshaw AL, Fernández-del Castillo C (2006) Implications and cost of pancreatic leak following distal pancreatic resection. Arch Surg 141:361–366

6.

Park DH, Lee SS, Moon SH, Choi SY, Jung SW, Seo DW, Lee SK, Kim MH (2009) Endoscopic ultrasound-guided versus conventional transmural drainage for pancreatic pseudocysts: a prospective randomized trial. Endoscopy 41:842–848

7.

Seifert H, Biermer M, Schmitt W, Jürgensen C, Will U, Gerlach R, Kreitmair C, Meining A, Wehrmann T, Rösch T (2009) Transluminal endoscopic necrosectomy after acute pancreatitis: a multicentre study with long-term follow-up (the GEPARD Study). Gut 58:1260–1266
Disclosures
Amitabh Chak receives research support from Olympus America. Jeffrey Marks sits on the physician advisory board for Apollo Endosurgery. B. Joseph Elmunzer, Christopher J. Sonnenday, Jason R. Taylor, Joseph P. Furlan, Steve Schomisch, James M. Scheiman, and Jeffrey L. Ponsky have no conflicts of interest to declare. No financial support was used for this project. The endoscopes were provided by Olympus Medical Systems. The endoscopic suturing device was provided by Apollo Endosurgery. The endoscopic instruments were provided by Cook Medical, Boston Scientific, Inc., and Olympus America.
Electronic supplementary material
Below is the link to the electronic supplementary material.
Supplementary material 1 (M4V 98316 kb)
About this article
Cite this article
Elmunzer, B.J., Sonnenday, C.J., Taylor, J.R. et al. Endoscopic access to and exploration of the lesser sac in a human cadaver model: opportunity for transgastric endoscopic pancreatic surgery (with video). Surg Endosc 25, 2725–2730 (2011). https://doi.org/10.1007/s00464-011-1607-3
Received:

Accepted:

Published:

Issue Date:
Keywords
NOTES

Transgastric endoscopy

Pancreatic surgery