Abstract
Background
A randomized controlled trial (RCT) investigated patients with gastroesophageal reflux disease (GERD) who were stable and symptomatically controlled with long-term medical therapy to compare ongoing optimized medical therapy with laparoscopic Nissen fundoplication (LNF).
Methods
Of the 180 patients eligible for randomization, 104 gave informed consent, and 3 withdrew from the study immediately after randomization. The patients randomized to medical therapy received optimized treatment with proton pump inhibitors (PPIs) using a standardized management protocol based on best evidence and published guidelines. The surgical patients underwent LNF by one of four surgeons using a previously published technique. The patients underwent symptom evaluation using the GERD symptom scale (GERSS) and the global visual analog scale (VAS) for overall symptom control. They had 24-h esophageal pH monitoring at baseline and after 3 years. The medical patients were evaluated receiving PPI, and the surgical patients were evaluated not receiving PPI.
Results
For the 3-year follow-up assessment, 93 patients were available. At 3 years, surgery was associated with more heartburn-free days, showing a mean difference of −1.35 days per week (p = 0.0077) and a lower VAS score (p = 0.0093) than medical management. Surgical patients reported improved quality of life on the general health subscore of the Medical Outcomes Survey Short Form 36 (SF-36) at 3 years, with a mean difference of −12.19 (p = 0.0124). The groups did not differ significantly in terms of GERSS or acid exposure on 24-h esophageal pH monitoring at 3 years. There were six treatment failures (11.8%) in the surgical group and eight treatment failures (16%) in the medical group by 3 years.
Conclusions
For patients whose GERD symptoms are stable and controlled with PPI, continuing medical therapy and laparoscopic antireflux surgery are equally effective, although surgery may result in better symptom control and quality of life.
This is a preview of subscription content, log in to check access.
Access options
Buy single article
Instant access to the full article PDF.
US$ 39.95
Price includes VAT for USA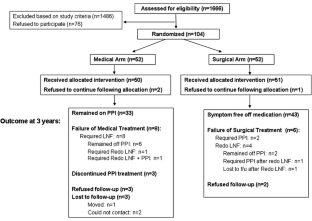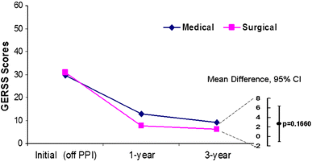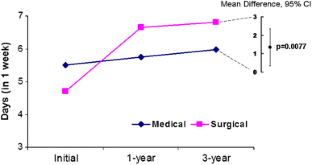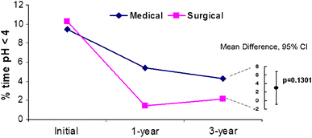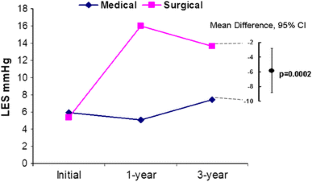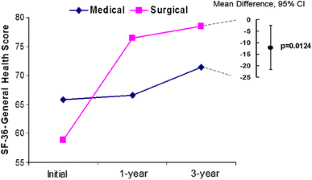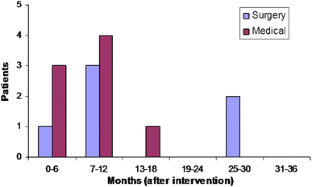 References
1.

Hartmann J, Jacobi CA, Menenakos C, Ismail M, Braumann C (2008) Surgical treatment of gastroesophageal reflux disease and upside-down stomach using the Da Vinci robotic system: a prospective study. J Gastrointest Surg 12:504–509

2.

Katelaris PH (2004) An evaluation of current GERD therapy: a summary and comparison of effectiveness, adverse effects and costs of drugs, surgery, and endoscopic therapy. Best Pract Res Clin Gastroenterol 18(Suppl):39–45

3.

Gerson LB, Boparai V, Ullah N, Triadafilopoulos G (2004) Oesophageal and gastric pH profiles in patients with gastro-oesophageal reflux disease and Barrett's oesophagus treated with proton pump inhibitors. Aliment Pharmacol Ther 20:637–643

4.

Lundell L, Miettinen P, Myrvold HE, Pedersen SA, Liedman B, Hatlebakk JG, Julkonen R, Levander K, Carlsson J, Lamm M, Wiklund I (2001) Continued (5-year) follow-up of a randomized clinical study comparing antireflux surgery and omeprazole in gastroesophageal reflux disease. J Am Coll Surg 192:172–179

5.

Dallemagne B, Weerts JM, Jehaes C, Markiewicz S, Lombard R (1991) Laparoscopic Nissen fundoplication: preliminary report. Surg Laparosc Endosc 1:138–143

6.

Anvari M, Allen C (2003) Five year comprehensive outcomes evaluation in 181 patients after laparoscopic Nissen fundoplication. J Am Coll Surg 196:51–57

7.

Hinder RA, Filipi CJ, Wetscher G, Neary P, DeMeester TR, Perdikis G (1994) Laparoscopic Nissen fundoplication is an effective treatment for gastroesophageal reflux disease. Ann Surg 220:472–481; discussion 481–483

8.

Gould JC, Melvin WS (2002) Computer-assisted robotic antireflux surgery. Surg Laparosc Endosc Percutan Tech 12:26–29

9.

Spechler SJ (1992) Comparison of medical and surgical therapy for complicated gastroesophageal reflux disease in veterans. N Engl J Med 326:786–792

10.

Sontag SJ, O'Connell S, Khandelwal S, Greenlee H, Schnell T, Nemchausky B, Chejfec G, Miller T, Seidel J, Sonnenberg A (2003) Asthmatics with gastroesophageal reflux: long-term results of a randomized trial of medical and surgical therapies. Am J Gastoenterol 98:987–999

11.

Mahon D, Rhodes M, Decadt B, Hindmarsh A, Lowndes R, Beckingham I, Koo B, Newcombe RG (2005) Randomized clinical trial of laparoscopic Nissen fundoplication compared with proton pump inhibitors for treatment of chronic gastroesophageal reflux. Br J Surg 92:695–699

12.

Spechler SJ, Lee E, Ahnen D, Goyal RK, Hirano I, Ramirez F, Raufman JP, Sampliner R, Schnell T, Sontag S, Vlahcevic ZR, Young R, Williford W (2001) Long-term outcome of medical and surgical therapies for gastroesophageal reflux disease: follow-up of a randomized controlled trial. JAMA 285:2331–2338

13.

Anvari M, Allen C, Marshall J, Armstong D, Goeree R, Ungar W, Goldsmith CH (2006) A randomized controlled trial of laparoscopic Nissen fundoplication versus proton pump inhibitors for treatment of patients with chronic gastroesophageal reflux disease: one-year follow-up. Surg Innov 4:238–249

14.

Allen CJ, Parameswaran K, Belda J, Anvari M (2000) Reproducibility, validity, and responsiveness of a disease-specific symptom questionnaire for gastroesophageal reflux disease. Dis Esophagus 13:65–70

15.

Maddern GJ, Chatterton BE, Collins PJ, Horowitz M, Shearman DJ, Jamieson GG (1985) Solid and liquid gastric emptying in patients with gastro-oesophageal reflux. Br J Surg 72:344–347

16.

Anvari M, Allen C (2003) Surgical outcome in gastro-esophageal reflux disease patients with inadequate response to proton pump inhibitors. Surg Endosc 17:1029–1035

17.

Oelschlager BK, Lal DR, Jensen E, Cahill M, Quiroga E, Pellegrini CA (2006) Medium- and long-term outcome of laparoscopic redo fundoplication. Surg Endosc 20:1817–1823

18.

Tytgat GN, McColl K, Tack J, Holtmann G, Hunt RH, Malfertheiner P, Hungin AP, Batchelor HK (2008) New algorithm for the treatment of gastro-oesophageal reflux disease. Aliment Pharmacol Ther 27:249–256
Acknowledgments
We thank the following individuals for their contributions to this study: Lianna Butler and Sonja DePauw (study coordination), Drs. Cliff Sample, Herawaty Sebajang, and Laurent Biertho (patient care), Drs. Margherita Cadeddu and Robert Goodacre (Safety Monitoring Board), Leslie Deluca, Meredine Haynes, Jennifer McGugan, and Denise Stys Norman (data collection and patient follow-up), Paula McKay, and Karen Barlow (manuscript preparation), and Dr. Gary Foster (data management and detailed statistical analysis).This study was supported by grants from the Canadian Institute of Health Research and the Ontario Ministry of Health and Long-term Care.
Disclosures
Mehran Anvari, Christopher Allen, John Marshall, David Armstrong, Ron Goeree, Wendy Ungar, and Charles Goldsmith have no conflicts of interest or financial ties to disclose.
About this article
Cite this article
Anvari, M., Allen, C., Marshall, J. et al. A randomized controlled trial of laparoscopic Nissen fundoplication versus proton pump inhibitors for the treatment of patients with chronic gastroesophageal reflux disease (GERD): 3-year outcomes. Surg Endosc 25, 2547–2554 (2011). https://doi.org/10.1007/s00464-011-1585-5
Received:

Accepted:

Published:

Issue Date:
Keywords
Gastroesophageal reflux disease

GERD

Laparoscopic antireflux surgery

Laparoscopic Nissen fundoplication

Medical therapy

Proton pump inhibitors