Abstract
Background
Suprapubic hernias are considered difficult to repair laparoscopically due to deficient posterior rectus sheath and proximity to important neurovascular structures and the urinary bladder.
Methods
We retrospectively reviewed 72 patients (18 males, 54 females) who, between 1998 and 2008, had undergone laparoscopic repair for suprapubic hernial defects located less than 5 cm from the pubic arch. Five patients (6.9%) had recurrent hernias. A peritoneal flap was dissected distally to facilitate a mesh overlap of at least 5 cm from the hernial defect. The lower margin of the mesh was fixed under direct vision to Cooper's ligaments bilaterally. The raised peritoneal flap was reattached to the anterior abdominal wall thereby partially extraperitonealizing the mesh.
Results
Mean diameter of the hernial defect was 5.2 cm (range = 3.1–7.3 cm) as measured intraperitoneally. Mean size of the mesh used was 328.8 cm2 (range = 225–506 cm2). Mean operating time was 116 min (range = 64–170 min). Overall complication rate was 27.8%. There were no conversions. No recurrences were observed at a mean follow-up of 4.8 years (range = 1.2–6.9 years) and a follow-up rate of 84.7%
Conclusion
A mesh overlap of at least 5 cm and fixation of the lower margin of the mesh under direct vision to Cooper's ligaments appears to confer increased strength and durability and contribute to low hernia recurrence rates in patients with suprapubic hernias.
This is a preview of subscription content, log in to check access.
Access options
Buy single article
Instant access to the full article PDF.
US$ 39.95
Price includes VAT for USA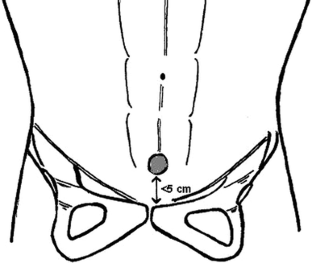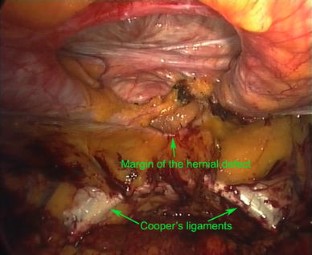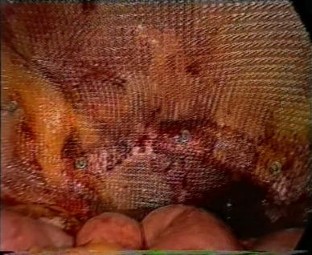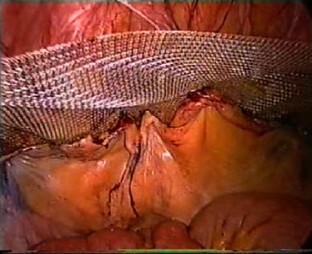 References
1.

Shell DH IV, de la Torre J, Andrades P, Vasconez LO (2008) Open repair of ventral incisional hernias. Surg Clin North Am 88:61–83

2.

Bucknall TE, Cox PJ, Ellis H (1982) Burst abdomen and incisional hernia: a prospective study of 1129 major laparotomies. Br Med J (Clin Res Ed) 284(6320):931–933

3.

Mudge M, Hughes LE (1985) Incisional hernia: a ten year prospective study of incidence and attitudes. Br J Surg 72:70–71

4.

Carbonell AM, Kercher KW, Matthews BD, Sing RF, Cobb WS, Heniford BT (2005) The laparoscopic repair of suprapubic ventral hernias. Surg Endosc 19:174–177

5.

Varnell B, Bachman S, Quick J, Vitamvas M, Ramshaw B, Oleynikov D (2008) Morbidity associated with laparoscopic repair of suprapubic hernias. Am J Surg 196:983–987; discussion 987–988

6.

Palanivelu C, Rangarajan M, Parthasarathi R, Madankumar MV, Senthilkumar K (2008) Laparoscopic repair of suprapubic incisional hernias: suturing and intraperitoneal composite mesh onlay. A retrospective study. Hernia 12:251–256

7.

Bendavid R (1990) Incisional parapubic hernias. Surgery 108:98–901

8.

Hirasa T, Pickleman J, Shayani V (2001) Laparoscopic repair of parapubic hernia. Arch Surg 136:1314–1317

9.

Luijendijk RW, Jeekel J, Storm RK, Schutte PJ, Hop WC, Drogendijk AC, Huikeshoven FJ (1997) The low transverse Pfannenstiel incision and the prevalence of incisional hernia and nerve entrapment. Ann Surg 225:365–369

10.

Griffiths DA (1976) A reappraisal of the Pfannenstiel incision. Br J Urol 48:469–474

11.

Luijendijk RW, Lemmen MH, Hop WC, Wereldsma JC (1997) Incisional hernia recurrence following "vest-over-pants" or vertical Mayo repair of primary hernias of the midline. World J Surg 21:62–66

12.

Hesselink VJ, Luijendijk RW, Wilt JH, Heide R, Jeekel J (1993) Incisional hernia recurrence; an evaluation of risk factors. Surg Gynecol Obstet 176:228–234

13.

Klinge U, Klosterhalfen B, Conze J (1998) Modified mesh for hernia repair that is adapted to the physiology of the abdominal wall. Eur J Surg 164:951–960

14.

Klinge U, Conze B, Klosterhalfen B (1996) Changes in abdominal wall mechanics after mesh implantation: experimental changes in mesh stability. Langenbecks Arch Chir 381:323–332

15.

Chowbey PK, Sharma A, Mehrotra M, Khullar R, Soni V, Baijal M (2006) Laparoscopic repair of ventral/incisional hernias. J Minim Access Surg 2:192–198

16.

Leber GE, Garb JL, Alexander AI, Reed WP (1998) Long term complications associated with prosthetic repair of incisional hernia. Arch Surg 133:378–382
Disclosures
A. Sharma, A. Dey, R. Khullar, V. Soni, M. Baijal, and P. K. Chowbey have no conflicts of interest or financial ties to disclose.
About this article
Cite this article
Sharma, A., Dey, A., Khullar, R. et al. Laparoscopic repair of suprapubic hernias: transabdominal partial extraperitoneal (TAPE) technique. Surg Endosc 25, 2147–2152 (2011). https://doi.org/10.1007/s00464-010-1513-0
Received:

Accepted:

Published:

Issue Date:
Keywords
Suprapubic hernia

Incisional hernia

Laparoscopic incisional onlay mesh repair