Abstract
Background
Endoscopic mucosal resection (EMR) is an alternative to surgery for removal of superficial gastric neoplastic lesions. Residual neoplastic tissue of the resection interface is difficult to detect by conventional endoscopy. The aim of this study is to assess the efficacy of confocal laser endomicroscopy (CLE) in predicting complete resection margins after EMR.
Methods
EMR was performed by using cap-assisted or "inject and cut" resection technique. Two weeks after EMR, the circumferential margins of the defect were inspected by using CLE, and completeness of excision was predicted from the CLE image. Additional EMR was performed if necessary. In vivo CLE diagnosis was validated against final histopathology.
Results
Twenty-seven lesions were removed by EMR in 27 patients. After excluding 3 patients for gastrectomy, a total of 24 patients underwent CLE assessment, of whom 9 with indefinite lateral margins underwent at least two consecutive CLE follow-ups. A total of 19 lesions were regarded as complete remission, and 5 lesions (21.7%) were incompletely excised according to final pathologic diagnosis. Accuracy of CLE in predicting incomplete resection for original lesions was 91.7%, with sensitivity and specificity of 100.0 and 89.5%, respectively. The residual lesions were treated by additional EMR guided by CLE. There was no recurrence on endoscopic biopsies at mean (range) follow-up of 8.3 (4–15) months.
Conclusions
Confocal laser endomicroscopy has high accuracy for prediction of remnant tissue after EMR, and may lead to significant improvements in clinical surveillance after endoscopic resection.
This is a preview of subscription content, log in to check access.
Access options
Buy single article
Instant access to the full article PDF.
US$ 39.95
Price includes VAT for USA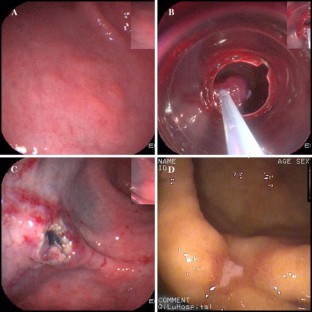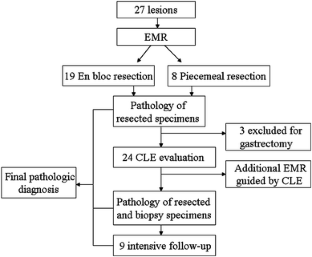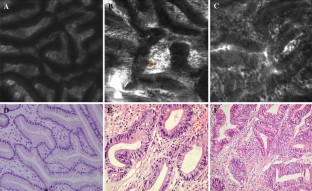 References
1.

Parkin DM, Bray FI, Devesa SS (2001) Cancer burden in the year 2000.The global picture. Eur J Cancer 37:S4–S66

2.

Ono H, Kondo H, Gotoda T, Shirao K, Yamaguchi H, Saito D, Hosokawa K, Shimoda T, Yoshida S (2001) Endoscopic mucosal resection for treatment of early gastric cancer. Gut 48:225–229

3.

Larghi A, Waxman I (2007) State of the art on endoscopic mucosal resection and endoscopic submucosal dissection. Gastrointest Endosc Clin North Am 17:441–469

4.

Gotoda T (2007) Endoscopic resection of early gastric cancer. Gastric Cancer 10:1–11

5.

Rembacken BJ, Gotoda T, Fujii T, Axon AT (2001) Endoscopic mucosal resection. Endoscopy 33:709–718

6.

Kiesslich R, Gossner L, Goetz M, Dahlmann A, Vieth M, Stolte M, Hoffman A, Jung M, Nafe B, Galle PR, Neurath MF (2006) In vivo histology of Barrett's esophagus and associated neoplasia by confocal laser endomicroscopy. Clin Gastroenterol Hepatol 4:979–987

7.

Kitabatake S, Niwa Y, Miyahara R, Ohashi A, Matsuura T, Iguchi Y, Shimoyama Y, Nagasaka T, Maeda O, Ando T, Ohmiya N, Itoh A, Hirooka Y, Goto H (2006) Confocal endomicroscopy for the diagnosis of gastric cancer in vivo. Endoscopy 38:1110–1114

8.

Zhang JN, Li YQ, Zhao YA, Yu T, Zhang JP, Guo YT, Liu H (2008) Classification of gastric pit patterns by confocal endomicroscopy. Gastrointest Endosc 67:843–853

9.

Wen-Bo Li, Zuo Xiu-Li, Zuo Fang, Xiao-Meng Gu, Tao Yu, Zhao You-An, Zhang Ting-Guo, Zhang Jian-Ping, Li Yan-Qing (2010) Characterization and identification of gastric hyperplastic polyps and adenomas by confocal laser endomicroscopy. Surg Endosc 24:517–524

10.

Kiesslich R, Burg J, Vieth M, Gnaendiger J, Enders M, Delaney P, Polglase A, Mclaren W, Janell D, Thomas S, Nafe B, Galle P, Neurath M (2004) Confocal laser endoscopy for diagnosing intraepithelial neoplasias and colorectal cancer in vivo. Gastroenterology 127:706–713

11.

Tsujitani S, Oka S, Saito H, Kondo A, Ikeguchi M, Maeta M, Kaibara N (1999) Less invasive surgery for early gastric cancer based on the low probability of lymph node metastasis. Surgery 125:148–154

12.

Yanai H, Noguchi T, Mizumachi S, Tokiyama H, Nakamura H, Tada M, Okita K (1999) A blind comparison of the effectiveness of endoscopic ultrasonography and endoscopy in staging early gastric cancer. Gut 44:361–365

13.

Sumiyama K, Kaise M, Nakayoshi T, Kato M, Mashiko T, Uchiyama Y, Goda K, Hino S, Nakamura Y, Matsuda K, Mochizuki K, Kawamura M, Tajiri H (2004) Combined use of a magnifying endoscope with a narrow band imaging system and a multibending endoscope for en bloc EMR of early stage gastric cancer. Gastrointest Endosc 60:79–84

14.

Thomas T, Singh R, Ragunath K (2009) Trimodal imaging-assisted endoscopic mucosal resection of early Barrett's neoplasia. Surg Endosc 23:1609–1613

15.

Makuuchi H, Kise Y, Shimada H, Chino O, Tanaka H (1999) Endoscopic mucosal resection for early gastric cancer. Semin Surg Oncol 17:108–116

16.

Yoshida S, Kozu T, Gotoda T, Saito D (2006) Detection and treatment of early cancer in high-risk populations. Best Pract Res Clin Gastroenterol 20:745–765

17.

Hurlstone DP, Cross SS, Brown S, Sanders DS, Lobo AJ (2004) A prospective evaluation of high-magnification chromoscopic colonoscopy in predicting completeness of EMR. Gastrointest Endosc 59:642–650

18.

Fertitta AM, Comin U, Terruzzi V, Minoli G, Zambelli A, Cannatelli G, Negri R, Brunati S (1993) Clinical significance of gastric dysplasia: a multicenter follow-up study. Gastrointestinal Endoscopic Pathology Study Group. Endoscopy 25:265–268

19.

Goetz M, Toermer T, Vieth M, Dunbar K, Hoffman A, Galle PR, Neurath MF, Delaney P, Kiesslich R (2009) Simultaneous confocal laser endomicroscopy and chromoendoscopy with topical cresyl violet. Gastrointest Endosc 70:959–968

20.

Hsiung PL, Hardy J, Friedland S, Soetikno R, Du CB, Wu AP, Sahbaie P, Crawford JM, Lowe AW, Contag CH, Wang TD (2008) Detection of colonic dysplasia in vivo using a targeted heptapeptide and confocal microendoscopy. Nat Med 14:454–458
Acknowledgments
This study was funded by the Clinical Projects Program of the Ministry of Health of China (2007) and the Taishan Scholar Program of Shandong Province.
Disclosures
Authors Rui Ji, Xiu-Li Zuo, Chang-Qing Li, Cheng-Jun Zhou, and Yan-Qing Li have no conflicts of interest or financial ties to disclose.
About this article
Cite this article
Ji, R., Zuo, X., Li, C. et al. Confocal endomicroscopy for in vivo prediction of completeness after endoscopic mucosal resection. Surg Endosc 25, 1933–1938 (2011). https://doi.org/10.1007/s00464-010-1490-3
Received:

Accepted:

Published:

Issue Date:
Keywords
Endoscopic mucosal resection

Confocal laser endomicroscopy

Neoplasia