Abstract
Background
Although recent technological developments and improved endoscopic procedures have further spread the application of laparoscopic liver resection, laparoscopic anatomical liver resection still presents major technical difficulties, such as pedicle control.
Methods
Subjects comprised 27 patients who underwent laparoscopic anatomical liver resection using an extrahepatic Glissonean pedicle transaction between August 2005 and February 2010.
Results
A total of 61 Glissonean pedicles could be encircled en bloc extrahepatically, as planned. No serious complications, including major bleeding or injury of the portal triad, were encountered during procedures.
Conclusions
Extrahepatic Glissonean access seems to be feasible and safe for laparoscopic anatomical resection of the liver.
This is a preview of subscription content, log in to check access.
Access options
Buy single article
Instant access to the full article PDF.
US$ 39.95
Price includes VAT for USA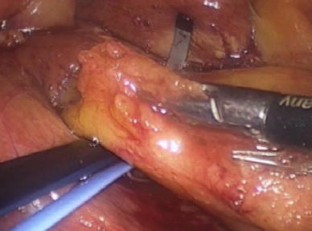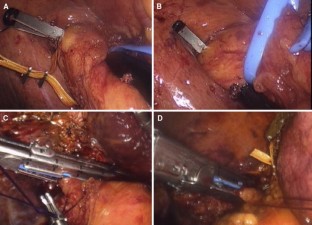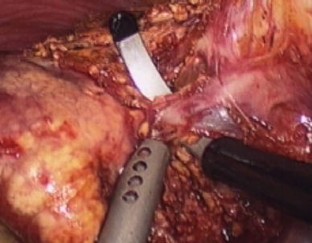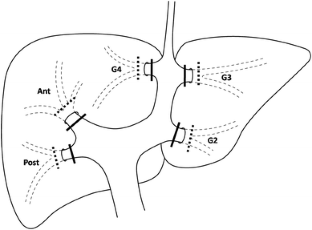 References
1.

Kaneko H, Takagi S, Shiba T (1996) Laparoscopic partial hepatectomy and left lateral segmentectomy: technique and results of a clinical series. Surgery 120:468–475

2.

Shimada M, Hashizume M, Maehara S, Tsujita E, Rikimaru T, Yamashita Y, Tanaka S, Adachi E, Sugimachi K (2001) Laparoscopic hepatectomy for hepatocellular carcinoma. Surg Endosc 15:541–544

3.

Wakabayashi G (2009) Laparoscopic liver resection: how far can we go? J Hepatobiliary Pancreat Surg 16:403–404

4.

Buell JF, Cherqui D, Geller DA, O'Rourke N, Iannitti D, Dagher I, Koffron AJ, Thomas M, Gayet B, Han HS, Wakabayashi G, Belli G, Kaneko H, Ker CG, Scatton O, Laurent A, Abdalla EK, Chaudhury P, Dutson E, Gamblin C, D'Angelica M, Nagorney D, Testa G, Labow D, Manas D, Poon RT, Nelson H, Martin R, Clary B, Pinson WC, Martinie J, Vauthey JN, Goldstein R, Roayaie S, Barlet D, Espat J, Abecassis M, Rees M, Fong Y, McMasters KM, Broelsch C, Busuttil R, Belghiti J, Strasberg S, Chari RS, World Consensus Conference on Laparoscopic Surgery (2009) The international position on laparoscopic liver surgery: The Louisville Statement, 2008. Ann Surg 250:825–380

5.

O'Rourke N, Fielding G (2004) Laparoscopic right hepatectomy: surgical technique. J Gastrointest Surg 8:213–216

6.

Dagher I, Di Giuro G, Lainas P, Franco D (2009) Laparoscopic right hepatectomy with selective vascular exclusion. J Gastrointest Surg 13:148–149

7.

Han HS, Cho JY, Yoon YS (2009) Techniques for performing laparoscopic liver resection in various hepatic locations. J Hepatobiliary Pancreat Surg 16:427–432

8.

Gayet B, Cavaliere D, Vibert E, Perniceni T, Levard H, Denet C, Christidis C, Blain A, Mal F (2007) Totally laparoscopic right hepatectomy. Am J Surg 194:685–689

9.

Takasaki K, Kobayashi S, Tanaka S, Saito A, Yamamoto M, Hanyu F (1990) Highly anatomically systematized hepatic resection with Glissonean sheath code transection at the hepatic hilus. Int Surg 75:73–77

10.

Takasaki K (1998) Glissonean pedicle transection method for hepatic resection: a new concept of liver segmentation. J Hepatobiliary Pancreat Surg 5:286–291

11.

Cho A, Asano T, Yamamoto H, Nagata M, Takiguchi N, Kainuma O, Souda H, Gunji H, Miyazaki A, Nojima H, Ikeda A, Matsumoto I, Ryu M, Makino H, Okazumi S (2007) Laparoscopy-assisted hepatic lobectomy using hilar Glissonean pedicle transection. Surg Endosc 21:1466–1468

12.

Cho A, Yamamoto H, Nagata M, Takiguchi N, Shimada H, Kainuma O, Souda H, Gunji H, Miyazaki A, Ikeda A, Matsumoto I (2009) Safe and feasible inflow occlusion in laparoscopic liver resection. Surg Endosc 23:906–908

13.

Makuuchi M, Hasegawa H, Yamazaki S (1986) Ultrasonically guided subsegmentectomy. Surg Gynecol Obstet 161:346–350

14.

Casting D, Garden J, Bismuth H (1989) Segmental liver resection using ultrasound-guided selective portal venous occlusion. Ann Surg 210:20–23

15.

Imamura H, Matsuyama Y, Miyagawa Y, Ishida K, Shimada R, Miyagawa S, Makuuchi M, Kawasaki S (1999) Prognostic significance of anatomical resection and des-gamma-carboxy prothrombin in patients with hepatocellular carcinoma. Br J Surg 86:1032–1038

16.

Hasegawa K, Kokudo N, Imamura H, Matsuyama Y, Aoki T, Minagawa M, Sano K, Sugawara Y, Takayama T, Makuuchi M (2005) Prognostic impact of anatomic resection for hepatocellular carcinoma. Ann Surg 242:252–259

17.

Machado MA, Makdissi FF, Galvão FH, Machado MC (2008) Intrahepatic Glissonian approach for laparoscopic right segmental liver resections. Am J Surg 196:38–42

18.

Topal B, Aerts R, Penninckx F (2007) Laparoscopic intrahepatic Glissonian approach for right hepatectomy is safe, simple, and reproducible. Surg Endosc 21:2111
Disclosures
Drs. Akihiro Cho, Hiroshi Yamamoto, Osamu Kainuma, Hiroaki Souda, Atsushi Ikeda, Nobuhiro Takiguchi, and Matsuo Nagata have no conflicts of interest or financial ties to disclose.
About this article
Cite this article
Cho, A., Yamamoto, H., Kainuma, O. et al. Safe and feasible extrahepatic Glissonean access in laparoscopic anatomical liver resection. Surg Endosc 25, 1333–1336 (2011). https://doi.org/10.1007/s00464-010-1358-6
Received:

Accepted:

Published:

Issue Date:
Keywords
Laparoscopy

Laparoscopic liver resection

Anatomical resection

Glissonean pedicle