This is a preview of subscription content, log in to check access.
Access options
Buy single article
Instant access to the full article PDF.
US$ 39.95
Price includes VAT for USA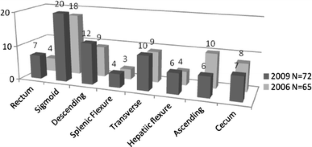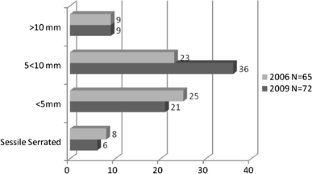 References
1.

Winawer SJ, Zauber AG, Ho MN, O'Brian MJ, Gottlieb LS, Sternberg SS, Waye J, Schapiro M, Bond JH, Panish JF, Ackroyd F, Shike M, Kurtz RC, Hornsby-Lewis L, Gerdes H, Stewart ET, The National Poly Study Group (1993) Prevention of colorectal cancer by colonoscopic polypectomy. N Engl J Med 329:1977–1981

2.

Waye JD (2001) Endoscopic mucosal resection of colonic polyps. Gastrointest Endosc Clin North Am 11:537–548

3.

Winawer AJ, Zauber AG, Fletcher RH, Stillman JS, O'Brien MJ, Levin B, Smith RA, Lieberman DA, Burt RW, Levin TR, Bond JH, Brooks D, Byers T, Hyman N, Kirk L, Thors A, Simmang C, Johnson D, Rex DK (2006) Guidelines for colonoscopy surveillance after polypectomy: a consensus update by the US Multi-Society Task Force on Colorectal Cancer and the American Cancer Society. Gastroenterology 130:1872–1885

4.

Church JM (2004) Clinical significance of small colorectal polyps. Dis Colon Rectum 47:481–485

5.

Barclay RL, Vicari JJ, Doughty AS, Johanson JF, Greenlaw RL (2006) Colonoscopic withdrawal times and adenoma detection during screening colonoscopy. N Eng J Med 355:2533–2541

6.

Rex DK, Bond JH, Winawer S, Levin TR, Burt RW, Johnson DA, Kirk LM, Litlin S, Lieberman DA, Waye JD, Church J, Marshall JB, Riddell RH (2002) Quality in the technical performance of colonoscopy and the continuous quality improvement process for colonoscopy: recommendations of the U.S. Multi-Society Task Force on Colorectal Cancer. Am J Gastroenterol 97:1296–1308

7.

Rex D, Cutler CS, Lemmel GT, Rahmani EY, Clark DW, Helper DJ, Lehman GA, Mark DG (1997) Colonoscopic miss rates of adenomas determined by back-to-back colonoscopies. Gastroenterology 112:24–28

8.

Loeve F, Boer R, Zauber AG, Van Ballegooiejn M, Oortmarssen V, Winawer SJ, Habbema JDK (2004) National Poly Study Data: evidence for regression of adenomas. Int J Cancer 111:633–639

9.

Gschwantler M, Kriwanek S, Langner E (2002) High-grade dysplasia and invasive carcinoma in colorectal adenomas: a multivariate analysis of the impact of adenoma and patient characteristics. Eur J Gastroenterol Hepatol 14:183–188

10.

Rex DK, Petrini JL, Baron TH, Chak A, Cohen J, Deal SE, Hoffman B, Jacobson BC, Mergener K, Petersen BT, Safdi MA, Faigel DO, Pike IM, ASGE/ACG Taskforce on Quality in Endoscopy (2006) Quality indicators for colonoscopy. Am J Gastroenterol 101:873–885

11.

Barclay R, Vicari JJ, Johanson JF (2006) Effect of a pre-specified minimum colonoscopic withdrawal time on adenoma detection rates during screening colonoscopy [abstract]. Gastrointest Endosc 63:AB83

12.

Ries LA, Wingo PA, Miller DS, Howe HL, Weir HK, Rosenberg HM, Vernon SW, Cronin K, Edwards BK (2000) The annual report to the nation on the status of cancer 1973–1997, with special section on colorectal cancer. Cancer 88(10):2398–2424

13.

Rabeneck L, Davila JA, El-Serag HB (2003) Is there a true shift to the right colon in incidence of colorectal cancer? Am J Gastroenterol 98(6):1400–1409

14.

Van Gelder RE, Nio CY, Florie J, Bartlesman JF, Snel P, Lameris JS, Bonsel GJ, Stoker J (2004) Computed tomographic colonography compared with colonoscopy in patients at increased for colorectal cancer. Gastroenterology 127:41–48

15.

Robertson DJ, Greenberg ER, Beach M, Sandler RS, Ahnen D, Halle RW, Burke CA, Snover DC, Bresalier RS, McKeown-Eyssen G, Mandel JS, Bond JH, Van Stolk RU, Summers RW, Rothstein R, Church TR, Cole BF, Byers T, Mott L, Baron JA (2005) Colorectal cancer in patients under close colonoscopic surveillance. Gastroenterology 129:34–41

16.

Le Rhun M, Coron E, Parlier D, Nguyen JM, Canard JM, Alamdari A, Sautereau D, Chaussede S, Galmiche JP (2006) High resolution colonoscopy with chromoscopy versus standard colonoscopy for the detection of colonic neoplasia: a randomized study. Clin Gastroenterol Hepatol 4:349–354

17.

Sanchez W, Harewood GC, Petersen BT (2004) Evaluation of polyp detection in relation to procedure time of screening or surveillance colonoscopy. Am J Gastroenterol 99:1941–1945

18.

Pabby A, Schoen RE, Weissfeld JL, Burt R, Kikendall JW, Lance P, Shike M, Lanza E, Schatzkin A (2005) Analysis of colorectal cancer occurrence during surveillance colonoscopy in the dietary Polyp Prevention Trial. Gastrointest Endosc 61:385–391

19.

Lieberman DA, Weiss DG, Harford WV, Ahnen DJ, Provenzale D, Sontag SJ, Schnell TG, Chejfec G, Campbell DR, Kidao J, Bond JH, Nelson DB, Triadafilopoulos G, Ramirez FC, Collins JF, Johnston TK, McQuaid KR, Garewal H, Sampliner RE, Esquivel R, Robertson D (2007) Five-year colon surveillance after screening colonoscopy. Gastroenterology 133:1077–1085
Disclosures
Authors Asgeirsson, Senagore, Dujovny, Hoedema, Kim, Slay, and Luchtefeld have no conflicts of interest or financial ties to disclose.
About this article
Cite this article
Asgeirsson, T., Senagore, A.J., Dujovny, N. et al. Implementation of colonoscopic process measures: does it improve quality?. Surg Endosc 25, 826–829 (2011). https://doi.org/10.1007/s00464-010-1269-6
Received:

Accepted:

Published:

Issue Date:
Keywords
Adenoma

Colorectal Cancer Screening

Interval Cancer

Surveillance Colonoscopy

Screen Colonoscopy