Abstract
Background
Experimental data about the efficacy and safety of sealing devices are rare. Therefore, this study investigated these parameters for three commercially available energy-based vascular sealing and cutting systems.
Methods
In male hybrid pigs, 487 carotid artery segments were sealed and cut using the harmonic scalpel or several bipolar sealing devices. The sealing failure rate, burst pressure, process time, and extent of lateral thermal damage were analyzed.
Results
A regular sealing and cutting process in more than 90% of the carotid arteries was found using the following instruments: LS1520, ACE (level 1), ACE (level 3), CS14C (level 1), WAVE (level 1), and WAVE (level 5). The largest failure rate was found for the CS14C device (level 5: initial sealing failure, 21.5%). The maximal mean burst pressure (1727 ± 453 mmHg) was reached using the ACE device (level 1). Significant differences were found in the size of the lateral thermal damage, which a ranged from 2.5 mm (LS1520) to 1.51 mm (CS14C, level 1). The process time ranged widely from 6.8 s (ACE, level 5) to 31.83 s (WAVE, level 1).
Conclusion
The current study demonstrated that all the tested devices are efficacious and safe in sealing and cutting arteries up to 5 mm in diameter. All the devices showed supraphysiologic mean burst pressures. Differences in failure rate, thermal damage, and process time lead to an advised application of the different systems.
This is a preview of subscription content, log in to check access.
Access options
Buy single article
Instant access to the full article PDF.
US$ 39.95
Price includes VAT for USA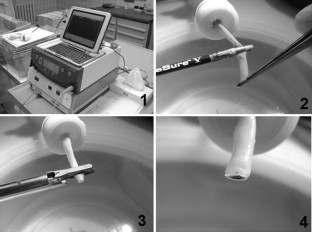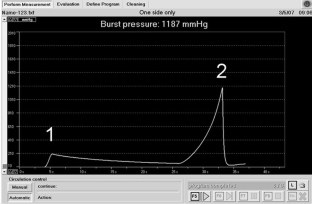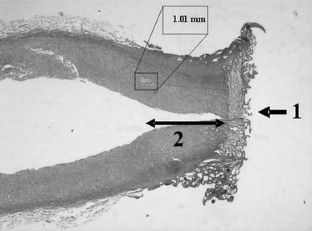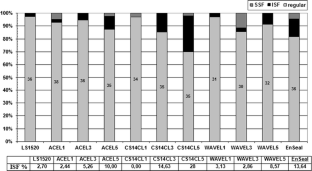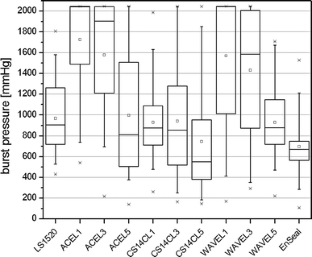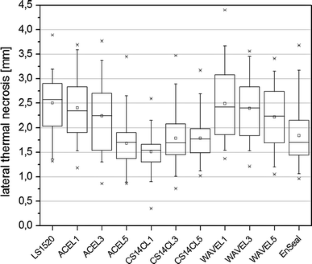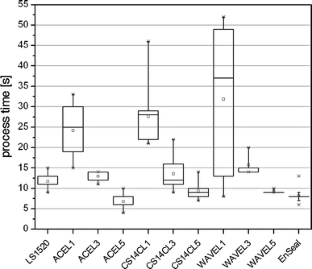 References
1.

Bubenik LJ, Hosgood G, Vasanjee SC (2005) Bursting tension of medium and large canine arteries sealed with ultrasonic energy or suture ligation. Vet Surg 34:289–293

2.

Campagnacci R, de Sanctis A, Baldarelli M, Rimini M, Lezoche G, Guerrieri M (2007) Electrothermal bipolar vessel sealing device vs ultrasonic coagulating shears in laparoscopic colectomies: a comparative study. Surg Endosc 21:1526–1531

3.

Carbonell AM, Joels CS, Kercher KW, Matthews BD, Sing RF, Heniford BT (2003) A comparison of laparoscopic bipolar vessel sealing devices in the hemostasis of small-, medium-, and large-sized arteries. J Laparoendosc Adv Surg Tech A 13:377–380

4.

Clements RH, Palepu R (2007) In vivo comparison of the coagulation capability of SonoSurg and Harmonic Ace on 4-mm and 5-mm arteries. Surg Endosc 21:2203–2206

5.

Diamantis T, Gialikaris S, Kontos M, Gakiopoulou C, Felekouras E, Papalois A, Agrogiannis G, Patsouris E, Bastounis E (2008) Comparison of safety and efficacy of ultrasonic and bipolar thermal energy: an experimental study. Surg Laparosc Endosc Percutan Tech 18:384–390

6.

Diamantis T, Kontos M, Arvelakis A, Syroukis S, Koronarchis D, Papalois A, Agapitos E, Bastounis E, Lazaris AC (2006) Comparison of monopolar electrocoagulation, bipolar electrocoagulation, Ultracision, and Ligasure. Surg Today 36:908–913

7.

Harold KL, Pollinger H, Matthews BD, Kercher KW, Sing RF, Heniford BT (2003) Comparison of ultrasonic energy, bipolar thermal energy, and vascular clips for the hemostasis of small-, medium-, and large-sized arteries. Surg Endosc 17:1228–1230

8.

Hruby GW, Marruffo FC, Durak E, Collins SM, Pierorazio P, Humphrey PA, Mansukhani MM, Landman J (2007) Evaluation of surgical energy devices for vessel sealing and peripheral energy spread in a porcine model. J Urol 178:2689–2693

9.

Kennedy JS, Stranahan PL, Taylor KD, Chandler JG (1998) High-burst-strength, feedback-controlled bipolar vessel sealing. Surg Endosc 12:876–878

10.

Kessler H, Hohenberger W (2005) Laparoscopic total colectomy for slow-transit constipation. Dis Colon Rectum 48:860–861

11.

Landman J, Kerbl K, Rehman J, Andreoni C, Humphrey PA, Collyer W, Olweny E, Sundaram C, Clayman RV (2003) Evaluation of a vessel sealing system, bipolar electrosurgery, harmonic scalpel, titanium clips, endoscopic gastrointestinal anastomosis vascular staples and sutures for arterial and venous ligation in a porcine model. J Urol 169:697–700

12.

Lantis JC II, Durville FM, Connolly R, Schwaitzberg SD (1998) Comparison of coagulation modalities in surgery. J Laparoendosc Adv Surg Tech A 8:381–394

13.

Laycock WS, Trus TL, Hunter JG (1996) New technology for the division of short gastric vessels during laparoscopic Nissen fundoplication: a prospective randomized trial. Surg.Endosc 10:71–73

14.

Lorenz EP, Konradt J, Ehren G, Ernst F (1998) Laparoscopic rectum resection with truncal ligation of the inferior mesenteric artery and mesorectal excision. Zentralbl Chir 123:746–751

15.

Matthews BD, Pratt BL, Backus CL, Kercher KW, Mostafa G, Lentzner A, Lipford EH, Sing RF, Heniford BT (2001) Effectiveness of the ultrasonic coagulating shears, LigaSure vessel sealer, and surgical clip application in biliary surgery: a comparative analysis. Am Surg 67:901–906

16.

Msika S, Deroide G, Kianmanesh R, Iannelli A, Hay JM, Fingerhut A, Flamant Y (2001) Harmonic scalpel in laparoscopic colorectal surgery. Dis Colon Rectum 44:432–436

17.

Person B, Vivas DA, Ruiz D, Talcott M, Coad JE, Wexner SD (2008) Comparison of four energy-based vascular sealing and cutting instruments: a porcine model. Surg Endosc 22:534–538

18.

Pietrow PK, Weizer AZ, L'Esperance JO, Auge BK, Silverstein A, Cummings T, Preminger GM, Albala DM (2005) PlasmaKinetic bipolar vessel sealing: burst pressures and thermal spread in an animal model. J Endourol 19:107–110

19.

Richter S, Kollmar O, Neunhoeffer E, Schilling MK, Menger MD, Pistorius G (2006) Differential response of arteries and veins to bipolar vessel sealing: evaluation of a novel reusable device. J Laparoendosc Adv Surg Tech A 16:149–155

20.

Richter S, Kollmar O, Schilling MK, Pistorius GA, Menger MD (2006) Efficacy and quality of vessel sealing: comparison of a reusable with a disposable device and effects of clamp surface geometry and structure. Surg Endosc 20:890–894

21.

Siperstein AE, Berber E, Engle KL, Duh QY, Clark OH (2000) Laparoscopic posterior adrenalectomy: technical considerations. Arch Surg 135:967–971

22.

Spivak H, Richardson WS, Hunter JG (1998) The use of bipolar cautery, laparosonic coagulating shears, and vascular clips for hemostasis of small and medium-sized vessels. Surg Endosc 12:183–185

23.

Targarona EM, Balague C, Marin J, Neto RB, Martinez C, Garriga J, Trias M (2005) Energy sources for laparoscopic colectomy: a prospective randomized comparison of conventional electrosurgery, bipolar computer-controlled electrosurgery and ultrasonic dissection: operative outcome and costs analysis. Surg Innov 12:339–344

24.

Valeri A, Borrelli A, Presenti L, Lucchese M, Manca G, Bergamini C, Reddavide S, Borrelli D (2001) Laparoscopic adrenalectomy: personal experience in 78 patients. G Chir 22:185–189
Acknowledgments
The authors acknowledge the Valleylab Healthcare Group, Boulder, CO, USA, and Ethicon Endosurgery, Johnson & Johnson, Cincinnati, OH, USA, for support of this scientific paper. These companies partly provided the sealing devices, generators, and carotid vessels. The experiments were performed in the Department of Surgical Research at the Otto von Guericke University Magdeburg. None of the authors has a direct financial interest in the companies that supplied the tested devices (Ethicon Endosurgery, Johnson & Johnson, Cincinnati, OH, USA; Erbe Elektromedizin GmbH, Tübingen, Germany; Valleylab Helthcare Group, Boulder, CO, USA). None of the companies that provided tested devices had a role in the study design, analysis, or writing of the manuscript at any stage. The authors thank Mrs. C. Jechorek for her support and excellent technical assistance.
Disclosures
R. Mantke received a travel grant and a lecture fee from Ethicon Endosurgery and Johnson & Johnson in 2008. W. Halangk, A. Habermann, B. Peters, S. Konrad, M. Guenther, and H. Lippert have no conflicts of interest or financial ties in the last 36 months to disclose.
About this article
Cite this article
Mantke, R., Halangk, W., Habermann, A. et al. Efficacy and safety of 5-mm-diameter bipolar and ultrasonic shears for cutting carotid arteries of the hybrid pig. Surg Endosc 25, 577–585 (2011). https://doi.org/10.1007/s00464-010-1224-6
Received:

Accepted:

Published:

Issue Date:
Keywords
Sealing and cutting systems

Sealing devices

Sealing failure

Thermal damage