Abstract
Background
Minimally invasive surgery requires high-quality imaging to provide effective visual displays to surgeons. Whereas objective measures—pixels, resolution, display size, contrast ratio—are used to compare imaging systems, there are no tools for assessing the perceptual impact of these physical measures. We developed the "Maryland Visual Comfort Scale" (MVCS) to measure perceptual qualities in relation to an imaging system. We theorize that what the surgeon perceives as a high-quality image can be summarized by a scoring of seven characteristics related to human perception, and that image quality is not homogenous across a video display such that object location impacts perception and display quality.
Method
We created a rating scale for seven dimensions of display characteristics (contrast, detail, brightness, lighting uniformity, focus uniformity, color, sharpness). For validation, 30 participants viewed test patterns and manipulated physiologic images, rating the image quality for all seven dimensions as well as giving an overall rating. Image ratings for contrast and detail dimensions were assessed across five locations on the video display. For ratings, two imaging systems were used, differing primarily in the 10-mm zero-degree scope's quality: a standard scope and one taken from service for quality degradation.
Results
The rating scale was sensitive to differences in scope quality for all seven items in the MVCS (all p values < 0.01). Significant differences existed between quality ratings at central and peripheral locations (p < 0.05).
Conclusions
This seven-item rating scale for assessing visual comfort is reliable and sensitive to scope quality differences. The scale is sensitive to degradation of image quality at video display edges. These seven dimensions of display characteristics can be refined to create a psychometric to serve as a composite of perceptual quality in laparoscopy.
This is a preview of subscription content, log in to check access.
Access options
Buy single article
Instant access to the full article PDF.
US$ 39.95
Price includes VAT for USA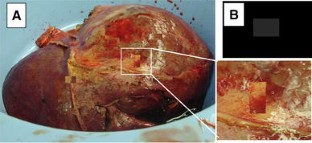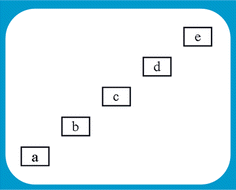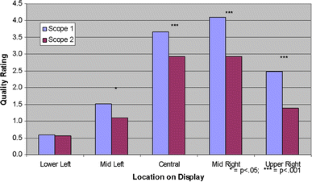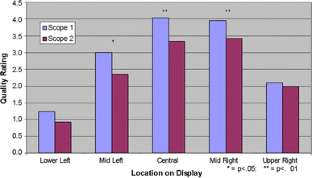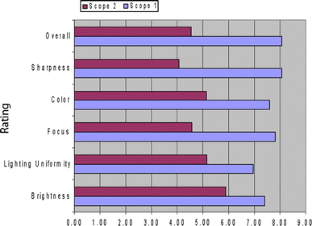 References
1.

Schwaitzberg SD (2001) Imaging systems in minimally invasive surgery. Semin Laparosc Surg 8:3–11

2.

Reiner B (2008) One size (doesn't) fit all. J Am Coll Radiol 5:567–570

3.

Brown SI, White C, Wipat K, Hanna GB, Frank TG, Cuschieri A (2004) Characterizing the "gold standard" image for laparoscopic surgery. Surg Endosc 18:1192–1195

4.

Cuschieri A (2006) Epistemology of visual imaging in endoscopic surgery. Surg Endosc 20(Suppl 2):S419–S424

5.

Kim YJ, Luo MR, Choe W, Kim HS, Park SO, Baek Y, Rhodes P, Lee S, Kim CY (2008) Factors affecting the psychophysical image quality evaluation of mobile phone displays: the case of transmissive liquid-crystal displays. J Opt Soc Am A Opt Image Sci Vis 25:2215–2222

6.

Oh J, Hwang S, Lee J, Tavanapong W, Wong J, de Groen PC (2007) Informative frame classification for endoscopy video. Med Image Anal 11:110–127

7.

Medina M (1997) Image rotation and reversal–major obstacles in learning intracorporeal suturing and knot-tying. JSLS 1:331–336. Erratum: JSLS 2001;5:98

8.

Kundel HL (1990) Visual cues in the interpretation of medical images. J Clin Neurophysiol 7:472–483

9.

Benner PA, Tanner CA, Chesla CA (1996) Proficiency: a transition to expertise. In: Benner PA, Tanner CA, Chesla CA (eds) Expertise in nursing practice. Springer, New York, pp 114–141

10.

Fitts PM, Posner MI (1967) Human performance. Brock-Cole, Belmont

11.

Roth EM, Lin L, Kerch S, Kenney SJ, Sugibayashi N (2001) Designing a first-of-a-kind group view display for team decision making: a case study. In: Salas E, Klein G (eds) Linking expertise and naturalistic decision making. Lawrence Erlbaum, Hillsdale, pp 113–136
Disclosures
Drs. Seagull, Sutton, T. H. Lee, Godinez, G. Lee, and Park have no conflicts of interest or financial ties to disclose.
About this article
Cite this article
Seagull, F.J., Sutton, E., Lee, T. et al. A validated subjective rating of display quality: the Maryland Visual Comfort Scale. Surg Endosc 25, 567–571 (2011). https://doi.org/10.1007/s00464-010-1220-x
Received:

Accepted:

Published:

Issue Date:
Keywords
Image quality

Visual display

Perception

Laparoscopy