Abstract
Background
In recent years, robot-assisted surgery using the da Vinci System® has been proposed as an alternative to traditional open or laparoscopic procedures. The aim of this study was to compare the short-term outcomes for open, laparoscopic, and robot-assisted rectal resection for cancer.
Methods
Two hundred sixty-three patients with rectal cancer who underwent curative resection between 2007 and 2009 were included. Patients were classified into an open surgery group (OS, n = 88), a laparoscopic surgery group (LAP, n = 123), and a robot-assisted group (RAP, n = 52). Data analyzed include operating time, length of recovery, methods of specimen extraction, quality of total mesorectal excision, and morbidity.
Results
The mean operating time was 233.8 ± 59.2 min for the OS group, 158.1 ± 49.2 min for the LAP group, and 232.6 ± 52.4 min for the RAP group (p < 0.001). Patients from the LAP and RAP groups recovered significantly faster than did those from the OS group (p < 0.05). The proportion of operations performed through a natural orifice (intracorporeal anastomosis with transanal or transvaginal retrieval of specimens) was significantly higher in the RAP group (p < 0.001). The specimen quality—with a distal resection margin, harvested lymph nodes, and circumferential margin—did not differ among the three groups. The overall complication rates were 20.5, 12.2, and 19.2% in the OS, LAP, and RAP groups, respectively (p = 0.229).
Conclusions
RAP and LAP reproduce the equivalent short-term results of standard OS while providing the advantages of minimal access. For the experienced laparoscopic colorectal oncologist, use of the da Vinci robot resulted in no significant short-term clinical benefit over the conventional laparoscopic approach.
This is a preview of subscription content, log in to check access.
Access options
Buy single article
Instant access to the full article PDF.
US$ 39.95
Price includes VAT for USA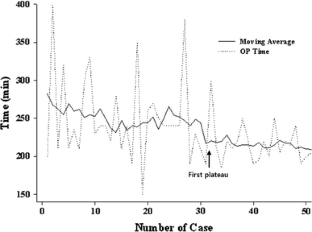 References
1.

Jacobs M, Verdeja JC, Goldstein HS (1991) Minimally invasive colon resection (laparoscopic colectomy). Surg Laparosc Endosc 1(3):144–150

2.

Clinical Outcomes Study Group of Surgical Therapy (2004) A comparison of laparoscopically assisted and open colectomy for colon cancer. N Engl J Med 350(20):2050–2059

3.

Leung KL, Kwok SP, Lam SC, Lee JF, Yiu RY, Ng SS, Lai PB, Lau WY (2004) Laparoscopic resection of rectosigmoid carcinoma: prospective randomised trial. Lancet 363(9416):1187–1192

4.

Lezoche E, Feliciotti F, Paganini AM, Guerrieri M, De Sanctis A, Minervini S, Campagnacci R (2002) Laparoscopic vs open hemicolectomy for colon cancer. Surg Endosc 16(4):596–602

5.

Fleshman J, Sargent DJ, Green E, Anvari M, Stryker SJ, Beart RW Jr, Hellinger M, Flanagan R Jr, Peters W, Nelson H (2007) Laparoscopic colectomy for cancer is not inferior to open surgery based on 5-year data from the COST Study Group trial. Ann Surg 246(4):655–662 discussion 662-654

6.

Jayne DG, Guillou PJ, Thorpe H, Quirke P, Copeland J, Smith AM, Heath RM, Brown JM (2007) Randomized trial of laparoscopic-assisted resection of colorectal carcinoma: 3-year results of the UK MRC CLASICC Trial Group. J Clin Oncol 25(21):3061–3068

7.

Guillou PJ, Quirke P, Thorpe H, Walker J, Jayne DG, Smith AM, Heath RM, Brown JM (2005) Short-term endpoints of conventional versus laparoscopic-assisted surgery in patients with colorectal cancer (MRC CLASICC trial): multicentre, randomised controlled trial. Lancet 365(9472):1718–1726

8.

Zhou ZG, Hu M, Li Y, Lei WZ, Yu YY, Cheng Z, Li L, Shu Y, Wang TC (2004) Laparoscopic versus open total mesorectal excision with anal sphincter preservation for low rectal cancer. Surg Endosc 18(8):1211–1215

9.

Scheidbach H, Schneider C, Konradt J, Barlehner E, Kohler L, Wittekind C, Kockerling F (2002) Laparoscopic abdominoperineal resection and anterior resection with curative intent for carcinoma of the rectum. Surg Endosc 16(1):7–13

10.

Corcione F, Esposito C, Cuccurullo D, Settembre A, Miranda N, Amato F, Pirozzi F, Caiazzo P (2005) Advantages and limits of robot-assisted laparoscopic surgery: preliminary experience. Surg Endosc 19(1):117–119

11.

Delaney CP, Lynch AC, Senagore AJ, Fazio VW (2003) Comparison of robotically performed and traditional laparoscopic colorectal surgery. Dis Colon Rectum 46(12):1633–1639

12.

Wexner SD, Bergamaschi R, Lacy A, Udo J, Brolmann H, Kennedy RH, John H (2009) The current status of robotic pelvic surgery: results of a multinational interdisciplinary consensus conference. Surg Endosc 23(2):438–443

13.

Park YA, Kim JM, Kim SA, Min BS, Kim NK, Sohn SK, Lee KY (2010) Totally robotic surgery for rectal cancer: from splenic flexure to pelvic floor in one setup. Surg Endosc 24(3):715–720

14.

Hellan M, Anderson C, Ellenhorn JD, Paz B, Pigazzi A (2007) Short-term outcomes after robotic-assisted total mesorectal excision for rectal cancer. Ann Surg Oncol 14(11):3168–3173

15.

Luca F, Cenciarelli S, Valvo M, Pozzi S, Faso FL, Ravizza D, Zampino G, Sonzogni A, Biffi R (2009) Full robotic left colon and rectal cancer resection: technique and early outcome. Ann Surg Oncol 16(5):1274–1278

16.

Prasad LM, deSouza AL, Marecik SJ, Park JJ, Abcarian H (2010) Robotic pursestring technique in low anterior resection. Dis Colon Rectum 53(2):230–234

17.

Ng KH, Lim YK, Ho KS, Ooi BS, Eu KW (2009) Robotic-assisted surgery for low rectal dissection: from better views to better outcome. Singapore Med J 50(8):763–767

18.

Choi GS, Park IJ, Kang BM, Lim KH, Jun SH (2009) A novel approach of robotic-assisted anterior resection with transanal or transvaginal retrieval of the specimen for colorectal cancer. Surg Endosc 23:2831–2835

19.

Park IJ, Choi GS, Lim KH, Kang BM, Jun SH (2009) Laparoscopic resection of extraperitoneal rectal cancer: a comparative analysis with open resection. Surg Endosc 23(8):1818–1824

20.

Dindo D, Demartines N, Clavien PA (2004) Classification of surgical complications: a new proposal with evaluation in a cohort of 6336 patients and results of a survey. Ann Surg 240(2):205–213

21.

Veljovich DS, Paley PJ, Drescher CW, Everett EN, Shah C, Peters WA 3rd (2008) Robotic surgery in gynecologic oncology: program initiation and outcomes after the first year with comparison with laparotomy for endometrial cancer staging. Am J Obstet Gynecol 198(6):679 e1-e9; discussion 679 e9-10

22.

Patel VR, Thaly R, Shah K (2007) Robotic radical prostatectomy: outcomes of 500 cases. BJU Int 99(5):1109–1112

23.

Smith JM, Stein H, Engel AM, McDonough S, Lonneman L (2007) Totally endoscopic mitral valve repair using a robotic-controlled atrial retractor. Ann Thorac Surg 84(2):633–637

24.

Baik SH, Ko YT, Kang CM, Lee WJ, Kim NK, Sohn SK, Chi HS, Cho CH (2008) Robotic tumor-specific mesorectal excision of rectal cancer: short-term outcome of a pilot randomized trial. Surg Endosc 22(7):1601–1608

25.

Patriti A, Ceccarelli G, Bartoli A, Spaziani A, Biancafarina A, Casciola L (2009) Short- and medium-term outcome of robot-assisted and traditional laparoscopic rectal resection. JSLS 13(2):176–183

26.

Park IJ, Choi GS, Lim KH, Kang BM, Jun SH (2009) Multidimensional analysis of the learning curve for laparoscopic resection in rectal cancer. J Gastrointest Surg 13(2):275–281

27.

Wexner SD (2007) Restorative proctectomy with colon pouch-anal anastomosis by laparoscopic transanal pull-through: an available option for low rectal cancer? Surg Endosc 21(9):1679

28.

Rullier E, Sa Cunha A, Couderc P, Rullier A, Gontier R, Saric J (2003) Laparoscopic intersphincteric resection with coloplasty and coloanal anastomosis for mid and low rectal cancer. Br J Surg 90(4):445–451

29.

Ooi BS, Quah HM, Fu CW, Eu KW (2009) Laparoscopic high anterior resection with natural orifice specimen extraction (NOSE) for early rectal cancer. Tech Coloproctol 13(1):61–64

30.

Morino M, Parini U, Giraudo G, Salval M, Brachet Contul R, Garrone C (2003) Laparoscopic total mesorectal excision: a consecutive series of 100 patients. Ann Surg 237(3):335–342

31.

Leroy J, Jamali F, Forbes L, Smith M, Rubino F, Mutter D, Marescaux J (2004) Laparoscopic total mesorectal excision (TME) for rectal cancer surgery: long-term outcomes. Surg Endosc 18(2):281–289

32.

Heald RJ, Husband EM, Ryall RD (1982) The mesorectum in rectal cancer surgery—the clue to pelvic recurrence? Br J Surg 69(10):613-616

33.

Hartley JE, Mehigan BJ, Qureshi AE, Duthie GS, Lee PW, Monson JR (2001) Total mesorectal excision: assessment of the laparoscopic approach. Dis Colon Rectum 44(3):315–321
Disclosures
Drs. Park, Choi, Lim, Jang, and Jun have no conflicts of interest or financial ties to disclose.
About this article
Cite this article
Park, J.S., Choi, G., Lim, K.H. et al. S052: a comparison of robot-assisted, laparoscopic, and open surgery in the treatment of rectal cancer. Surg Endosc 25, 240–248 (2011). https://doi.org/10.1007/s00464-010-1166-z
Received:

Accepted:

Published:

Issue Date:
Keywords
Robotic surgery

Short-term outcome

Rectal cancer