Abstract
Background
Mesh implantation is regarded as the standard treatment of inguinal hernias. Obstructive azoospermia induced by mesh implantation is a rare but serious complication. Whether different operative techniques or mesh materials used have an effect on the integrity of the testicle and spermatic cord remains unclear.
Materials
In 12 minipigs a bilateral inguinal hernia repair, either open or laparoscopic, was performed using a standard small-pore polypropylene (PP) or large-pore polyvinyliden fluoride (PVDF) mesh. Next to measurement of the testicular size, thermography of the groin and testicle as a parameter for perfusion was performed preoperatively and at a follow-up at 6 months. Obstructions of the vas deferens were estimated radiographically. Testicular function (Johnson score) and mesh integration (granuloma size, apoptotic cells) were analyzed histologically.
Results
Mean testicular size did not change significantly in follow-up compared to preoperative values. Technique and mesh material used failed to have a significant influence. Thermography of the groin following the Lichtenstein technique had significantly higher values at follow-up regardless of the mesh used. This could not been shown for laparoscopic treatment. Thermographic measurements at the testicle showed a significantly increased temperature in all groups compared to preoperative measurements. Only the Lichtenstein PP group showed significantly decreased values in testicular function. Quantity and quality of obstructions seen at vasography were most detectable in the Lichtenstein PP group. There was significantly decreased granuloma formation following PVDF mesh implantation compared to the PP mesh group regardless of the technique used.
Conclusions
Both the technique and the mesh material have an impact on integrity of spermatic cord and testicular function. According to the results of this study, the laparoscopic TAPP procedure using a large-pore PVDF mesh has the least effect compared to preoperative values.
This is a preview of subscription content, log in to check access.
Access options
Buy single article
Instant access to the full article PDF.
US$ 39.95
Price includes VAT for USA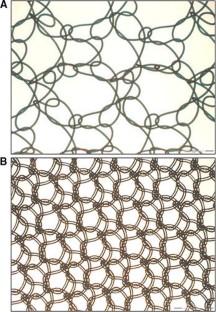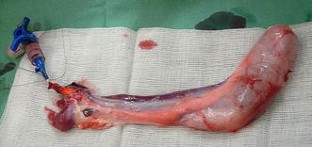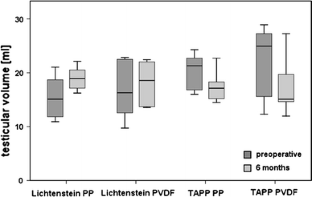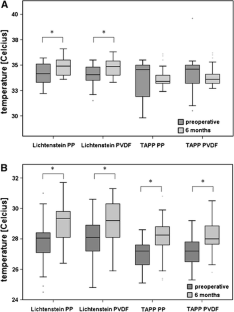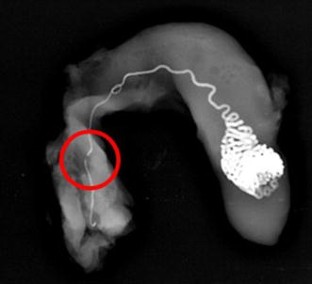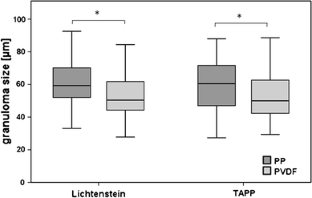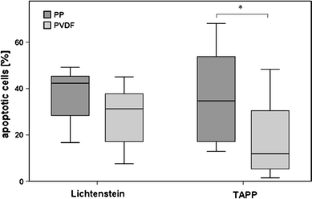 References
1.

Simons MP, Aufenacker T, Bay-Nielsen M, Bouillot JL, Campanelli G, Conze J, de Lange D, Fortelny R, Heikkinen T, Kingsnorth A, Kukleta J, Morales-Conde S, Nordin P, Schumpelick V, Smedberg S, Smietanski M, Weber G, Miserez M (2009) European Hernia Society guidelines on the treatment of inguinal hernia in adult patients. Hernia 13(4):343–403

2.

Klosterhalfen B, Klinge U, Schumpelick V (1998) Functional and morphological evaluation of different polypropylene-mesh modifications for abdominal wall repair. Biomaterials 19(24):2235–2246

3.

Junge K, Klinge U, Rosch R, Klosterhalfen B, Schumpelick V (2002) Functional and morphologic properties of a modified mesh for inguinal hernia repair. World J Surg 26(12):1472–1480

4.

Klinge U, Klosterhalfen B, Ottinger AP, Junge K, Schumpelick V (2002) PVDF as a new polymer for the construction of surgical meshes. Biomaterials 23(16):3487–3493

5.

Junge K, Klinge U, Prescher A, Giboni P, Niewiera M, Schumpelick V (2001) Elasticity of the anterior abdominal wall and impact for reparation of incisional hernias using mesh implants. Hernia 5(3):113–118

6.

Klinge U, Klosterhalfen B, Conze J, Limberg W, Obolenski B, Ottinger AP, Schumpelick V (1998) Modified mesh for hernia repair that is adapted to the physiology of the abdominal wall. Eur J Surg 164(12):951–960

7.

Urban E, King MW, Guidoin R, Laroche G, Marois Y, Martin L, Cardou A, Douville Y (1994) Why make monofilament sutures out of polyvinylidene fluoride? ASAIO J 40(2):145–156

8.

Bringman S, Wollert S, Osterberg J, Smedberg S, Granlund H, Heikkinen TJ (2006) Three-year results of a randomized clinical trial of lightweight or standard polypropylene mesh in Lichtenstein repair of primary inguinal hernia. Br J Surg 93(9):1056–1059

9.

O'Dwyer PJ, Kingsnorth AN, Molloy RG, Small PK, Lammers B, Horeyseck G (2005) Randomized clinical trial assessing impact of a lightweight or heavyweight mesh on chronic pain after inguinal hernia repair. Br J Surg 92(2):166–170

10.

Horstmann R, Hellwig M, Classen C, Rottgermann S, Palmes D (2006) Impact of polypropylene amount on functional outcome and quality of life after inguinal hernia repair by the TAPP procedure using pure, mixed, and titanium-coated meshes. World J Surg 30(9):1742–1749

11.

Nienhuijs S, Staal E, Strobbe L, Rosman C, Groenewoud H, Bleichrodt R (2007) Chronic pain after mesh repair of inguinal hernia: a systematic review. Am J Surg 194(3):394–400

12.

de Weerd L, Mercer JB, Setsa LB (2006) Intraoperative dynamic infrared thermography and free-flap surgery. Ann Plast Surg 57(3):279–284

13.

Johnson SG (1970) Testicular biopsy score count—a method for registration of spermatogenesis in human testes: normal values and results in 335 hypogonadal males. Hormones 1:2–25

14.

Pollak R, Nyhus LM (1983) Complications of groin hernia repair. Surg Clin North Am 63(6):1363–1371

15.

Yamaguchi K, Ishikawa T, Nakano Y, Kondo Y, Shiotani M, Fujisawa M (2008) Rapidly progressing, late-onset obstructive azoospermia linked to herniorrhaphy with mesh. Fertil Steril 90(5):2018.e5–2018.e7

16.

Shin D, Lipshultz LI, Goldstein M, Barme GA, Fuchs EF, Nagler HM, McCallum SW, Niederberger CS, Schoor RA, Brugh VM 3rd, Honig SC (2005) Herniorrhaphy with polypropylene mesh causing inguinal vasal obstruction: a preventable cause of obstructive azoospermia. Ann Surg 241(4):553–558

17.

Uzzo RG, Lemack GE, Morrissey KP, Goldstein M (1999) The effects of mesh bioprosthesis on the spermatic cord structures: a preliminary report in a canine model. J Urol 161(4):1344–1349

18.

Goldenberg A, Matone J, Marcondes W, Herbella FA, Farah JF (2005) Comparative study of inflammatory response and adhesions formation after fixation of different meshes for inguinal hernia repair in rabbits. Acta Cir Bras 20(5):347–352

19.

Akbulut G, Serteser M, Yucel A, Degirmenci B, Yilmaz S, Polat C, San O, Dilek ON (2003) Can laparoscopic hernia repair alter function and volume of testis? Randomized clinical trial. Surg Laparosc Endosc Percutan Tech 13(6):377–381

20.

Ersin S, Aydin U, Makay O, Icoz G, Tamsel S, Sozbilen M, Killi R (2006) Is testicular perfusion influenced during laparoscopic inguinal hernia surgery? Surg Endosc 20(4):685–689

21.

Peiper C, Junge K, Klinge U, Strehlau E, Krones C, Ottinger A, Schumpelick V (2005) The influence of inguinal mesh repair on the spermatic cord: a pilot study in the rabbit. J Invest Surg 18(5):273–278

22.

Junge K, Binnebosel M, Rosch R, Ottinger A, Stumpf M, Muhlenbruch G, Schumpelick V, Klinge U (2008) Influence of mesh materials on the integrity of the vas deferens following Lichtenstein hernioplasty: an experimental model. Hernia 12(6):621–626

23.

Berndsen FH, Bjursten LM, Simanaitis M, Montgomery A (2004) Does mesh implantation affect the spermatic cord structures after inguinal hernia surgery? An experimental study in rats. Eur Surg Res 36(5):318–322
Disclosures
Drs. Junge, Klinge and Schumpelick have participated at courses and workshops regarding hernia repair organized by Ethicon, Norderstedt and Braun, Melsungen. Drs. Binnebösel, Kauffmann, Rosch, Klink, von Trotha, and Schoth have no conflicts of interest or financial ties to disclose related to this article.
About this article
Cite this article
Junge, K., Binnebösel, M., Kauffmann, C. et al. Damage to the spermatic cord by the Lichtenstein and TAPP procedures in a pig model. Surg Endosc 25, 146–152 (2011). https://doi.org/10.1007/s00464-010-1148-1
Received:

Accepted:

Published:

Issue Date:
Keywords
Hernia

Lichtenstein procedure

TAPP procedure

Tissue