Abstract
This study demonstrates the feasibility of using a miniature robot to perform complex, single-incision, minimal access surgery. Instrument positioning and lack of triangulation complicate single-incision laparoscopic surgery, and open surgical procedures are highly invasive. Using minimally invasive techniques with miniature robotic platforms potentially offers significant clinical benefits. A miniature robot platform has been designed to perform advanced laparoscopic surgery with speed, dexterity, and tissue-handling capabilities comparable to standard laparoscopic instruments working through trocars. The robotic platform includes a dexterous in vivo robot and a remote surgeon interface console. For this study, a standard laparoscope was mounted to the robot to provide vision and lighting capabilities. In addition, multiple robots could be inserted through a single incision rather than the traditional use of four or five different ports. These additional robots could provide capabilities such as tissue retraction and supplementary visualization or lighting. The efficacy of this robot has been demonstrated in a nonsurvival cholecystectomy in a porcine model. The procedure was performed through a single large transabdominal incision, with supplementary retraction being provided by standard laparoscopic tools. This study demonstrates the feasibility of using a dexterous robot platform for performing single-incision, advanced laparoscopic surgery.
This is a preview of subscription content, log in to check access.
Access options
Buy single article
Instant access to the full article PDF.
US$ 39.95
Price includes VAT for USA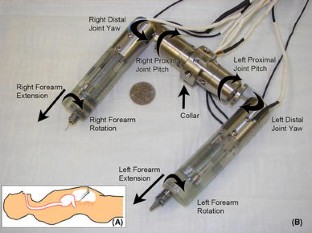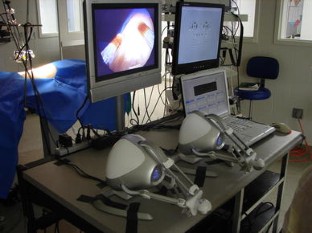 References
1.

Kalloo AN, Singh VK, Jagannath SB, Niiyama H, Hill SL, Vaughn CA, Magee CA, Kantsevoy SV (2004) Flexible transgastric peritoneoscopy: a novel approach to diagnostic and therapeutic interventions in the peritoneal cavity. Gastrointest Endosc 60:114–117

2.

Bergstrom M, Ikeda K, Swain P, Park PO (2006) Transgastric anastomosis by using flexible endoscopy in a porcine model (with video). Gastrointest Endosc 63:307–312

3.

Merrifield BF, Wagh MS, Thompson CC (2006) Peroral transgastric organ resection: a feasibility study in pigs. Gastrointest Endosc 63:693–697

4.

Lima E, Henriques-Coelho T, Rolanda C, Pego JM, Silva D, Carvalho JL (2007) Transvesical thoracoscopy: a natural orifice translumenal endoscopic approach for thoracic surgery. Surg Endosc 21:854–858

5.

Rao GV, Reddy DN, Banerjee R (2008) NOTES: human experience. Gastrointest Endosc Clin N Am 18:361–370

6.

Bessler M, Stevens PD, Milone L, Parikh M, Fowler D (2007) Transvaginal laparoscopically assisted endoscopic cholecystectomy: a hybrid approach to natural orifice surgery. Gastrointest Endosc 6:1243–1245

7.

USGI Medical (2007) USGI announces first NOTES transgastric cholecystectomy procedures using the USGI endosurgical operating system performed by Dr. Lee Swanstrom at Legacy Hospital in Portland, OR. Updated 2007. Available at http://www.usgimedical.com/news/releases/062507.htm (accessed 17 September 2007)

8.

Zorron R, Filgueiras M, Maggioni LC, Pombo L, Carvalho GL, Oliveira AL (2007) NOTES transvaginal cholecystectomy: report of the first case. Surg Innov 14:279–283

9.

Tracy CR, Raman JD, Cadeddu JA, Rane A (2008) Laparoendoscopic single-site surgery in urology: where have we been and where are we heading? Nat Clin Pract Urol 5:561–568

10.

Esposito C (1998) One-trocar appendectomy in pediatric surgery. Surg Endosc 12:177–178

11.

Piskun G, Rajpal S (1999) Transumbilical laparoscopic cholecystectomy utilizes no incisions outside the umbilicus. J Laparoendosc Adv Surg Tech A 9:361–364

12.

Desai MM, Rao PP, Aron M, Pascal-Haber G, Desai MR, Mishra S, Kaouk JH, Gill IS (2008) Scarless single port transumbilical nephrectomy and pyeloplasty: first clinical report. BJU Int 101:83–88

13.

Gumbs AA, Milone L, Sinha P, Bessler M (2009) Totally transumbilical laparoscopic cholecystectomy. J Gastrointest Surg 13:533–534

14.

Hodgett SE, Hernandez JM, Morton CA, Ross SB, Albrink M, Rosemurgy AS (2009) Laparoendoscopic Single Site (LESS) cholecystectomy. J. Gastrointest Surg 13:188–192

15.

Romanelli JR, Mark L, Omotosho PA (2008) Single port laparoscopic cholecystectomy with the TriPort System: a case report. Surg Innov 15:223–228

16.

Gettman MT, Box G, Averch T, Cadeddu JA, Cherullo E, Clayman RV, Desai MM, Frank I, Gill IS, Gupta M, Haber GP, Humphreys M, Kaouk JH, Landman J, Lima E, Ponsky L (2008) Consensus statement on natural orifice translumenal endoscopic surgery and single-incision laparoscopic surgery: heralding a new era in urology? Eur Urol 53:1117–1120

17.

Abbott DJ, Beck C, Rothstein RI, Peine WJ (2007) Design of an endolumenal NOTES robotic system. In: Proceedings of the IEEE/RSJ international conference on intelligent robots systems, Oct 2007, pp 410-416

18.

Phee L, Low SC, Thant ZM, Ho KY, Chung SC (2008) Robotic system for no-scar gastrointestinal surgery. Int J Med Robotics Comput Assist Surg 4:15–22

19.

Swanstrom LL, Whiteford M, Khajanchee Y (2008) Developing essential tools to enable transgastric surgery. Surg Endosc 22:600–604

20.

Kaouk JH, Goel RK, Haber GP, Crouzet S, Stein RJ (2009) Robotic single-port transumbilical surgery in humans: initial report. BJU Int 103:366–369

21.

Zeltser IS, Cadeddu JA (2008) A novel magnetic anchoring and guidance system to facilitate single trocar laparoscopic nephrectomy. Curr Urol Rep 9:62–64

22.

Raman JD, Bergs RA, Fernandez R, Bagrodia A, Scott DJ, Tang SJ, Pearle MS, Cadeddu JA (2009) Complete transvaginal NOTES nephrectomy using magnetically anchored instrumentation. J Endourol 23:367–371

23.

Hogle NJ, Hu T, Allen PK, Fowler DL (2008) Comparison of monoscopic insertable, remotely controlled imaging device with a standard laparoscope in a porcine model. Surg Innov 15:271–276

24.

Hu T, Allen PK, Nadkami T et al. (2008) Insertable stereoscopic 3D surgical imaging device with pan and tilt. In: 2nd Biennial IEEE/RAS-EMBS international conference on biomedical robotics and biomechatronics, Scottsdale, AZ, pp 311-317

25.

Rentschler M, Dumpert J, Platt SR, Iagnemma K, Oleynikov D, Farritor SM (2007) An in vivo mobile robot for surgical vision and task assistance. ASME J Med Devices 1(1):23–29

26.

Platt SR, Hawks JA, Rentschler ME (2009) Vision and task assistance using modular wireless in vivo surgical robots. IEEE Trans Biomed Eng 56(6):1700–1710

27.

Lehman AC, Berg KA, Dumpert J et al (2008) Surgery with cooperative robots. Comput Aided Surg 13:95–105

28.

Lehman AC, Dumpert J, Wood NA, Redden L, Visty AQ, Farritor SM, Varnell B, Oleynikov D (2009) Natural orifice cholecystectomy using a miniature robot. Surg Endosc 23:260–266
Acknowledgments
This research is supported in part by NASA EPSCoR, NRI-Nebraska Research Initiative, Telemedicine and Advanced Technology Research Center, and the NASA-Nebraska Space Grant Consortium grants and a National Science Foundation Graduate Research Fellowship.
Disclosures
Amy Lehman, Nathan Wood, and Matthew Goede have no conflicts of interest or financial ties to disclose. Dmitry Oleynikov has the following financial information to disclose: Covidien: Educational Grant; Life Cell: Educational Grant, Consulting; Gore: Educational Grant; Storz: Educational Grant; Virtual Incision: Stockholder. Shane Farritor has the following financial information to disclose: Virtual Incision: Stockholder.
About this article
Cite this article
Lehman, A.C., Wood, N.A., Farritor, S. et al. Dexterous miniature robot for advanced minimally invasive surgery. Surg Endosc 25, 119–123 (2011). https://doi.org/10.1007/s00464-010-1143-6
Received:

Accepted:

Published:

Issue Date:
Keywords
In vivo

Robots

Single incision

Laparoscopy

Minimally invasive surgery