Abstract
Background
Accurate localization of small colorectal cancers and polyps during laparoscopic resection may be difficult and requires precise and reliable localization techniques. This study aimed to assess the usefulness of intraoperative ultrasonography (IOUS) combined with retrograde saline instillation in locating small colorectal cancers and polyps during laparoscopically assisted colectomy.
Methods
The study investigated 14 patients with left-sided lesions of the colon and rectum necessitating preoperative marking. During laparoscopically assisted colorectal surgery, the large bowel was filled with saline solution by gravity, then scanned with a 5- to 10-MHz laparoscopic ultrasound probe.
Results
In all patients, both polyps and small cancers were clearly detected by IOUS. Furthermore, the technique was found to be easily mastered and performed. The mean detection time was 11 min. Polyps were seen as hypodense masses protruding from the bowel mucosa, whereas invasive cancers had both hypo- and hyperdense regions with sonographically appreciable penetration through bowel layers.
Conclusion
Intraoperative laparoscopic ultrasonography in conjunction with saline instillation can serve as a useful tool that allows the surgeon to locate small nonpalpable tumors during laparoscopically assisted resection of colorectal cancer.
This is a preview of subscription content, log in to check access.
Access options
Buy single article
Instant access to the full article PDF.
US$ 39.95
Price includes VAT for USA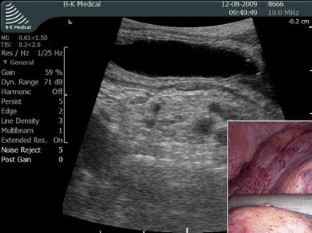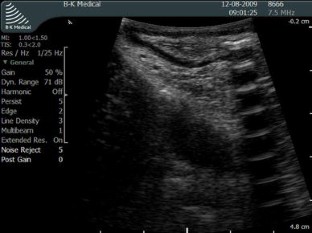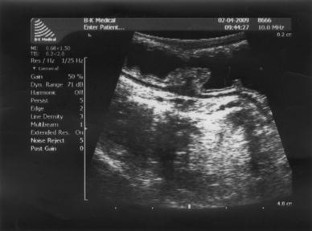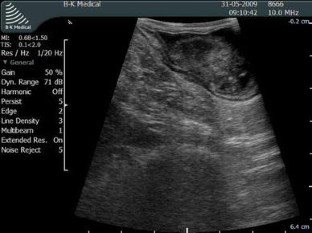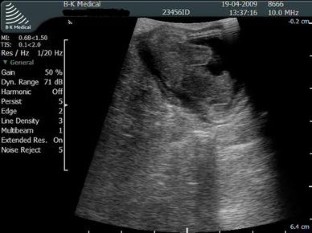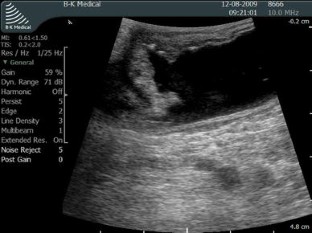 References
1.

Winawer SJ, Zauber AG, Ho MN, O'Brien MJ, Gottlieb LS, Sternberg SS, Waye JD, Schapiro M, Bond JH, Panish JF (1993) Prevention of colorectal cancer by colonoscopic polypectomy. N Engl J Med 329:1977–1981

2.

Citarda F, Tomaselli G, Capocaccia R, Barcherini S, Crespi M, Italian Multicentre Study Group (2001) Efficacy in standard clinical practice of colonoscopic polypectomy in reducing colorectal cancer incidence. Gut 48:812–815

3.

Shida H, Ban K, Matsumoto M, Masuda K, Imanari T, Machida T, Yamamoto T, Inoue T (1996) Asymptomatic colorectal cancer detected by screening. Dis Colon Rectum 39:1130–1135

4.

Smith GA, Oien KA, O'dwyer PJ (1999) Frequency of early colorectal cancer in patients undergoing colonoscopy. Br J Surg 86:1328–1331

5.

Gondos A, Bray F, Hakulinen T, Brenner H, EUNICE Survival Working Group (2009) Trends in survival in 11 European populations from 1990 to 2009: a model-based analysis. Ann Oncol 20:564–573

6.

Schwenk W, Haase O, Neudecker J, Müller JM (2005) Short-term benefits for laparoscopic colorectal resection. Cochrane Database Syst Rev 3:CD003145

7.

Kuhry E, Schwenk WF, Gaupset R, Romild U, Bonjer HJ (2008) Long-term results of laparoscopic colorectal cancer resection. Cochrane Database Syst Rev 2:CD003432

8.

Feingold DL, Addona T, Forde KA, Arnell TD, Carter JJ, Huang EH, Whelan RL (2004) Safety and reliability of tattooing colorectal neoplasms prior to laparoscopic resection. J Gastrointest Surg 8:543–546

9.

Zmora O, Dinnewitzer AJ, Pikarsky AJ, Efron JE, Weiss EG, Nogueras JJ, Wexner SD (2002) Intraoperative endoscopy in laparoscopic colectomy. Surg Endosc 16:808–811

10.

Luck A, Thomas M, Roediger WEW, Hewett PJ (1999) Localization of the nonpalpable colonic lesion with intraoperative ultrasound. Surg Endosc 13:526–527

11.

Greif F, Belenky A, Aranovich D, Yampolski I, Hannanel N (2005) Intraoperative ultrasonography: a tool for localizing small colonic polyps. Int J Colorectal Dis 20:502–506

12.

Hewett PJ, Allardyce RA, Bagshaw PF, Frampton CM, Frizelle FA, Rieger NA, Smith JS, Solomon MJ, Stephens JH, Stevenson AR (2008) Short-term outcomes of the Australasian randomized clinical study comparing laparoscopic and conventional open surgical treatments for colon cancer: the ALCCaS trial. Ann Surg 248:728–738

13.

Colon Cancer Laparoscopic or Open Resection Study Group, Buunen M, Veldkamp R, Hop WC, Kuhry E, Jeekel J, Buunen M, Veldkamp R, Hop WC, Kuhry E, Jeekel J, Haglind E, Påhlman L, Cuesta MA, Morino M, Lacy A, Bonjer HJ (2009) Survival after laparoscopic surgery versus open surgery for colon cancer: long-term outcome of a randomized clinical trial. Lancet Oncol 10:44–52

14.

Panaro F, Cascccia M, Cavalieri D, Torrelli P (2003) Laparoscopic colon resection with intraoperative polyp localisation with high-resolution ultrasonography coupled with color power Doppler. Postgrad Med J 79:533–534

15.

Montorsi M, Opocher E, Santambrogio R, Bianchi P, Faranda C, Arcidiacono P, Passoni GR, Cosentino F (1999) Original technique for small colorectal tumor localization during laparoscopic surgery. Dis Colon Rectum 42:819–822

16.

Nagata K, Endo S, Tatsukawa K, Kudo S (2008) Intraoperative fluoroscopy vs intraoperative laparoscopic ultrasonography for early colorectal cancer localization in laparoscopic surgery. Surg Endosc 22:379–385

17.

Limberg B (1992) Diagnosis and staging of colonic tumors by conventional abdominal sonography as compared with hydrocolonic sonography. N Engl J Med 327:65–69

18.

Chui DW, Gooding GA, McQuaid KR, Griswold V, Grendell JH (1994) Hydrocolonic ultrasonography in the detection of colonic polyps and tumors. N Engl J Med 331:1685–1688

19.

Luck A, Copley J, Hewett P (2000) Ultrasound of colonic neoplasia: an intraoperative tool? Surg Endosc 14:185–188
Disclosures
Greif Franklin, Aranovich David, Zilbermints Veacheslav, Hannanel Nisim, and Belenky Alexander have no conflicts of interest or financial ties to disclose.
About this article
Cite this article
Greif, F., Aranovich, D., Zilbermints, V. et al. Intraoperative hydrocolonic ultrasonography for localization of small colorectal tumors in laparoscopic surgery. Surg Endosc 24, 3144–3148 (2010). https://doi.org/10.1007/s00464-010-1106-y
Received:

Accepted:

Published:

Issue Date:
Keywords
Colorectal cancer

Intraoperative laparoscopic ultrasonography

Laparoscopic colorectal surgery