Abstract
Background
Visual inspection of induced carcinogenic transformation is of crucial interest when evaluating growth patterns and therapeutic effects. In previous studies we have used micro-PET scan to analyze the esophageal adenocarcinoma (EAC) transformation in an intact rat model of esophagoduodenal anastomosis (EDA), in which intestinal metaplasia and EAC were reproduced successfully. Our current study aimed to test the feasibility of evaluating the outcomes of our EDA model with a recently developed mini-endoscope.
Methods
EDA was performed as described previously. Postoperative rats underwent evaluation with upper endoscopy with the mini-endoscope (±endoscopic biopsy) and a micro-PET scan with 18F-FDG 3 months after the EDA procedure. Rats were euthanized and the esophagi were collected for histological observation, immunohistochemical staining, and TdT labeling assay. We compared the endoscopic images with the radiographic images of 18F-FDG uptake by micro-PET scan and correlated the endoscopic images with the histological changes in the EDA rats.
Results
The endoscope provided visualization of the entire esophageal tract and upper stomach, with the smallest detectable lesion being 0.5 mm in diameter. Mini-endoscopy was performed regularly and was tolerated without any significant procedure-related alterations in the esophageal tract. The visualized esophageal lesion correlated well with the micro-PET image and the histological changes in the EDA rats.
Conclusions
The new mini-endoscope constitutes a practical and reliable tool for diagnosis and regular follow-up of the esophagus in rats. Lesions identified by endoscopic observation were consistent with the changes found in the micro-PET scan, histopathology, and alteration of cellular and molecular events in esophageal mucosa. This instrument will allow for serial endoscopic evaluations, similar to endoscopic screening in humans, which will significantly enhance the preclinical development and evaluation of experimental intravesical antitumor therapies.
This is a preview of subscription content, log in to check access.
Access options
Buy single article
Instant access to the full article PDF.
US$ 39.95
Price includes VAT for USA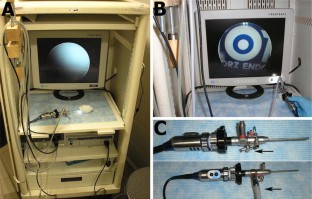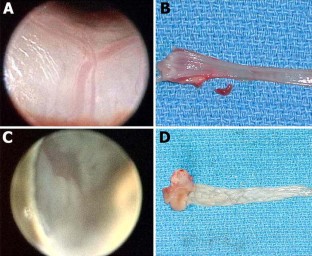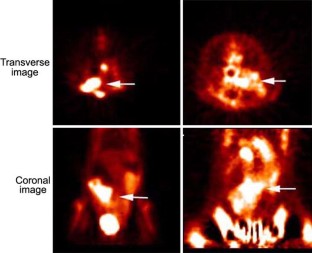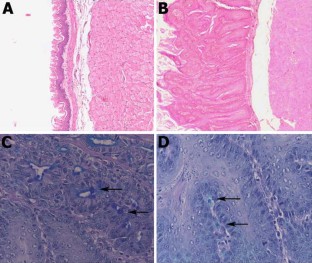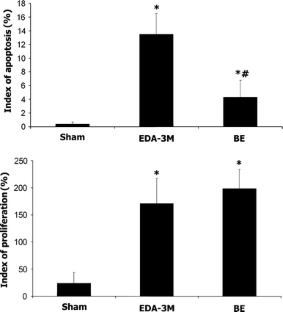 References
1.

Lu S, Lowe AW, Triadafilopoulos G, Hsiung PL, Hao Y, Crawford JM, Wang TD (2009) Endoscopic evaluation of esophago-gastro-jejunostomy in rat model of Barrett's esophagus. Dis Esophagus 22:323–330

2.

Chen X, Yang G, Ding WY, Bondoc F, Curtis SK, Yang CS (1999) An esophagogastroduodenal anastomosis model for esophageal adenocarcinogenesis in rats and enhancement by iron overload. Carcinogenesis 20:1801–1808

3.

Li Y, Martin RC (2007) Reflux injury of esophageal mucosa: experimental studies in animal models of esophagitis, Barrett's esophagus and esophageal adenocarcinoma. Dis Esophagus 20:372–378

4.

Xu X, LoCicero J III, Macri E, Loda M, Ellis FH Jr (2000) Barrett's esophagus and associated adenocarcinoma in a mouse surgical model. J Surg Res 88:120–124

5.

Chen X, Ding YW, Yang G, Bondoc F, Lee MJ, Yang CS (2000) Oxidative damage in an esophageal adenocarcinoma model with rats. Carcinogenesis 21:257–263

6.

Buskens CJ, Hulscher JB, van Gulik TM, Ten Kate FJ, van Lanschot JJ (2006) Histopathologic evaluation of an animal model for Barrett's esophagus and adenocarcinoma of the distal esophagus. J Surg Res 135:337–344

7.

Spechler SJ (1999) Barrett's esophagus. Curr Opin Gastroenterol 15:352–358

8.

Li Y, Woodall C, Wo JM, Zheng H, Ng CK, Ray MB, Martin RC (2008) The use of dynamic positron emission tomography imaging for evaluating the carcinogenic progression of intestinal metaplasia to esophageal adenocarcinoma. Cancer Invest 26:278–285

9.

Ismail-Beigi F, Horton PF, Pope CE (1970) Histological consequences of gastroesophageal reflux in man. Gastroenterology 58:163–174

10.

Li Y, Wo JM, Su RR, Ray MB, Jones W, Martin RC (2005) Esophageal injury with external esophageal perfusion. J Surg Res 129(1):107–113

11.

Li Y, Wo JM, Ellis S, Ray MB, Jones W, Martin RC (2006) A novel external esophageal perfusion model for reflux esophageal injury. Dig Dis Sci 51(3):527–532

12.

Li Y, Wo JM, Su RR, Ray MB, Martin RC (2007) Alterations in manganese superoxide dismutase expression in the progression from reflux esophagitis to esophageal adenocarcinoma. Ann Surg Oncol 14:2045–2055

13.

Martin RC, Liu Q, Wo JM, Ray MB, Li Y (2007) Chemoprevention of carcinogenic progression to esophageal adenocarcinoma by the manganese superoxide dismutase supplementation. Clin Cancer Res 13:5176–5182

14.

Ladabaum U, McDonnell WM (1999) Images in clinical medicine. Barrett's esophagus with high-grade dysplasia. N Engl J Med 341:1439

15.

Hattori Y, Komachi Y, Asakura T, Shimosegawa T, Kanai G, Tashiro H, Sato H (2007) In vivo Raman study of the living rat esophagus and stomach using a micro-Raman probe under an endoscope. Appl Spectrosc 61:579–584
Acknowledgment
This work was supported in part by National Institutes of Health grant CA127801-01.
Disclosures
Drs. S. Schiffman, Y. Li, G. Dryden, X. Li, and R. Martin have no conflicts of interest or financial ties to disclose.
About this article
Cite this article
Schiffman, S.C., Li, Y., Dryden, G. et al. Positive correlation of image analysis by mini-endoscopy with micro-PET scan and histology in rats after esophagoduodenal anastomosis. Surg Endosc 24, 2835–2841 (2010). https://doi.org/10.1007/s00464-010-1059-1
Received:

Accepted:

Published:

Issue Date:
Keywords
Oesophageal < Cancer

GORD/GERD (Gastro-oesophageal reflux disease)

Barrett-s Oesophagus < Oesophageal

G-I < Endoscopy

Technical < Endoscopy