Abstract
Background
Endoscopic submucosal dissection (ESD) is a new, widely accepted method for the treatment of early gastric cancer and was developed to increase the en bloc resection rate. This study aimed to evaluate the efficacy and safety of ESD compared with conventional endoscopic mucosal resection (EMR) for small rectal carcinoid tumors.
Methods
A retrospective study was carried out that included 43 patients with small rectal carcinoid tumors (<10 mm). The cohort comprised two groups: Group A (N = 23) underwent conventional EMR from January 2004 to August 2005, while group B (N = 20) underwent ESD with needle-knife from September 2005 to December 2006. The rate of curative en bloc resection, the procedure time, and the incidence of complications were evaluated.
Results
The en bloc resection rate and the rate of completeness of resection of group B were higher than those of group A (100 vs. 87%, 100 vs. 52.5%, respectively). The average operation time required for resection was significantly longer in group B (28.4 ± 17.2 min) compared with group A (12.3 ± 15.4 min) (p < 0.05). None of the patients had immediate or delayed bleeding during the procedure. Perforation occurred in one case of group B and the patient recovered after several days of conservative treatment. Three patients had local recurrence after EMR, while no patient experienced recurrence after ESD.
Conclusion
ESD, compared with conventional EMR, increased en bloc and histologically complete resection rates and may reduce local recurrence rate for small rectal carcinoid tumors. Increased operation time and complication risks with ESD remain problematic. Further technique and investigation are required to confirm the safety and to assess the long-term prognosis of ESD.
This is a preview of subscription content, log in to check access.
Access options
Buy single article
Instant access to the full article PDF.
US$ 39.95
Price includes VAT for USA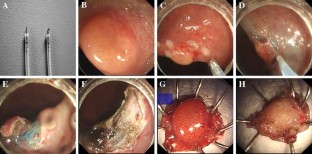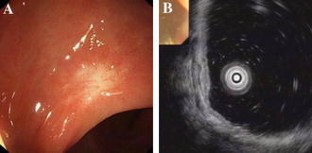 References
1.

Ishikawa H, Imanishi K, Otani T, Okuda S, Tatsuta M, Ishiguro S (1989) Effectiveness of endoscopic treatment of carcinoid tumors of the rectum. Endoscopy 21:133–135

2.

Matsui K, Iwase T, Kitagawa M (1993) Small, polypoid-appearing carcinoid tumors of the rectum: clinicopathological study of 16 cases and effectiveness of endoscopic treatment. Am J Gastroenterol 88:1949–1953

3.

Yoshikane H, Goto H, Niwa Y, Matsui M, Ohashi S, Suzuki T, Hamajima E, Hayakawa T (1998) Endoscopic resection of small duodenal carcinoid tumors with strip biopsy technique. Gastrointest Endosc 47:466–470

4.

Oda I, Gotoda T, Hamanaka H (2005) Endoscopic submucosal dissection for early gastric cancer: technical feasibility, operation time and complications from a large consecutive series. Dig Endosc 17:54–58

5.

Ono H, Kondo H, Gotoda T, Shirao K, Yamaguchi H, Saito D, Hosokawa K, Shimoda T, Yoshida S (2001) Endoscopic mucosal resection for treatment of early gastric cancer. Gut 48:225–229

6.

Modlin IM, Kidd M, Latich I, Zikusoka MN, Shapiro MD (2005) Current status of gastrointestinal carcinoids. Gastroenterology 128:1717–1751

7.

Federspiel BH, Burke AP, Sobin LH, Shekitka KM (1990) Rectal and colonic carcinoids: a clinicopathologic study of 84 cases. Cancer 65:135–140

8.

Zhou PH, Yao LQ, Zhong YS, He GJ, Xu MD, Qin XY (2004) Role of endoscopic miniprobe ultrasonography in diagnosis of submucosal tumor of large intestine. World J Gastroenterol 10:2444–2446

9.

Matsumoto T, Iida M, Suekane H, Tominaga M, Yao T, Fujishima M (1991) Endoscopic ultrasonography in rectal carcinoid tumors: contribution to selection of therapy. Gastrointest Endosc 37:539–542

10.

Kameyama H, Niwa Y, Arisawa T, Goto H, Hayakawa T (1997) Endoscopic ultrasonography in the diagnosis of submucosal lesions of the large intestine. Gastrointest Endosc 46:406–411

11.

Soga J (2005) Early-stage carcinoids of the gastrointestinal tract: an analysis of 1914 reported cases. Cancer 103:1587–1595

12.

Fujimura Y, Mizuno M, Takeda M, Sato I, Hoshika K, Uchida J, Kihara T, Mure T, Sano K, Moriya T (1993) A carcinoid tumor of the rectum removed by strip biopsy. Endoscopy 25:428–430

13.

Kobayashi K, Katsumata T, Yoshizawa S, Sada M, Igarashi M, Saigenji K, Otani Y (2005) Indications of endoscopic polypectomy for rectal carcinoid tumors and clinical usefulness of endoscopic ultrasonography. Dis Colon Rectum 48:285–291

14.

Jung IS, Ryu CB, Kim JO, Lee JS, Lee MS, Shim CS (2003) Rectal carcinoid treated by EMR. Gastrointest Endosc 58:253

15.

Gotoda T, Kondo H, Ono H, Saito Y, Yamaguchi H, Saito D, Yokota T (1999) A new endoscopic mucosal resection procedure using an insulation-tipped electrosurgical knife for rectal flat lesions: report of two cases. Gastrointest Endosc 50:560–563

16.

Onozato Y, Ishihara H, Iizuka H, Sohara N, Kakizaki S, Okamura S, Mori M (2006) Endoscopic submucosal dissection for early gastric cancers and large flat adenomas. Endoscopy 38:980–986

17.

Gotoda T, Friedland S, Hamanaka H, Soetikno R (2005) A learning curve for advanced endoscopic resection. Gastrointest Endosc 62:866–867

18.

Fijishiro M, Yahagi N, Kakushima N (2006) Management of bleeding concerning endoscopic submucosal dissection with the flex knife for stomach neoplasm. Digest Endosc 18:S119–S122

19.

Shiba M, Higuchi K, Kadouchi K, Montani A, Yamamori K, Okazaki H, Taguchi M, Wada T, Itani A, Watanabe T, Tominaga K, Fujiwara Y, Hayashi T, Tsumura K, Arakawa T (2005) Risk factors for bleeding after endoscopic mucosal resection. World J Gastroenterol 14:7335–7339

20.

Fujishiro M, Yahagi N, Nakamura M, Kakushima N, Kodashima S, Ono S, Kobayashi K, Hashimoto T, Yamamichi N, Tateishi A, Shimizu Y, Oka M, Ogura K, Kawabe T, Ichinose M, Omata M (2006) Endoscopic submucosal dissection for rectal epithelial neoplasia. Endoscopy 38:493–497

21.

Tsunada S, Ogata S, Ohyama T, Ootani H, Oda K, Kikkawa A, Ootani A, Sakata H, Iwakiri R, Fujimoto K (2003) Endoscopic closure of perforation caused by EMR in the stomach by application of metallic clips. Gastrointest Endosc 57:948–951

22.

Humphreys F, Hewetson KA, Dellipiani AW (1984) Massive subcutaneous emphysema following colonoscopy. Endoscopy 16:160–161

23.

Ono A, Fujii T, Saito Y, Matsuda T, Lee DT, Gotoda T, Saito D (2003) Endoscopic submucosal resection of rectal carcinoid tumors with a ligation device. Gastrointest Endosc 57:583–587

24.

Mashimo Y, Matsuda T, Uraoka T, Saito Y, Sano Y, Fu K, Kozu T, Ono A, Fujii T, Saito D (2008) Endoscopic submucosal resection with a ligation device is an effective and safe treatment for carcinoid tumors in the lower rectum. J Gastroenterol Hepatol 23:218–222

25.

Moon JH, Kim JH, Park CH, Jung JO, Shin WG, Kim JP, Kim KO, Hahn T, Yoo KS, Park SH, Park CK (2006) Endoscopic submucosal resection with double ligation technique for treatment of small rectal carcinoid tumors. Endoscopy 38:511–514
Disclosures
Ping-Hong Zhou, Li-Qing Yao, Xin-Yu Qin, Mei-Dong Xu, Yun-Shi Zhong, Wei-Feng Chen, Li-Li Ma, Yi-Qun Zhang, Wen-Zheng Qin, Ming-Yan Cai, and Yuan Ji have no conflicts of interest or finanicial ties to disclose.
About this article
Cite this article
Zhou, P., Yao, L., Qin, X. et al. Advantages of endoscopic submucosal dissection with needle-knife over endoscopic mucosal resection for small rectal carcinoid tumors: a retrospective study. Surg Endosc 24, 2607–2612 (2010). https://doi.org/10.1007/s00464-010-1016-z
Received:

Accepted:

Published:

Issue Date:
Keywords
Rectal carcinoid tumor

Endoscopy

Endoscopic submucosal resection