Abstract
Background
Laparoscopic colorectal resection is widely used because of its safety and effectiveness compared with conventional surgery; however, surgical assistants find it difficult to perform this surgery in mirror image. This study aimed to evaluate assistants' learning curves in laparoscopic colorectal surgery.
Methods
The subjects were three fellows who began their surgical fellowship training at the Center for Colorectal Cancer of the National Cancer Center, Korea, during 2008. We analyzed the data from 145 laparoscopic colorectal surgeries in which these assistants participated. A learning curve was generated for each assistant using the moving average method to assess the execution time and the error rate for grasping tissue.
Results
Assistants A, B, and C participated in 50, 45, and 50 laparoscopic colorectal surgeries, respectively. Learning curves indicated that the execution time reached a steady state after 38 cases for Assistant A, 29 cases for Assistant B, and 24 cases for Assistant C. Based on a decline in the error rate, the steady state was reached after approximately 44 cases for Assistant A, 32 cases for Assistant B, and 41 cases for Assistant C.
Conclusion
Analysis of the assistants' learning curves suggests that under reverse alignment conditions, assistants require participation in 30–40 cases before gaining surgical competence. These results have implications for training assistants for laparoscopic colorectal surgery.
This is a preview of subscription content, log in to check access.
Access options
Buy single article
Instant unlimited access to the full article PDF.
US$ 39.95
Price includes VAT for USA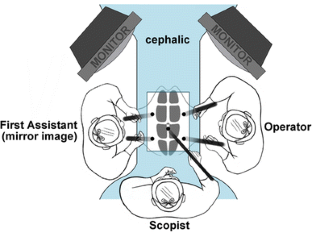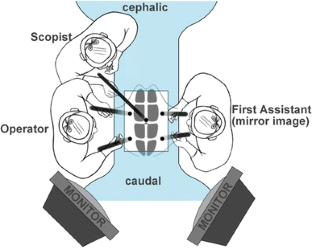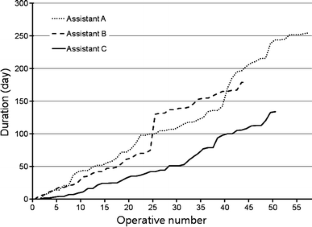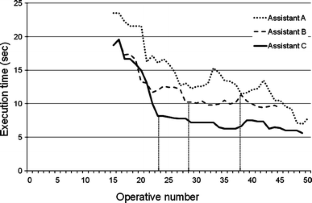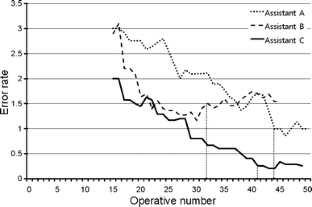 References
1.

Buchanan GN, Malik A, Parvaiz A, Sheffield JP, Kennedy RH (2008) Laparoscopic resection for colorectal cancer. Br J Surg 95:893–902

2.

Lim SB, Choi HS, Jeong SY, Park JG (2008) Feasibility of laparoscopic techniques as the surgical approach of choice for primary colorectal cancer: an analysis of 570 consecutive cases. Surg Endosc 22:2588–2595

3.

Choi DH, Jeong WK, Lim SW, Chung TS, Park JI, Lim SB, Choi HS, Nam BH, Chang HJ, Jeong SY (2009) Learning curves for laparoscopic sigmoidectomy used to manage curable sigmoid colon cancer: single-institute, three-surgeon experience. Surg Endosc 23:622–628

4.

Tekkis PP, Senagore AJ, Delaney CP, Fazio VW (2005) Evaluation of the learning curve in laparoscopic colorectal surgery: comparison of right-sided and left-sided resections. Ann Surg 242:83–91

5.

Dincler S, Koller MT, Steurer J, Bachmann LM, Christen D, Buchmann P (2003) Multidimensional analysis of learning curves in laparoscopic sigmoid resection: eight-year results. Dis Colon Rectum 46:1371-1378, discussion 1378-1379

6.

Gould JC, Frydman J (2007) Reverse-alignment surgical skills assessment. Surg Endosc 21:669–671

7.

Cresswell A, Macmillan A, Hanna G, Cuschieri A (1999) Methods for improving performance under reverse alignment conditions during endoscopic surgery. Surg Endosc 13:591–594

8.

Haveran LA, Novitsky YW, Czerniach DR, Kaban GK, Taylor M, Gallagher-Dorval K, Schmidt R, Kelly JJ, Litwin DE (2007) Optimizing laparoscopic task efficiency: the role of camera and monitor positions. Surg Endosc 21:980–984

9.

Lee SD, Lim SB (2009) D3 lymphadenectomy using a medial to lateral approach for curable right-sided colon cancer. Int J Colorectal Dis 24:295–300

10.

Chung TS, Lim SB, Sohn DK, Hong CW, Han KS, Choi HS, Jeong SY (2008) Feasibility of single-stage laparoscopic resection after placement of a self-expandable metallic stent for obstructive left colorectal cancer. World J Surg 32:2275–2280

11.

Clinical Outcomes of Surgical Therapy Study Group (2004) A comparison of laparoscopically assisted and open colectomy for colon cancer. N Engl J Med 350:2050–2059

12.

Johnston WK III, Low R, Das S (2003) Image converter eliminates mirror imaging during laparoscopy. J Endourol 17:327–331

13.

Enns JT, Shore DI (1997) Separate influences of orientation and lighting in the inverted-face effect. Percept Psychophys 59:23–31
Acknowledgments
This study was supported by a grant from the National Cancer Center of Korea (grant No. 0910200).
Disclosures
Mi Ri Hwang, Guh Jung Seo, Sang Bum Yoo, Ji Won Park, Hyo Seong Choi, Jae Hwan Oh, and Seung-Yong Jeong have no conflicts of interest or financial ties to disclose.
Electronic supplementary material
Below is the link to the electronic supplementary material.
Supplementary material 1 (MPG 6288 kb)
Supplementary material 2 (MPG 946 kb)
About this article
Cite this article
Hwang, M.R., Seo, G.J., Yoo, S.B. et al. Learning curve of assistants in laparoscopic colorectal surgery: overcoming mirror imaging. Surg Endosc 24, 2575–2580 (2010) doi:10.1007/s00464-010-1005-2
Received:

Accepted:

Published:

Issue Date:
Keywords
Laparoscopic surgery

Learning

Assistant