Abstract
Background
Esophagectomy has been performed using a thoracoabdominal, transhiatal, or transthoracic approach. All these methods have an acknowledged high intra- and postoperative morbidity. The principle of minimally invasive esophagectomy is to perform the operation the same as by the open approach but through a smaller incision, thus reducing the operative trauma without compromising the principles of the operation. The authors report their experience with thoracoscopic esophagectomy performed for 112 patients in left lateral position.
Methods
Patients with resectable thoracic or gastroesophageal junction cancer and medically fit for a three-stage esophagectomy underwent thoracoscopic esophagectomy in left lateral position. The procedure was converted to open surgery for 2 (1.79%) of the 112 patients.
Results
Since June 2005, 112 patients have undergone thoracoscopic esophagectomy in left lateral position. Of these patients, 80 patients had middle-third esophageal cancer. The pathology of 100 patients showed squamous cell carcinoma. The average thoracoscopic operating time was 85 min (range, 40–120 min). The average blood loss was 200 ml, and the average number of harvested mediastinal nodes was 20. Postoperative morbidity occurred for 16 patients, with 8 patients (7.27%) experiencing respiratory complications. Postoperative mortality was experienced by three patients. The median follow-up period was 18 months.
Conclusions
Thoracoscopic esophagectomy is surgically safe and oncologically adequate. Thoracoscopy for patients in the left lateral position does not require prolonged single-lung ventilation. The anatomic orientation in the left lateral position is the same as that for open surgery, reducing the learning curve for thoracic surgeons. The potential advantages and the morbidity trend of prone instead of left lateral thoracoscopic esophagectomy needs to be evaluated.
This is a preview of subscription content, log in to check access.
Access options
Buy single article
Instant access to the full article PDF.
US$ 39.95
Price includes VAT for USA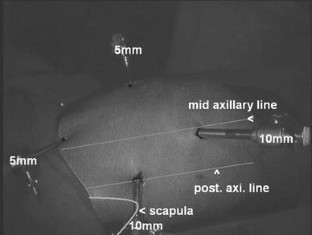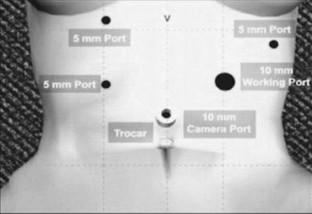 References
1.

Ayiomamitis A (1988) Epidemiology of cancer of the esophagus in Canada: 1931–1984. Gastroenterology 94:374–380

2.

Bailey SH, Bull DA, Harpole DH, Reutz JJ, Neumayer MD (2003) Outcomes after esophagectomy: a ten-year retrospective cohort. Ann Thorac Surg 75:217–222

3.

DePaula AL, Hashiba K, Ferreira EA (1996) Transhiatal approach for esophagectomy. In: Tooli J, Gossot D, Hunter JG et al (eds) Endosurgery. Churchill Livingstone, New York, pp 293–299

4.

Watson DI, Jamieson GG, Devitt PG (2000) Endoscopic cervicothoracoabdominal esophagectomy. J Am Coll Surg 190:372–378

5.

Goldminc M, Maddern G, LePrise E, Meunier B (1993) Oesophagectomy by a transhiatal approach or thoracotomy: a prospective randomized trial. Br J Surg 80:367–370

6.

Luketich JD, Alvelo-Rivera M, Buenaventura PO, Christie NA, McCaughan JS, Litle VR, Schauer PR, Close JM, Fernando HC (2003) Minimally invasive esophagectomy: outcomes in 222 patients. Ann Surg 238:486–495

7.

Smithers BM, Gotley DC, McEwan D, Martin Bessell IJ, Doyle L (2001) Thoracoscopic mobilization of the esophagus: a 6-year experience. Surg Endosc 15:176–182

8.

Law S, Fok M, Chu KM, Wong J (1997) Thoracoscopic esophagectomy for esophageal cancer. Surgery 122:8–14

9.

Dexter SPL, Martin IG, McMahonz MJ (1996) Radical thoracoscopic esophagectomy for cancer. Surg Endosc 10:147–151

10.

Akiyama H, Tsurumari M, Kawanuru T, Ono Y (1981) Principles of surgical treatment for carcinoma of the oesophagus: analysis of lymph node involvement. Ann Surg 194:435–446

11.

Nguyen NT, Roberts P, Follette DM, Rivers R, Wolfe BM (2003) Thoracoscopic and laparoscopic esophagectomy for benign and malignant diseases: lessons learned from 46 consecutive procedures. J Am Coll Surg 197:902–913

12.

Akaishi T, Kaneda I, Higuchin N (1996) Thoracoscopic en bloc total esophagectomy with radical mediastinal lymphadenectomy. J Thoracic Cardiovasc Surg 112:1533–1541

13.

Van den Broek WT, Makay O, Berends FJ, Yuan JZ, Houdijk AP, Meijer S, Cuesta MA (2004) Laparoscopically assisted transhiatal resection for malignancies of the distal esophagus. Surg Endosc 18:812–817

14.

Bemelman WA, Taat CW, Slors JF, van Lanschot JJ, Obertop H (1995) Delayed postoperative emptying after esophageal resection is dependent on the size of gastric substitute. J Am Coll Surg 180:461–464

15.

Finley FJ, Lamy A, Clifton J, Evans KG, Fradet G, Nelems B (1995) Gastrointestinal function following esophagectomy for malignancy. Am J Surg 169:471–475

16.

Cuschieri A, Shimi S, Banting S (1992) Endoscopic oesophagectomy through a right thoracoscopic approach. J R Coll Surg Edinb 37:7–11

17.

Gossot D, Cattan P, Fritsch S, Halimi B, Sarfati E, Celerier M (1995) Can the morbidity of esophagectomy be reduced by the thoracoscopic approach? Surg Endosc 9:1113–1115

18.

Martin DJ, Bessell JR, Chew A, Watson DI (2005) Thoracoscopic and laparoscopic esophagectomy: initial experience and outcomes. Surg Endosc 19:1597–1601
Disclosures
Shailesh P. Puntambekar, Geetanjali A. Agarwal, Saurabh N. Joshi, Neeraj V. Rayate, Ravindra M. Sathe, and Anjali M. Patil have no conflicts of interest or financial ties to disclose.
About this article
Cite this article
Puntambekar, S.P., Agarwal, G.A., Joshi, S.N. et al. Thoracolaparoscopy in the lateral position for esophageal cancer: the experience of a single institution with 112 consecutive patients. Surg Endosc 24, 2407–2414 (2010). https://doi.org/10.1007/s00464-010-0963-8
Received:

Accepted:

Published:

Issue Date:
Keywords
Esophageal cancer

Esophagectomy

Laparoscopy

Thoracoscopy