Abstract
Introduction
Interventional therapy for weight regain after gastric bypass surgery has been tempered by higher complications associated with revisional surgery. Endolumenal reduction of post-bypass stomal and pouch dilatation offers the promise of a safer approach. Questions still remain regarding safety and efficacy with these procedures. We report intra- and postoperative results to date utilizing an endolumenal suturing platform for this patient subset.
Methods
Patients who had regained significant weight 2+ years after Roux-en-Y gastric bypass (RYGB) after losing ≥50% of excess body weight (EBW) post RYGB underwent endolumenal stomal and pouch reduction if they endoscopically displayed post-bypass stomal and/or pouch dilatation. The platform was utilized to endolumenally reduce stoma size by creating circumferential folds with a tissue anchoring system. Anchors were also utilized to approximate gastric pouch tissue. Information regarding patient baseline status and data on procedural safety, intraoperative performance, postoperative weight loss, and anchor durability were recorded to date with use of this system.
Results
In 20/21 subjects we were able to successfully place anchors (one patient had occult G-G fistula which impaired visualization). Weight regain post RYGB averaged 59 lbs (N = 20). Stomal diameter was reduced on average by 53%, with pouch reduction averaging 41%. The number of anchors placed on average per case was 5.3. Operating room (OR) time averaged 91 min. There were no significant complications. Three- and 12-month esophagogastroduodenoscopy (EGD) results revealed preservation of most of the intraoperative stoma and pouch reduction, and presence of fibrotic tissue folds with continued presence of anchors at their original locations. Mean percentage excess weight loss (%EWL) at 6 months was 18% to date (N = 18). Mean weight loss at 6 months was 17.3 ± 15 lbs.
Conclusion
Clinical study of this endolumenal tissue approximation system has shown intraoperative safety and efficacy in reducing stoma and pouch dilatation post RYGB. Follow-up anchor durability to date is encouraging. Continuing weight loss is being tracked through ongoing endoscopic and clinical follow-up.
This is a preview of subscription content, log in to check access.
Access options
Buy single article
Instant access to the full article PDF.
US$ 39.95
Price includes VAT for USA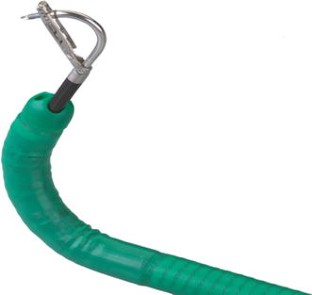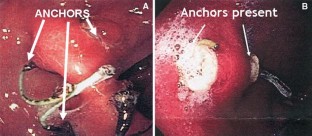 References
1.

Magro DO, Gelonese B, Delfini R, Pareja BC, Callejas F, Pareja JC (2008) Long-term weight regain after gastric bypass: a 5-year prospective study. Obes Surg 18(6):648–651 Epub 2008 Apr 8

2.

Christou NV, Look D, MacLean LD (2006) Weight gain after short- and long-limb gastric bypass in patients followed for longer than 10 years. Ann Surg 244(5):734–740

3.

Kruger J, Galuska DA, Serdula MK, Jones DA (2004) Attempting to lose weight: specific practices among U.S. adults. Am J Prev Med 26(5):402–406

4.

Klein S (2003) Medical management of obesity: present and future therapy. Surg Alimentary Tract 7(4):464–467

5.

Campos GM, Rabl C, Mulligan K, Posselt A, Rogers SJ, Westphalen AC, Lin F, Vittinghoff E (2008) Factors associated with weight loss after gastric bypass. Arch Surg 143(9):877–884

6.

Roberts K, Duffy A, Kaufman J, Burrell M, Dziura J, Bell R (2007) Size matters; gastric pouch size correlates with weight loss after laparoscopic Roux-en-Y surgery. Surg Endosc 21:1397–1402

7.

Parikh M, Bessler M (2008) Revision Procedures for Failed Gastric Bypass Bariatric Times e-article September 2007 Surgical Perspective. http://bariatrictimes.com/2007/09/10/revision-procedures-for-failed-gastric-bypass/. Accessed Apr 08

8.

Behrns KE, Smith CD, Kelly KA, Sarr MG (1993) Reoperative bariatric surgery—Lessons learned to improve patient selection and results. Ann Surg 218:646–653

9.

Statistics Related to Overweight and Obesity: The Economic Costs. http://www.win.niddk.nih.gov/statistics/index.htm. Accessed: May 2008

10.

Cohen R, Pinheiro JS, Correa JL, Schiavon C (2005) Laparoscopic revisional bariatric surgery: myths and facts. Surg Endosc 19:822–825

11.

Schwartz RW et al (1988) Gastric bypass revision: lessons learned from 920 cases. Surgery 104:806–812

12.

Nesset EM, Kendrick ML, Houghton SG, Mai JL, Thompson GB, Que FG, Thomsen KM, Larson DR, Sarr MG (2007) A two-decade spectrum of revisional bariatric surgery at a tertiary referral center. Surg Obes Relat Dis 3:25–30

13.

Livingston EH (2005) Hospital costs associated with bariatric procedures in the United States. Am J Surg 190(5):816–820

14.

Dixon JB, McPhail T, O'Brien PE (2005) Minimal reporting requirements for weight loss: current methods not ideal. Obes Surg 15:1034–1039

15.

Dubay DA, Franz MG (2003) Acute wound healing: the biology of acute wound failure. Surg Clin North Am 83(3):463–481

16.

Schroder W, Stippel D, Gutschow C, Leers J, Holscher AH (2004) Post-operative recovery of microcirculation after gastric tube formation. Langenbecks Arch Surg 389:267–271

17.

Thompson SK, Chang EY, Jobe BA (2006) Clinical review: healing in gastrointestinal anastomoses, part I. Microsurgery 26:131–136

18.

Thorton FJ, Barbul A (1997) Healing in the gastrointestinal tract. Surg Clin North Am 77:549–573

19.

Seaman DL, Gostout CJ, de la Mora Levy JG, Knipschield MA (2006) Tissue anchors for transmural gut-wall apposition. Gastrointest Endosc 64:577–581

20.

Herron DM, Birkett DH, Thompson CC, Bessler M, Swanstrom LL (2008) Gastric bypass pouch and stoma reduction using a transoral endoscopic anchor placement system: a feasibility study. Surg Endosc 22(4):1093–1099 Epub 2007 Nov

21.

Bessler M, Stevens PD, Milone L, Swanstrom LL (2008) An endosurgical operating system: human experience in endolumenal and NOTES procedures. SAGES 2008 Podium Presentation
Acknowledgement
Disclosures
Frank J. Borao has no conflicts of interest to disclose; the cost of the study was funded by USGI Medical. Steve Gorcey has no conflicts of interest; the cost of the study was funded by USGI Medical. Aaron Capuano has no conflicts of interest or financial ties to disclose.
About this article
Cite this article
Borao, F., Gorcey, S. & Capuano, A. Prospective single-site case series utilizing an endolumenal tissue anchoring system for revision of post-RYGB stomal and pouch dilatation. Surg Endosc 24, 2308–2313 (2010). https://doi.org/10.1007/s00464-010-0919-z
Received:

Accepted:

Published:

Issue Date:
Keywords
Endolumenal surgery

Weight regain

Stoma and pouch dilatation

Revisional bypass surgery

Incisionless surgery