Abstract
Objective
The purpose of the present study is to demonstrate the feasibility of single-port transumbilical laparoscopic surgery (SPLS) for hysterectomy and elaborate on our experience in order to introduce the single-port approach for gynecologic surgery.
Methods
Between August 2008 and February 2009, 30 patients who initially planned to undergo single-port laparoscopic surgery at Yonsei University Health System in Seoul, Korea were enrolled in this study. The authors used a single-port three-channel system with a wound retractor, surgical gloves, and one 10/11-mm and two 5-mm trocars. All surgical procedures were performed with 30°, 5-mm laparoscope, conventional laparoscopic instruments, and the LigaSure™ system (Valleylab, Boulder, CO, USA). Patient characteristics and surgical outcomes were prospectively evaluated. A visual analog score (VAS) scale was used to measure postoperative pain.
Results
Twenty-nine of 30 patients underwent single-port laparoscopic surgery without conversion to laparotomy or conventional laparoscopic hysterectomy. Median operative time was 100 min (57–155 min), median blood loss was 100 ml (10–400 ml), median postoperative hospital stay was 3 days (2–6 days), and median weight of resected uteri was 167 g (45–482 g). VAS scoring of pain at 6, 24, and 48 h after surgery was 4, 3, and 2, respectively. There were no operative complications.
Conclusion
SPLS is a feasible approach for hysterectomy in terms of operative time, complication rates, and cosmetic results. However, the possible benefits for patients such as better cosmetic outcomes, reduced pain, and lower complication rates should be evaluated in randomized prospective studies.
This is a preview of subscription content, log in to check access.
Access options
Buy single article
Instant access to the full article PDF.
US$ 39.95
Price includes VAT for USA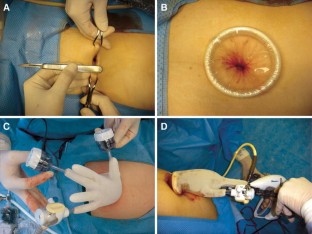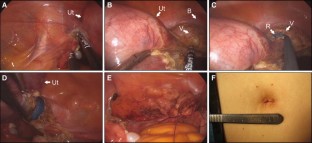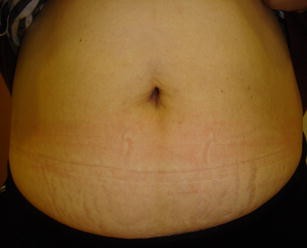 References
1.

Hulka JF (1977) Current status of elective sterilization in the United States. Fertil Steril 28:515–520

2.

Desimone CP, Ueland FR (2008) Gynecologic laparoscopy. Surg Clin North Am 88:319-341, vi

3.

Lee JE, Park YN, Nam SH, Choi DS, Kim TJ, Choi CH, Lee JW, Kim BG, Lee JH, Bae DS (2006) A comparison of Laparoscopically-assisted radical vaginal hysterectomy and radical abdominal hysterectomy in the treatment of cervical cancer. Korean J Gynecol Oncol Colposc 17:99–104

4.

Boggess JF, Gehrig PA, Cantrell L, Shafer A, Ridgway M, Skinner EN, Fowler WC (2008) A comparative study of 3 surgical methods for hysterectomy with staging for endometrial cancer: robotic assistance, laparoscopy, laparotomy. Am J Obstet Gynecol 199:360–369

5.

Kim YT, Kim SW, Jung YW (2008) Robotic surgery in gynecologic field. Yonsei Med J 49:886–890

6.

Magrina JF, Kho RM, Weaver AL, Montero RP, Magtibay PM (2008) Robotic radical hysterectomy: comparison with laparoscopy and laparotomy. Gynecol Oncol 109:86–91

7.

Quiñones GR, Alvarado DA, Ley Ch E (1976) Tubal ligation using Yoon's ring. Ginecol Obstet Mex 40:127–136

8.

Pelosi MA (1991) Laparoscopic hysterectomy with bilateral salpingo-oophorectomy using a single umbilical puncture. N J Med 88:721–726

9.

Pelosi MA (1992) Laparoscopic appendectomy using a single umbilical puncture (minilaparoscopy). J Reprod Med 37:588–594

10.

Rao PP, Bhagwat SM, Rane A (2008) The feasibility of single port laparoscopic cholecystectomy: a pilot study of 20 cases. HPB (Oxford) 10:336–340

11.

Wu JM, Wechter ME, Geller EJ, Nguyen TV, Visco AG (2007) Hysterectomy rates in the United States, 2003. Obstet Gynecol 110:1091–1095

12.

Johnson N, Barlow D, Lethaby A, Tavender E, Curr E, Garry R (2006) Surgical approach to hysterectomy for benign gynaecological disease. Cochrane Database Syst Rev: CD003677

13.

Kluivers KB, Hendriks JC, Mol BW, Bongers MY, Bremer GL, de Vet HC, Vierhout ME, Brolmann HA (2007) Quality of life and surgical outcome after total laparoscopic hysterectomy versus total abdominal hysterectomy for benign disease: a randomized, controlled trial. J Minim Invasive Gynecol 14:145–152

14.

Ribeiro SC, Ribeiro RM, Santos NC, Pinotti JA (2003) A randomized study of total abdominal, vaginal and laparoscopic hysterectomy. Int J Gynaecol Obstet 83:37–43

15.

Schindlbeck C, Klauser K, Dian D, Janni W, Friese K (2008) Comparison of total laparoscopic, vaginal and abdominal hysterectomy. Arch Gynecol Obstet 277:331–337

16.

Marconi A, Ronzoni S, Riparini J, Bulfoni A, Izzo S, Candiani M (2009) Laparoscopic vs vaginal hysterectomy for benign pathology. Am J Obstet Gynecol 200:367–368

17.

Bude RO, Garnett B, Quint EH, DeLancey JO, Pearl ML, Hurd WW (1993) Laparoscopic injury of abdominal wall blood vessels: a report of three cases. Obstet Gynecol 82:673–676

18.

Taurelle R, Boucaya V, Robin F, Rizk E, Lcuru F, Cordick CM (1999) Morbidity in laparoscopic gynecological surgery: results of a prospective single-center study. Surg Endosc 13:57–61

19.

Hurd WW, Bude RO, DeLancey JO, Newman JS (1994) The location of abdominal wall blood vessels in relationship to abdominal landmarks apparent at laparoscopy. Am J Obstet Gynecol 171:642–646

20.

Quint EH, Wang FL, Hurd WW (1996) Laparoscopic transillumination for the location of anterior abdominal wall blood vessels. J Laparoendosc Surg 6:167–169

21.

Kovac SR (1995) Guidelines to determine the route of hysterectomy. Obstet Gynecol 85:18–23

22.

Triginelli SA, Belo AV, de Magalhes RS, Werneck RA, Silva-Filho AL (2006) Abdominal vs vaginal hysterectomy: a comparative study of the postoperative quality of life and satisfaction. Arch Gynecol Obstet 274:21–24

23.

Brown J, Bridgman S, Lilford R, Whittaker M, Phillips G, Clayton R, Abbott J, Napp V, Hawe J, Mason S, Fountain J, Garry R (2004) The eVALuate study: two parallel randomised trials, one comparing laparoscopic with abdominal hysterectomy, the other comparing laparoscopic with vaginal hysterectomy. BMJ Clin Res Ed 328:129

24.

Pinotti JA, Santos NC, Ribeiro RM, Ribeiro SC (2003) A randomized study of total abdominal, vaginal and laparoscopic hysterectomy. Int J Gynaecol Obstet 83:37–43

25.

Sjberg J, Heikkinen AM, Kauko M, Laatikainen T, Heinonen PK, Toms E, Toms C, Johansson J, Mkinen J (2001) Morbidity of 10 110 hysterectomies by type of approach. Hum Reprod 16:1473–1478

26.

Cosson M, Crpin G, Boukerrou M, Occelli B, Lambaudie E (2001) Vaginal hysterectomy in nulliparous women: indications and limitations. J Gynecol Obstet Biol Reprod (Paris) 30:325–330

27.

Masterson BJ, Magrina J, Irwin H, Capen CV (1983) Vaginal removal of the ovaries in association with vaginal hysterectomy. J Reprod Med 28:589–591

28.

Ewing TL, Mundy CF, Wilkening RL, Smale ML, Smale LE (1978) Salpingo-oophorectomy at the time of vaginal hysterectomy. Am J Obstet Gynecol 131:122–128
Acknowledgements
The authors are grateful to Sydney Sue Kim (Editor, Yonsei University College of Medicine, Seoul, Korea) for her editorial assistance and to Dong-Su Jang (Medical Illustrator, Medical Research Support Section, Yonsei University College of Medicine, Seoul, Korea) for his help with the figures in this study. This study was supported by the Brain Korea 21 Project for Medical Sciences, Yonsei University, and a grant from the Korean Health 21 R&D Project, Ministry of Health and Welfare, Republic of Korea (0412-CR01-0704-0001).
Disclosures
Drs. Yong Wook Jung, Young Tae Kim, Dae Woo Lee, Yu Im Hwang, Eun Ji Nam, Jae Hoon Kim, and Sang Wun Kim have no conflicts of interest or financial ties to disclose.
About this article
Cite this article
Jung, Y.W., Kim, Y.T., Lee, D.W. et al. The feasibility of scarless single-port transumbilical total laparoscopic hysterectomy: initial clinical experience. Surg Endosc 24, 1686–1692 (2010). https://doi.org/10.1007/s00464-009-0830-7
Received:

Accepted:

Published:

Issue Date:
Keywords
Hysterectomy

Laparoscopy

Minimally invasive surgical procedures