Abstract
Background
Laparoscopic ventral hernia repair has been demonstrated to be an acceptable and successful technique. Aside from similar, albeit fewer, complications compared to open hernia repair, the laparoscopic technique has the additional complication of port site hernia to its follow-up criteria. Our initial experience with reduced port surgery in hernias was described as a two-port one-stitch repair technique in 2002. We initially applied our Single Port Access (SPA™) technique to ventral hernia repairs and reported it at the American Hernia Society meeting in 2008. Now we present the first 30 cases, some with 6–24-month follow-up.
Methods
The charts of 30 patients undergoing surgery for primary and recurrent ventral hernias employing the SPA technique were reviewed. The SPA technique was applied through a 1.0–1.6-cm incision remote from and lateral to the hernia location in the abdominal wall. Polypropylene-based coated mesh and non-fascial fixation were used in all cases.
Results
All procedures were completed via the SPA technique. Operative time, length of stay, and estimated blood loss were acceptable. The size of mesh placed ranged from 81 to 500 cm2. Postoperative seromas were observed and all resolved spontaneously. There have been no wound infections or port site hernias during the 6–24-month follow-up period. There have been no recurrent hernias at the primary site.
Conclusion
We have successfully demonstrated the applicability of Single Port Access surgery for ventral hernia repair. In our initial series we performed this procedure on smaller hernias but have now begun applying it to larger repairs.
This is a preview of subscription content, log in to check access.
Access options
Buy single article
Instant access to the full article PDF.
US$ 39.95
Price includes VAT for USA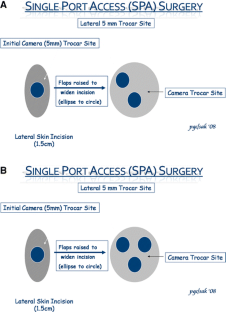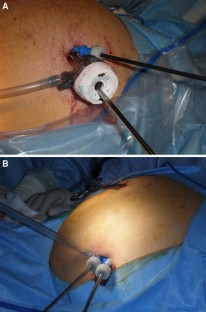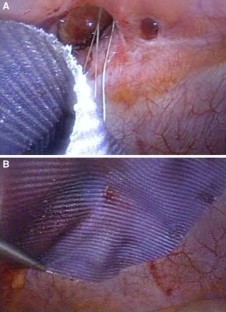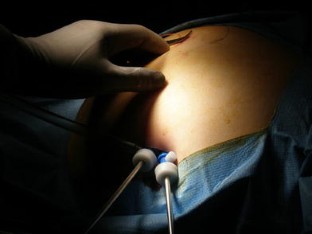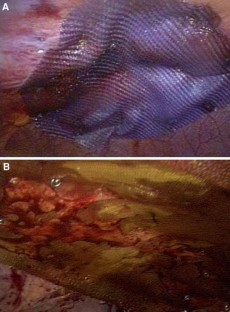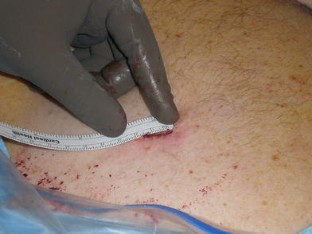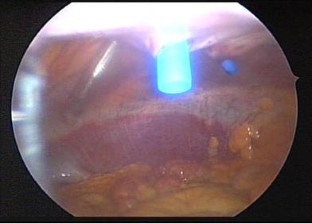 References
1.

Erickson KM, Golladay ES (2002) Abdominal hernias: an overview. Available at http://emedicine.medscape.com/article/189563-overview; accessed June 30, 2009

2.

Cassar K, Munro A (2002) Surgical treatment of incisional hernia. Br J Surg 89:534–545

3.

Morris-Stiff GJ, Hughes LE (1998) The outcomes of nonabsorbable mesh placed within the abdominal cavity. J Am Coll Surg 186(3):352–367

4.

Heniford BT, Park A, Ramshaw BJ, Voeller G (2003) Laparoscopic repair of ventral hernias: nine years' experience with 850 consecutive hernias. Ann Surg 238(3):391–399

5.

Fischer JE, Bland KI (eds) (2007) Laparoscopic ventral hernia repair, Ramshaw B. In: Mastery of surgery, 5th ed. Lippincott Williams & Wilkins, Philadelphia, Chap. 179, p 1959

6.

Nimeri AA, Brunt LM (2006) Laparoscopic ventral hernia repair: 5 mm port technique and alternative mesh insertion method. J Am Coll Surg 202(4):708–710

7.

Curcillo PG (2004) Laparoscopic ventral hernia repair – a simplified technique for laparoscopic ventral hernia repair – one stitch, two port technique. In: Fitzgibbons R (ed) Operative Techniques in General Surgery, vol 6, issue 3. Elsevier, Philadelphia, PA, pp 200–208

8.

Curcillo PG (2002) Laparoscopic ventral hernia repair with self expanding mesh—a "one stitch, two port" technique. In: American Hernia Society annual meeting, Tuscon, AZ, 8-12 May 2002

9.

Curcillo PG (2003) Laparoscopic ventral hernia repair—simplified with a self expanding mesh system. In: European Hernia Society (EHS) International Congress, 18–20 June 2003, London, England

10.

Kumar M, Agrawal CS, Gupta RK (2007) Three-port versus standard four-port laparoscopic cholecystectomy: a randomized controlled clinical trial in a community-based teaching hospital in eastern Nepal. JSLS 11(3):358–362

11.

Slim K, Pezet D, Stencl J, Lechner C, Le Roux S, Lointier P, Chipponi J (1995) Laparoscopic cholecystectomy: an original three-trocar technique. World J Surg 19(3):394–397

12.

Mori T, Ikeda Y, Okamoto K, Sakata K, Ideguchi K, Nakagawa K, Yasumitsu T (2002) A new technique for two-trocar laparoscopic cholecystectomy. Surg Endosc 16(4):589–591

13.

Curcillo PG, King SA, Podolsky ER, Rottman SJ (2009) Single Port Access (SPA™), minimal access surgery through a single incision, chap 241. In: Surgical technology international, vol. XVIII, Universal Medical Press, San Francisco

14.

Podolsky ER, Rottman SJ, King SA, Curcillo PG (2009) Single Port Access™ (SPA) gastrostomy tube in patients unable to receive percutaneous endoscopic gastrostomy placement. Surg Endosc 23:1142–1145

15.

Podolsky ER, Rottman SJ, Poblete H, King SA, Curcillo PG (2009) Single port access cholecystectomy: a completely transumbilical approach. J Laparoendosc Adv Surg Tech A 19:219–222

16.

Podolsky ER, Curcillo PG (2008) Single Port Access (SPA) cholecystectomy – 15 consecutive SPA cholecystectomies and one year follow-up. J Soc Laparosc Surg 12(3):S72

17.

Podolsky E, Curcillo PG, Rottman S, Cadeddu J, King SA, Birkett D, Harkins G (2008) Single Port Access (SPA) surgery – initial experience of a novel minimally invasive approach applied across surgical specialties. Surg Endosc 22:S172. doi:10.1007/s00464-008-9821-3
Acknowledgment
Disclosures
Dr. Paul G. Curcillo lectures on single port access surgery for the following companies: Storz Endoscopy, Ethicon Inc., Olympus, Inc., and Microline. Drs. Wu, Poor, Mouhlas, and Podolsky have no conflicts of interest or financial ties to disclose.
About this article
Cite this article
Podolsky, E.R., Mouhlas, A., Wu, A.S. et al. Single Port Access (SPA™) laparoscopic ventral hernia repair: initial report of 30 cases. Surg Endosc 24, 1557–1561 (2010). https://doi.org/10.1007/s00464-009-0810-y
Received:

Accepted:

Published:

Issue Date:
Keywords
Hernia

Ventral hernia repair

SPA surgery

Single Port Access

Single-incision surgery

Laparoscopy

Reduced-port surgery