Abstract
Background
Endoscopic submucosal dissection (ESD) of tumor in the upper part of the stomach is technically difficult and has a high complication rate. We compared the feasibility and safety of ESD for metachronous tumor found in the remnant stomach after distal gastrectomy with ESD for tumor in the upper third of the intact stomach.
Patients and methods
We retrospectively compared clinical outcome and safety of 13 lesions (11 early gastric cancers (EGCs) and 2 dysplasias) in the remnant stomach and 30 lesions (28 EGCs and 2 dysplasias) in the upper third of the intact stomach. All patients were treated with ESD at a cancer center hospital.
Results
En bloc resection rates were 100% (13/13) for remnant gastric tumor and 87% (26/30) for upper-third tumor (p = 0.30). En bloc resection rates with tumor-free margins (R0 resection) were 92% (12/13) for remnant gastric tumor and 73% (22/30) for upper-third tumor (p = 0.24). Curative resection rates were 85% (11/13) for remnant gastric tumor and 67% (20/30) for upper-third tumor (p = 0.29). Median procedure duration for ESD was 68 min (range 32–233 min) in the remnant stomach and 78 min (range 45–261 min) in the intact stomach (p = 0.49). One case of perforation and one of delayed bleeding occurred in the upper-third tumor group, whereas none occurred in the remnant tumor group. Local recurrence was found in no patients in the remnant gastric tumor group but in one patient in the upper-third tumor group.
Conclusions
ESD for metachronous remnant gastric tumor was feasible and safe in comparison with ESD for tumor in the upper third of the intact stomach.
This is a preview of subscription content, log in to check access.
Access options
Buy single article
Instant access to the full article PDF.
US$ 39.95
Price includes VAT for USA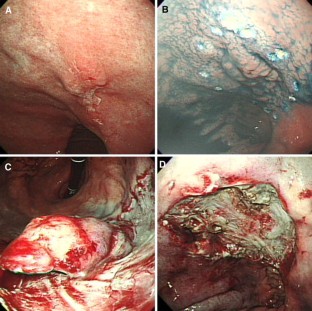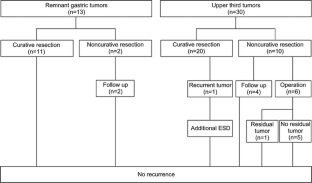 References
1.

Jung KW, Yim SH, Kong HJ, Hwang SY, Won YJ, Lee JK, Shin HR (2007) Cancer survival in Korea 1993-2002: a population-based study. J Korean Med Sci 22(Suppl):S5–S10

2.

Ohashi M, Katai H, Fukagawa T, Gotoda T, Sano T, Sasako M (2007) Cancer of the gastric stump following distal gastrectomy for cancer. Br J Surg 94:92–95

3.

Sowa M, Onoda N, Nakanishi I, Maeda K, Yoshikawa K, Kato Y, Chung YS (1993) Early stage carcinoma of the gastric remnant in Japan. Anticancer Res 13:1835–1838

4.

Greene FL (1996) Management of gastric remnant carcinoma based on the results of a 15-year endoscopic screening program. Ann Surg 223:701–706

5.

Kaneko K, Kondo H, Saito D, Shirao K, Yamaguchi H, Yokota T, Yamao G, Sano T, Sasako M, Yoshida S (1998) Early gastric stump cancer following distal gastrectomy. Gut 43:342–344

6.

Miyazaki S, Gunji Y, Aoki T, Nakajima K, Nabeya Y, Hayashi H, Shimada H, Uesato M, Hirayama N, Karube T, Akai T, Nikaidou T, Kouzu T, Ochiai T (2005) High en bloc resection rate achieved by endoscopic mucosal resection with IT knife for early gastric cancer. Hepatogastroenterology 52:954–958

7.

Oka S, Tanaka S, Kaneko I, Mouri R, Hirata M, Kawamura T, Yoshihara M, Chayama K (2006) Advantage of endoscopic submucosal dissection compared with EMR for early gastric cancer. Gastrointest Endosc 64:877–883

8.

Imagawa A, Okada H, Kawahara Y, Takenaka R, Kato J, Kawamoto H, Fujiki S, Takata R, Yoshino T, Shiratori Y (2006) Endoscopic submucosal dissection for early gastric cancer: results and degrees of technical difficulty as well as success. Endoscopy 38:987–990

9.

Hirasaki S, Kanzaki H, Matsubara M, Fujita K, Matsumura S, Suzuki S (2008) Treatment of gastric remnant cancer post distal gastrectomy by endoscopic submucosal dissection using an insulation-tipped diathermic knife. World J Gastroenterol 14:2550–2555

10.

Takenaka R, Kawahara Y, Okada H, Tsuzuki T, Yagi S, Kato J, Ohara N, Yoshino T, Imagawa A, Fujiki S, Takata R, Nakagawa M, Mizuno M, Inaba T, Toyokawa T, Sakaguchi K (2008) Endoscopic submucosal dissection for cancers of the remnant stomach after distal gastrectomy. Gastrointest Endosc 67:359–363

11.

Hamilton SR, Aaltonen LA (2000) World Health Organisation classification of tumours, Pathology and genetics of tumours of the digestive System. IARC, Lyon, France

12.

Schlemper RJ, Riddell RH, Kato Y, Borchard F, Cooper HS, Dawsey SM, Dixon MF, Fenoglio-Preiser CM, Fléjou JF, Geboes K, Hattori T, Hirota T, Itabashi M, Iwafuchi M, Iwashita A, Kim YI, Kirchner T, Klimpfinger M, Koike M, Lauwers GY, Lewin KJ, Oberhuber G, Offner F, Price AB, Rubio CA, Shimizu M, Shimoda T, Sipponen P, Solcia E, Stolte M, Watanabe H, Yamabe H (2000) The Vienna classification of gastrointestinal epithelial neoplasia. Gut 47:251–255

13.

Gotoda T, Yanagisawa A, Sasako M, Ono H, Nakanishi Y, Shimoda T, Kato Y (2000) Incidence of lymph node metastasis from early gastric cancer: estimation with a large number of cases at two large centers. Gastric Cancer 3:219–225

14.

Sasako M, Maruyama K, Kinoshita T, Okabayashi K (1991) Surgical treatment of carcinoma of the gastric stump. Br J Surg 78:822–824

15.

Newman E, Brennan MF, Hochwald SN, Harrison LE, Karpeh MS Jr (1997) Gastric remnant carcinoma: just another proximal gastric cancer or a unique entity? Am J Surg 173:292–297

16.

Piso P, Meyer HJ, Edris C, Jähne J (1999) Surgical therapy of gastric stump carcinoma-a retrospective analysis of 109 patients. Hepatogastroenterology 46:2643–2647

17.

Pointner R, Wetscher GJ, Gadenstätter M, Bodner E, Hinder RA (1994) Gastric remnant cancer has a better prognosis than primary gastric cancer. Arch Surg 129:615–619

18.

Moreaux J, Mathey P, Msika S (1991) Gastric adenocarcinoma in the gastric stump after partial gastrectomy. Hepatogastroenterology 38:517–521

19.

Ahn HS, Kim JW, Yoo MW, Park do J, Lee HJ, Lee KU, Yang HK (2008) Clinicopathological features and surgical outcomes of patients with remnant gastric cancer after a distal gastrectomy. Ann Surg Oncol 15:1632–1639

20.

Imada T, Rino Y, Takahashi M, Shiozawa M, Hatori S, Noguchi Y, Amano T, Kobayashi O, Sairenji M, Motohashi H (1998) Clinicopathologic differences between gastric remnant cancer and primary cancer in the upper third of the stomach. Anticancer Res 18:231–235

21.

Imada T, Rino Y, Hatori S, Shiozawa M, Takahashi M, Amano T, Kondo J, Kobayashi O, Sairenji M, Motohashi H (2000) Clinicopathologic differences between early gastric remnant cancer and early primary gastric cancer in the upper third of the stomach. Hepatogastroenterology 47:1186–1188

22.

An JY, Choi MG, Noh JH, Sohn TS, Kim S (2007) The outcome of patients with remnant primary gastric cancer compared with those having upper one-third gastric cancer. Am J Surg 194:143–147

23.

Miyamoto S, Muto M, Hamamoto Y, Boku N, Ohtsu A, Baba S, Yoshida M, Ohkuwa M, Hosokawa K, Tajiri H, Yoshida S (2002) A new technique for endoscopic mucosal resection with an insulated-tip electrosurgical knife improves the completeness of resection of intramucosal gastric neoplasms. Gastrointest Endosc 55:576–581

24.

Onozato Y, Ishihara H, Iizuka H, Sohara N, Kakizaki S, Okamura S, Mori M (2006) Endoscopic submucosal dissection for early gastric cancers and large flat adenomas. Endoscopy 38:980–986

25.

Yanai H, Matsumoto Y, Harada T, Nishiaki M, Tokiyama H, Shigemitsu T, Tada M, Okita K (1997) Endoscopic ultrasonography and endoscopy for staging depth of invasion in early gastric cancer: a pilot study. Gastrointest Endosc 46:212–216

26.

Hizawa K, Iwai K, Esaki M, Matsumoto T, Suekane H, Iida M (2002) Is endoscopic ultrasonography indispensable in assessing the appropriateness of endoscopic resection for gastric cancer? Endoscopy 34:973–978

27.

Choi IJ, Kim CG, Chang HJ, Kim SG, Kook MC, Bae JM (2005) The learning curve for EMR with circumferential mucosal incision in treating intramucosal gastric neoplasm. Gastrointest Endosc 62:860–865

28.

Tanaka S, Oka S, Kaneko I, Hirata M, Mouri R, Kanao H, Yoshida S, Chayama K (2007) Endoscopic submucosal dissection for colorectal neoplasia: possibility of standardization. Gastrointest Endosc 66:100–107

29.

Chung IK, Lee JH, Lee SH, Kim SJ, Cho JY, Cho WY, Hwangbo Y, Keum BR, Park JJ, Chun HJ, Kim HJ, Kim JJ, Ji SR, Seol SY (2009) Therapeutic outcomes in 1000 cases of endoscopic submucosal dissection for early gastric neoplasms: Korean ESD Study Group multicenter study. Gastrointest Endosc 69:1228–1235

30.

Takizawa K, Oda I, Gotoda T, Yokoi C, Matsuda T, Saito Y, Saito D, Ono H (2008) Routine coagulation of visible vessels may prevent delayed bleeding after endoscopic submucosal dissection-an analysis of risk factors. Endoscopy 40:179–183
Acknowledgment
This study was supported in part by grant 0910100 from the National Cancer Center, Korea.
Disclosures
Drs. JY Lee, SJ Cho, CG Kim, MC Kook, JH Lee, KW Ryu, YW Kim, and IJ Choi have no conflicts of interest or financial ties to disclose.
About this article
Cite this article
Lee, J.Y., Choi, I.J., Cho, S. et al. Endoscopic submucosal dissection for metachronous tumor in the remnant stomach after distal gastrectomy. Surg Endosc 24, 1360–1366 (2010). https://doi.org/10.1007/s00464-009-0779-6
Received:

Accepted:

Published:

Issue Date:
Keywords
Endoscopic submucosal dissection

Remnant gastric tumor

Metachronous tumor

Distal gastrectomy

Safety