Abstract
Background
Electrosurgery is used in virtually every laparoscopic operation. In the early days of laparoscopic surgery, capacitive coupling, associated with hybrid trocars, was thought to be the major cause of laparoscopic electrosurgery injuries. Modern laparoscopy has reduced capacitive coupling, and now insulation failure is thought to be the main cause of electrosurgical complications. The aim of this study was (1) to determine the incidence of insulation failures, (2) to compare the incidence of insulation failure in reusable and disposable instruments, and (3) to determine the location of insulation failures.
Methods
At four major urban hospitals, reusable laparoscopic instruments were checked for insulation failure using a high-voltage porosity detector. Disposable L-hooks were collected following laparoscopic cholecystectomy and similarly evaluated for insulation failure. Instruments were determined to have insulation failure if 2.5 kV crossed the instrument's insulation to create a closed loop circuit. Statistical analysis was performed using Fisher's exact or χ2 analysis (*denotes significance set at p < 0.05).
Results
Two hundred twenty-six laparoscopic instruments were tested (165 reusable). Insulation failure occurred more often in reusable (19%; 31/165) than in disposable instruments (3%; 2/61; *p < 0.01). When reusable sets were evaluated, 71% (12/17) were found to have at least one instrument with insulation failure. Insulation failure incidence in reusable instruments was similar between hospitals that routinely checked for insulation failure (19%; 25/130) and hospitals that do not routinely check for insulation failures (33%; 7/21; p = 0.16). Insulation failure was most common in the distal third of the instruments (54%; 25/46) compared to the middle or proximal third of the instruments (*p < 0.05).
Conclusion
One in five reusable laparoscopic instruments has insulation failure; a finding that is not altered by whether the hospital routinely checks for insulation defects. Disposable instruments have a lower incidence of insulation failure. The distal third of laparoscopic instruments is the most common site of insulation failure.
This is a preview of subscription content, log in to check access.
Access options
Buy single article
Instant access to the full article PDF.
US$ 39.95
Price includes VAT for USA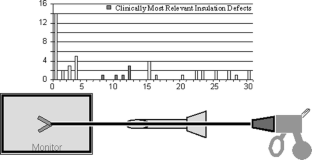 References
1.

Nduka CC, Super PA, Monson JR, Darzi AW (1994) Cause and prevention of electrosurgical injuries in laparoscopy. J Am Coll Surg 179:161–170

2.

Hulka JF, Levy BS, Parker WH, Phillips JM (1997) Laparoscopic-assisted vaginal hysterectomy: American Association of Gynecologic Laparoscopists' 1995 membership survey. J Am Assoc Gynecol Laparosc 4:167–171

3.

Feder BJ (2006) Surgical device poses a rare but serious peril. New York Times, March 17, 2006

4.

Perantinides PG, Tsarouhas AP, Katzman VS (1998) The medicolegal risks of thermal injury during laparoscopic monopolar electrosurgery. J Healthc Risk Manag 18:47–55

5.

Wu MP, Ou CS, Chen SL, Yen EY, Rowbotham R (2000) Complications and recommended practices for electrosurgery in laparoscopy. Am J Surg 179:67–73

6.

Voyles CR, Tucker RD (1992) Education and engineering solutions for potential problems with laparoscopic monopolar electrosurgery. Am J Surg 164:57–62

7.

Willson PD, van der Walt JD, Moxon D, Rogers J (1997) Port site electrosurgical (diathermy) burns during surgical laparoscopy. Surg Endosc 11:653–654

8.

Grosskinsky CM, Ryder RM, Pendergrass HM, Hulka JF (1993) Laparoscopic capacitance: a mystery measured. Experiments in pigs with confirmation in the engineering laboratory. Am J Obstet Gynecol 169:1632–1635

9.

Massarweh NN, Cosgriff N, Slakey DP (2006) Electrosurgery: history, principles, and current and future uses. J Am Coll Surg 202:520–530

10.

AORN Recommended Practices Committee (2005) Recommended practices for electrosurgery. AORN J 81:616–618, 621–626, 629–632 passim

11.

Peterson HB, Ory HW, Greenspan JR, Tyler CW Jr (1981) Deaths associated with laparoscopic sterilization by unipolar electrocoagulating devices, 1978 and 1979. Am J Obstet Gynecol 139:141–143

12.

Vancaillie TG (1998) Active electrode monitoring. How to prevent unintentional thermal injury associated with monopolar electrosurgery at laparoscopy. Surg Endosc 12:1009–1012

13.

Luciano AA, Soderstrom RM, Martin DC (1994) Essential principles of electrosurgery in operative laparoscopy. J Am Assoc Gynecol Laparosc 1:189–195
Acknowledgments
The authors gratefully acknowledge the technical and equipment support provided by Kimberly Krugman, Ned Cosgriff, Jason Haubelt, Pete Rather, and Kevin Skruch. Honoraria are received from Covidien for teaching and consultation (TNR and GVS) and from Conmed Electrosurgery for teaching (TNR).
About this article
Cite this article
Montero, P.N., Robinson, T.N., Weaver, J.S. et al. Insulation failure in laparoscopic instruments. Surg Endosc 24, 462–465 (2010). https://doi.org/10.1007/s00464-009-0601-5
Received:

Revised:

Accepted:

Published:

Issue Date:
Keywords
Radiofrequency

Monopolar electrosurgery

Laparoscopic

Insulation failure