Abstract
Background
Gastrointestinal stromal tumours (GIST) are a distinctive group of mesenchymal neoplasm of the gastrointestinal tract that are best treated by surgical excision without tumour disruption and with a clear resection margin to prevent disease recurrence. However, delivering a posterior gastric tumour through an anterior gastrotomy, laparoscopically, can sometimes risk tumour rupture. We have devised a new technique to avoid this complication.
Method
With the patient in supine position, under a general anaesthetic and using a standard three ports, an anterior gastrotomy was performed and posterior tumour identified. An endobag was introduced through a 10-mm port. The retractable metal ring in endobag was closed around the base of the tumour. The tumour was gently lifted, and an endoscopic linear stapler introduced through another 12-mm port was used to resect the tumour with a cuff of normal gastric tissue. Data were analysed on 22 consecutive patients with gastric GIST who were treated laparoscopically. Intra-operative endoscopy was performed in all cases to aid localisation.
Results
There were 16 posterior tumours, of which 11 were operated by the new technique (using endobag and linear stapler) while 5 were dealt with using the old method (resection and suturing of defect). Median operating time for the new versus old technique was 70 versus 120 min (p < 0.002, Mann–Whitney test). There was no tumour disruption or incomplete resection margin using the new technique for posterior tumours. There were six anterior tumours treated by laparoscopic resection and suture closure of the defect. There was no significant difference in median operating time for anterior versus posterior tumours (80 vs. 75 min).
Conclusion
Gastric GIST can be safely and efficiently resected laparoscopically without rupture or disruption with an adequate resection margin with this technique.
This is a preview of subscription content, log in to check access.
Access options
Buy single article
Instant access to the full article PDF.
US$ 39.95
Price includes VAT for USA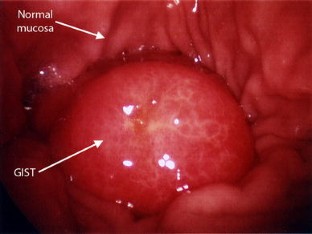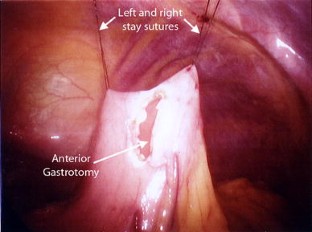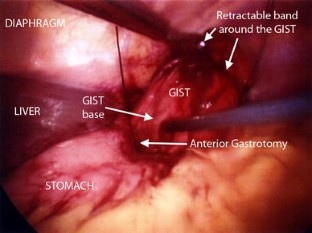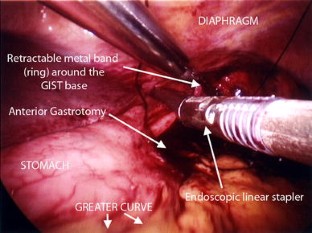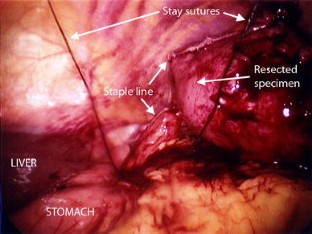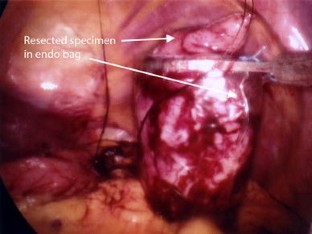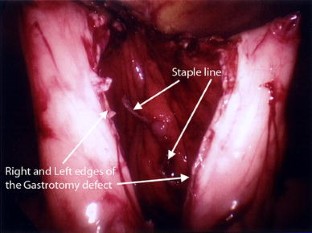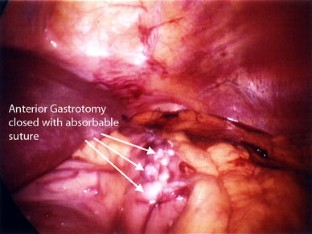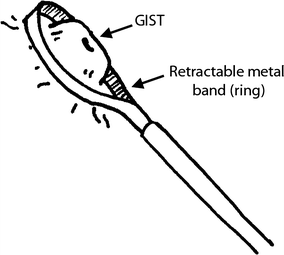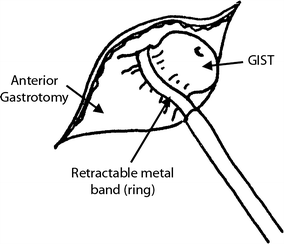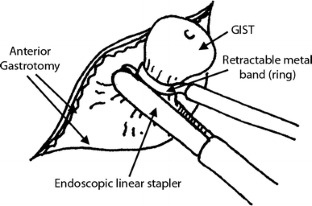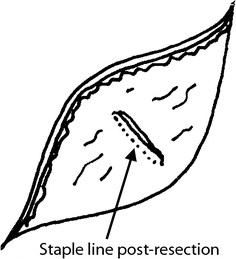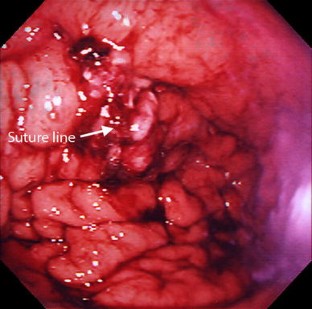 References
1.

Mazur MT, Clark HB (1983) Gastric stromal tumors. Reappraisal of histogenesis. Am J Surg Pathol 7(6):507–519

2.

Graadt van Roggen JF, van Velthuysen ML, Hogendoorn PC (2001) The histopathological differential diagnosis of gastrointestinal stromal tumors. J Clin Pathol 54(2):96–102

3.

Miettinen M, Sobin LH, Sarlomo-Rikala M (2000) Immunohistochemical spectrum of GISTs at different sites and their differential diagnosis with a reference to CD117 (KIT). Mod Pathol 13(10):1134–1142

4.

DeMatteo RP, Lewis JJ, Leung D, Mudan SS, Woodruff JM, Brennan MF (2000) Two hundred gastrointestinal stromal tumors: recurrence patterns and prognostic factors for survival. Ann Surg 231(1):51–58

5.

Langer C, Gunawan B, Schüler P, Huber W, Füzesi L, Becker H (2003) Prognostic factors influencing surgical management and outcome of gastrointestinal stromal tumours. Br J Surg 90(3):332–339

6.

Fletcher CD, Berman JJ, Corless C, Gorstein F, Lasota J, Longley BJ et al (2002) Diagnosis of gastrointestinal stromal tumors: a consensus approach. Hum Pathol 33(5):459–465

7.

Sanders L, Silverman M, Rossi R, Braasch J, Munson L (1996) Gastric smooth muscle tumors: diagnostic dilemmas and factors affecting outcome. World J Surg 20(8):992–995

8.

Basso N, Silecchia G, Pizzuto G, Surgo D, Picconi T, Materia A (1996) Laparoscopic excision of posterior gastric wall leiomyoma. Surg Laparosc Endosc 6(1):65–67

9.

Motson RW, Fisher PW, Dawson JW (1995) Laparoscopic resection of a benign intragastric stromal tumour. Br J Surg 82(12):1670

10.

Spinelli P, Cerrai FG, Cambareri AR, Meroni E, Pizzetti P (1993) Two-step endoscopic resection of gastric leiomyomas. Surg Endosc 7(2):90–92

11.

Payne WG, Murphy CG, Grossbard LJ (1995) Combined laparoscopic and endoscopic approach to resection of gastric leiomyoma. J Laparoendosc Surg 5(2):119–122

12.

Wolfsohn DM, Savides TJ, Easter DW, Lyche KD (1997) Laparoscopy-assisted endoscopic removal of a stromal-cell tumour of the stomach. Endoscopy 29(7):679–682

13.

Lukaszczyk JJ, Preletz RJ Jr (1992) Laparoscopic resection of benign stromal tumor of the stomach. J Laparoendosc Surg 2(6):331–334

14.

Hepworth CC, Menzies D, Motson RW (2000) Minimally invasive surgery for posterior gastric stromal tumours. Surg Endosc 14(4):349–353

15.

Basso N, Rosato P, De Leo A, Picconi T, Trentino P, Fantini A et al (2000) Laparoscopic treatment of gastric stromal tumours. Surg Endosc 14(6):524–526

16.

Seelig MH, Hinder RA, Floch NR, Klingler PJ, Seelig SK, Branton SA et al (1999) Endo-organ and laparoscopic management of gastric leiomyomas. Surg Laparosc Endosc 9(1):78–81

17.

Bedard EL, Mamazza J, Schlachta CM, Poulin EC (2006) Laparoscopic resection of gastrointestinal stromal tumours: not all tumours are created equal. Surg Endosc 20(3):500–503

18.

Matthews BD, Walsh RM, Kercher KW, Sing RF, Pratt BL, Answini GA et al (2002) Laparoscopic vs open resection of gastric stromal tumours. Surg Endosc 16(5):803–807

19.

Ludwig K, Wilhelm L, Scharlau U, Amtsberg G, Bernhardt J (2002) Laparoscopic-endoscopic rendezvous resection of gastric tumours. Surg Endosc 16(11):1561–1565

20.

Allam ME, Mehta D, Zelen J, Fogler R (1998) Posterior wall gastric leiomyoma: endoscopic tattooing facilitates laparoscopic resection. JSLS 2(1):83–84

21.

Yano H, Kimura Y, Iwazawa T, Takemoto H, Imasato M, Monden T et al (2005) Hand-assisted laparoscopic surgery for a large gastrointestinal stromal tumour of the stomach. Gastric Cancer 8(3):186–192

22.

Granger SR, Rollins MD, Mulvihill SJ, Glasgow RE (2006) Lessons learned from laparoscopic treatment of gastric and gastroesophageal junction stromal cell tumours. Surg Endosc 20(8):1299–1304
Acknowledgements
We would like to thank Professor C. Pritchard in particular and the Department of Statistics in general at the Research and Development Unit of Royal Cornwall Hospital, Truro, UK for their help with data analysis.
About this article
Cite this article
Warsi, A.A., Peyser, P.M. Laparoscopic resection of gastric GIST and benign gastric tumours: evolution of a new technique. Surg Endosc 24, 72–78 (2010). https://doi.org/10.1007/s00464-009-0561-9
Received:

Revised:

Accepted:

Published:

Issue Date:
Keywords
Laparoscopy

Gastric

Gastrointestinal stromal tumour (GIST)

Endoscopy