Abstract
Background
Leiomyoma is the most common benign esophageal neoplasm. Different open and minimally invasive approaches have been described. We describe a right thoracoscopic enucleation with the patient in the prone position.
Method
A 49-year-old woman consulted us about solid-diet dysphagia without other symptoms. Preoperative work-up showed the presence of 50 × 28-mm leiomyoma of the middle esophagus, without satellite lymph nodes. The patient underwent general anesthesia with a double-lumen endotracheal tube, and subsequently was placed in the prone position. A 30° scope was introduced in the right 7th intercostal space on the posterior axillary line. Perioperative gastroscopy permitted localization of the lesion, which appeared to be situated at the level of the azygos vein. Two 5-mm trocars were inserted in the right 5th and 9th intercostal spaces on one line with the first one. The azygos vein was ligated. The muscular layer of the mid-esophagus was opened by coagulating hook. Due to a 2-mm trocarless Cadière's forceps (Microfrance, France), introduced into the right 7th intercostal space, the operative field was well exposed and the lesion was enucleated without mucosal perforation. The muscular layer was closed by interrupted silk 2/0 stitches. A drain was left in the chest cavity.
Results
Total operative time was 85 min and blood loss was less than 20 ml. The gastrograffin swallow on postoperative day 2 showed good clearance of the esophagus and absence of leak, hence the patient was allowed a liquid diet. The patient was discharged on postoperative day 3. Benign pathology was confirmed.
Conclusion
Thoracoscopy in the prone position permits the surgeon to reach the esophagus under excellent working conditions, despite an only partially deflated lung. Gravity displaces blood loss eventually, which allows good visualization, and the surgeon can operate in an ergonomic position. This approach allows for fewer trocars which favorably influences the patient's comfort and reduces the length of hospital stay.
This is a preview of subscription content, log in to check access.
Access options
Buy single article
Instant unlimited access to the full article PDF.
US$ 39.95
Price includes VAT for USA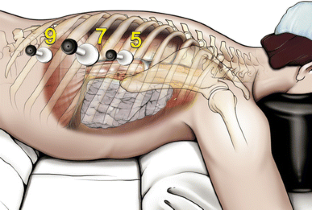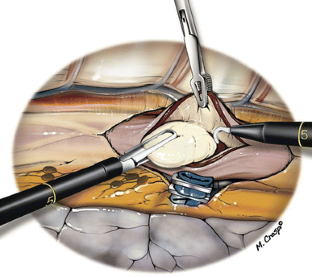 References
1.

Bonavina L, Segalin A, Rosati R, Pavanello M, Peracchia A (1995) Surgical therapy of esophageal leiomyoma. J Am Coll Surg 181:257–262

2.

Postlethwait R, Musser A (1974) Changes in the esophagus in 1000 autopsy specimens. J Thorac Cardiovasc Surg 68:953–956

3.

Kramer M, Gibbs S, Ellis F (1986) Giant leiomyoma of the esophagus. J Surg Oncol 33:166–169

4.

Lee LS, Singhal S, Brinster CJ, Marshall B, Kochman ML, Kaiser LR, Kucharczuk JC (2004) Current management of esophageal leiomyoma. J Am Coll Surg 198:136–147

5.

Palanivelu C, Rangarajan M, Senthilkumar R, Annapoorni S, Jategaonkar PA (2007) Thoracoscopic management of benign tumors of the mid-esophagus: a retrospective study. Int J Surg 5:328–331

6.

Kent M, d'Amato T, Nordman C, Schuchert M, Landreneau R, Alvelo-Rivera M, Luketich JD (2007) Minimally invasive resection of benign esophageal tumors. J Thorac Cardiovasc Surg 134:176–181

7.

Pompeo E, Francioni F, Pappalardo G, Trentino P, Crucitti G, Ricci C (1997) Giant leiomyoma of the esophagus and cardia-diagnostic and therapeutic considerations: case report and literature review. Scand Cardiovasc J 31:361–364

8.

Nemir P, Wallace HW, Fallahaejad M (1976) Diagnosis and surgical management of benign disease of the esophagus. Curr Probl Surg 13:1–74

9.

Elli E, Espat NJ, Berger R, Jacobsen G, Knoblock L, Horgan S (2004) Robotic-assisted thoracoscopic resection of esophageal leiomyoma. Surg Endosc 18:713–716

10.

Punpale A, Rangole A, Bhamblani N, Karimundackal G, Desai N, de Souza A, Pramesh CS, Jambhekar N, Mistry RC (2007) Leiomyoma of the esophagus. Ann Thorac Cardiovasc Surg 13:78–81

11.

Metin E, Bilgi B, Gulen D, Sabri E, Nihat Y (2004) Thoracoscopic enucleation of a giant submucosal tumor of the esophagus. Surg Laparosc Endosc Percutan Tech 14:87–90

12.

Mutrie CJ, Donahue DM, Wain JC, Wright CD, Gaissert HA, Grillo HC, Mathisen DJ, Allan JS (2005) Esophageal leiomyoma: a 40-year experience. Ann Thorac Surg 79:1122–1125

13.

Bardini R, Asolati M (1997) Thoracoscopic resection of benign tumors of the esophagus. Int Surg 82:5–6

14.

Palanivelu C, Rangarajan M, Madankumar MV, John SJ, Senthilkumar R (2008) Minimally invasive therapy for benign tumors of the distal third of the esophagus—a single institute's experience. J Laparoendosc Adv Surg Tech A 18:20–26

15.

Everitt NJ, Glinatsis M, McMahon MJ (1992) Thoracoscopic enucleation of leiomyoma of the esophagus. Br J Surg 79:643

16.

Cuschieri A, Shimi S, Banting S (1992) Endoscopic oesophagectomy through a thoracoscopic approach. J R Coll Surg Edinb 37:7–11

17.

von Rahden BHA, Stein HJ, Feussner H, Siewert JR (2004) Enucleation of submucosal tumors of the esophagus: minimally invasive versus open approach. Surg Endosc 18:924–930

18.

Vallbohmer D, Holscher AH, Brabender J, Bollschweiler E, Gutschow C (2007) Thoracoscopic enucleation of esophageal leiomyomas: a feasible and safe procedure. Endoscopy 39:1097–1099

19.

Pelosi P, Croci M, Calappi E, Cerisara M, Mulazzi D, Vicardi P, Gattinoni L (1995) The prone positioning during general anesthesia minimally affects respiratory mechanics while improving functional residual capacity and increasing oxygen tension. Anesth Analg 80:955–960

20.

Mure M, Domino KB, Lindahl SG, Hlastala MP, Altemeier WA, Glenny RW (2000) Regional ventilation-perfusion distribution is more uniform in the prone position. J Appl Physiol 88:1076–1083

21.

Zaninotto G, Portale G, Costantini M, Rizzetto C, Salvador R, Rampado S, Pennelli G, Ancona E (2006) Minimally invasive enucleation of esophageal leiomyoma. Surg Endosc 20:1904–1908

22.

Nguyen NT, Alcocer JJ, Luketich JD (2000) Thoracoscopic enucleation of an esophageal leiomyoma. J Clin Gastroenterol 31:89–90

23.

Van-Eijkelenburg P, Bove T, Peters O, Delvaux G, Willems G (1996) Thoracoscopic removal of a leiomyoma of the oesophagus: a case report. Acta Chir Belg 96:223–225

24.

Hennessy TPJ, Cuschieri A (1992) Tumors of the esophagus. In: Hennessy TPJ, Cuschieri A (eds) Surgery of the esophagus. Butterworth-Heinemann, London, pp 275–327

25.

Izumi Y, Inoue H, Endo M (1996) Combined endoluminal-intracavitary thoracoscopic enucleation of leiomyoma of the esophagus. A new method. Surg Endosc 10:457–458

26.

Mafune K, Tanaka Y (1997) Thoracoscopic enucleation of an esophageal leiomyoma with balloon dilator assistance. Surg Today 27:189–192

27.

Jiang G, Zhao H, Yang F, Li J, Li Y, Liu Y, Liu J, Wang J (2009) Thoracoscopic enucleation of esophageal leiomyoma: a retrospective study on 40 cases. Dis Esophagus 22:279–283

28.

Roviaro GC, Maciocco M, Varoli F, Rebuffat C, Vergani C, Scarduelli A (1998) Videothoracoscopic treatment of esophageal leiomyoma. Thorax 53:190–192

29.

Bardini R, Segalin A, Ruol A, Ravanello M, Pernacchia A (1992) Videothoracoscopic enucleation of esophageal leiomyoma. Ann Thorac Surg 54:576–577
Electronic supplementary material
Below is the link to the electronic supplementary material.
Supplementary material 1 (MPG 52453 kb)
About this article
Cite this article
Dapri, G., Himpens, J., Ntounda, R. et al. Enucleation of a leiomyoma of the mid-esophagus through a right thoracoscopy with the patient in prone position. Surg Endosc 24, 215–218 (2010). https://doi.org/10.1007/s00464-009-0514-3
Received:

Revised:

Accepted:

Published:

Issue Date:
Keywords
Esophageal leiomyoma

Thoracotomy

Thoracoscopy

Laparoscopy

Prone position