Abstract
Background
Laparoscopic pancreatic surgery has been slow to gain wide acceptance due to the complex pancreatic anatomy and physiology. The aim of this study was to analyze our preliminary results and highlight the impact of centralization on surgeon workload and pancreatic surgical innovation.
Methods
A retrospective analysis was performed on all patients who underwent laparoscopic distal pancreatectomy from May 2007 to October 2008.
Results
Laparoscopic distal pancreatectomy was performed in 17 patients during that period. Median operative time was 180 min (range 120–300 min). Median blood loss was 100 ml (range 50–500 ml). Splenectomy was performed in 12 patients. None of the patients was converted to open operation. All patients were kept in high-dependency unit for median duration of 1 day (range 0–1 day). One patient with previous cardiac disease was kept in intensive therapy unit for one night, but discharged home on 7th postoperative day without any complications. Postoperative recovery was uneventful in 13 patients, while four patients had pancreatic leak. One pancreatic leak was observed in the last 11 patients, in which pancreatic stump was oversewn. In three patients, pancreatic leaks (PL) were minor and settled with conservative management, while one patient needed a computed tomography (CT)-guided drainage and subsequent minilaparotomy for wash out of the intra abdominal collection. None of the patients died in this series. Median hospital stay was 5 days (range 4–7 days).
Conclusions
Laparoscopic distal pancreatic resection is feasible, safe, and efficient. However, this surgery should only be performed in specialized centres with extensive experience in pancreatic and laparoscopic surgery. Oversewing the pancreatic stump after transaction with Endostapler may reduce the incidence of pancreatic leak. Centralization of pancreatic surgery has a positive impact on building up surgical expertise, resulting in obvious benefits for both patients and institutions.
This is a preview of subscription content, log in to check access.
Access options
Buy single article
Instant access to the full article PDF.
US$ 39.95
Price includes VAT for USA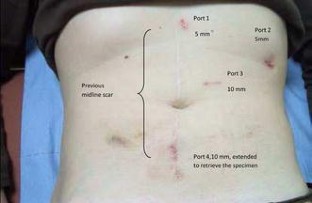 References
1.

Takaori K, Tanigawa N (2007) Laparoscopic pancreatic resection: the past, present, and future. Surg Today 37(7):535–545

2.

Matsumoto T, Hirano S, Yada K et al (2005) Safety and efficacy of laparoscopic distal pancreatectomy for the treatment of pancreatic disease. J Hepatobiliary Pancreat Surg 12(1):65–70

3.

Dulucq JL, Wintringer P, Mahajna A (2006) Laparoscopic pancreaticoduodenectomy for benign and malignant diseases. Surg Endosc 20(7):1045–1050

4.

Lebedyev A, Zmora O, Kuriansky J et al (2004) Laparoscopic distal pancreatectomy. Surg Endosc 18(10):1427–1430

5.

Gagner M, Pomp A, Herrera MF (1996) Early experience with laparoscopic resections of islet cell tumors. Surgery 120(6):1051–1054

6.

Warshaw AL (1998) Conservation of the spleen with distal pancreatectomy. Arch Surg 123:550–553

7.

Melotti G, Butturini G, Piccoli M, Casetti L, Bassi C, Mullineris B, Lazzaretti MG, Pederzoli P (2007) Laparoscopic distal pancreatectomy: results on a consecutive series of 58 patients. Ann Surg 246(1):77–82

8.

Cuschieri A, Jakimowicz JJ, van Spreeuwel J (1996) Laparoscopic distal 70% pancreatectomy and splenectomy for chronic pancreatitis. Ann Surg 223(3):280–285

9.

Pryor A, Means JR, Pappas TN (2007) Laparoscopic distal pancreatectomy with splenic preservation. Surg Endosc 21(12):2326–2330

10.

Dulucq JL, Wintringer P, Stabilini C, Feryn T, Perissat J, Mahajna A (2005) Are major laparoscopic pancreatic resections worthwhile? A prospective study of 32 patients in a single institution. Surg Endosc 19(8):1028–1034

11.

Tang CN, Tsui KK, Ha JP, Wong DC, Li MK (2007) Laparoscopic distal pancreatectomy: a comparative study. Hepatogastroenterology 54(73):265–271

12.

Sa Cunha A, Rault A, Beau C, Laurent C, Collet D, Masson B (2008) A single-institution prospective study of laparoscopic pancreatic resection. Arch Surg 143(3):289–295

13.

Fernandez-Cruz L, Orduna D, Cesar-Borges Lopez-BoadoM (2005) Distal pancreatectomy: en bloc splenectomy vs Spleen- preserving pancreatectomy. HPB 7(2):93–98

14.

Velanovich V (2006) Case-control comparison of laparoscopic versus open distal pancreatectomy. J Gastrointest Surg 10(1):95–98

15.

Shimizu S et al (2004) Laparoscopic pancreatic surgery: current indications and surgical results. Surg Endosc 18:402–406

16.

Mabrut JY, Cruz Fernandez, Azagra JS et al (2005) Laparoscopic pancreatic resection: results of a multicenter European study of 127 patients. Surgery 137:597–605

17.

Tagaya N et al (2003) Laparoscopic resection of the pancreas and review of the literature. Surg Endosc 17:201–206

18.

Vezakis A, Davides D, Larvin M, McMahon MJ (1999) Laparoscopic surgery combined with preservation of spleen for distal pancreas tumour. Surg Endosc 13:26–29

19.

Patterson EJ et al (2001) Laparoscopic pancreatic resection: single institution experience of 19 patients. J Am Coll Surg 193:281–287

20.

Farbe JM et al (2002) Is laparoscopic left pancreatic resection justified? Surg Endosc 16:1358–1361

21.

Hemandas AK, Jain G, Fong F, Stedman B, Jaynes E, Abu Hilal M (2008) Feasibility of laparoscopic distal spleno-pancreatectomy following previous necrosectomy A case report. JOP 9(5):644–648

22.

Birkmeyer JD et al (2002) Hospital volume and surgical mortality in the United States. N Engl J Med 346(15):1128–1137

23.

Hannan EL, Radzyner M, Rubin D, Dougherty J, Brennan MF (2002) The influence of hospital and surgeon volume on in-hospital mortality for colectomy, gastrectomy, and lung lobectomy in patients with cancer. Surgery 131(1):6–15

24.

Balzano G, Zerbi A, Capretti G, Rocchetti S, Capitanio V, Di Carlo V (2008) Effect of hospital volume on outcome of pancreaticoduodenectomy in Italy. Br J Surg 95(3):357–362

25.

Heek Van et al (2005) Hospital volume and mortality after pancreatic resection: a systematic review and an evaluation of intervention in The Netherlands. Ann Surg 242(6):781–790

26.

Topal B, Van de Sande S, Fieuws S, Penninckx F (2007) Effect of centralization of pancreaticoduodenectomy on nationwide hospital mortality and length of stay. Br J Surg 94(11):1377–1381

27.

Pierce RA, Spitler JA, Hawkins WG (2007) Outcomes analysis of laparoscopic resection of pancreatic neoplasms. Surg Endosc 21(4):579–586

28.

Matsumoto T et al (2002) Pancreatic resection with ultrasonically activated scalpel: preliminary observation. Hepatogastroenterology 49:635–638

29.

Lillemore KD, Kaushal S, Cameron JL et al (1999) Distal pancreatectomy: indications and outcomes in 235 patients. Ann Surg 229:693–698

30.

Bassi C, Butturini G, Falconi M et al (1999) Prospective randomized pilot study of management of the pancreatic stump following distal resection. HPB 1:203–207
About this article
Cite this article
Abu Hilal, M., Jain, G., Kasasbeh, F. et al. Laparoscopic distal pancreatectomy: critical analysis of preliminary experience from a tertiary referral centre. Surg Endosc 23, 2743 (2009). https://doi.org/10.1007/s00464-009-0499-y
Received:

Revised:

Accepted:

Published:
Keywords
Laparoscopic distal pancreatectomy

Pancreatic cancer

Pancreatic surgery

Pancreatic leak