Abstract
Background
This study aimed to evaluate the learning curve for laparoscopic colectomy of a surgical fellow in an university colorectal unit using a structured training protocol.
Methods
This study analyzed the data from 100 consecutive patients who had laparoscopic colectomy performed by a surgical fellow between 11/2004 and 12/2007. The structured training protocol required the fellow to assist more than 40 laparoscopic colectomies before embarking on his first case. Rectosigmoidectomy was prioritized during the initial experience. Operative times were analyzed to represent the learning curve. Other outcome data including conversion and operative outcome were also evaluated.
Results
The following procedures were performed: 49 rectosigmoidectomies, 38 right colon resections, and 13 other resections. Median operative time was 150 min, and conversion rate was 1%. Overall postoperative morbidity rate was 28% (major morbidity 3%). Three patients required early reoperation. There was no operative death. Median hospital stay was 8 days. Operative times reached their lowest point at period of cases 45–50, and remained relatively stable afterwards. Comparing the first 50 and second 50 cases, the only difference observed was more frequent presence of a supervisor in the theater in the first 50 cases (74% versus 52%, p = 0.02), while the other parameters including types of procedures, postoperative recovery, hospital stay, and morbidity rate were not different.
Conclusions
Our results indicated that laparoscopic colectomy training can be safely performed under a structured protocol. The surgeon can perform laparoscopic colectomies more independently after 50 cases, without jeopardizing the clinical outcome.
This is a preview of subscription content, log in to check access.
Access options
Buy single article
Instant access to the full article PDF.
US$ 39.95
Price includes VAT for USA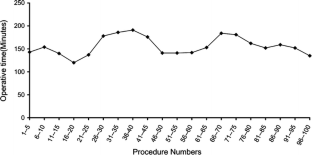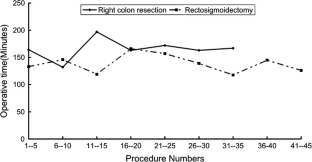 References
1.

Lacy AM, Garcia-Valdecasas JC, Delgado S, Castells A, Taura P, Pique JM, Visa J (2002) Laparoscopy-assisted colectomy versus open colectomy for treatment of non-metastatic colon cancer: a randomised trial. Lancet 359:2224–2229

2.

Leung KL, Meng WC, Lee JF, Thung KH, Lai PB, Lau WY (1999) Laparoscopic-assisted resection of right-sided colonic carcinoma: a case–control study. J Surg Oncol 71:97–100

3.

Veldkamp R, Kuhry E, Hop WC, Jeekel J, Kazemier G, Bonjer HJ, Haglind E, Pahlman L, Cuesta MA, Msika S, Morino M, Lacy AM, Colon cancer Laparoscopic or Open Resection Study Group (COLOR) (2005) Laparoscopic surgery versus open surgery for colon cancer: short-term outcomes of a randomised trial. Lancet Oncol 6:477–484

4.

Schwenk W, Haase O, Neudecker J, Muller JM (2005) Short term benefits for laparoscopic colorectal resection. Cochrane Database Syst Rev 20(3):CD003145

5.

Fleshman J, Sargent DJ, Green E, Anvari M, Stryker SJ, Beart RW Jr, Hellinger M, Flanagan R Jr, Peters W, Nelson H (2007) Laparoscopic colectomy for cancer is not inferior to open surgery based on 5-year data from the COST Study Trial Group. Ann Surg 246:655–664

6.

Jackson TD, Kaplan GG, Arena G, Page JH, Rogers SO Jr (2007) Laparoscopic versus open resection for colorectal cancer: a metaanalysis of oncologic outcomes. J Am Coll Surg 204:439–446

7.

Leung KL, Kwok SP, Lam SC, Lee JF, Yiu RY, Ng SS, Lai PB, Lau WY (2004) Laparoscopic resection of rectosigmoid carcinoma: prospective randomised trial. Lancet 363:1187–1192

8.

Guillou PJ, Quirke P, Thorpe H, Walker J, Jayne DG, Smith AM, Heath RM, Brown JM, MRC CLASICC trial group (2005) Short-term endpoints of conventional versus laparoscopic-assisted surgery in patients with colorectal cancer (MRC CLASICC trial)—multicentre, randomised controlled trial. Lancet 365:1718–1726

9.

Senagore AJ, Ma Luchtefeld, Mackeigan JM (1995) What is the learning curve for laparoscopic colectomy? Am Surg 61:681–685

10.

Simons AJ, Anthone GJ, Ortega AE, Franklin M, Fleshman J, Gesi WP, Beart RW Jr (1995) Laparoscopic-assisted colectomy learning curve. Dis Colon Rectum 38:600–603

11.

Wishner JD, Baker JW Jr, Hoffman GC, Hubbard GWII, Gould RJ, Wohlgemuth SD, Ruffin WK, Melick CF (1995) Laparoscopic-assisted colectomy. The learning curve. Surg Endosc 9:1179–1183

12.

Agachan F, Joo JS, Sher M, Weiss EG, Nogueras JJ, Wexner SD (1997) Laparoscopic colorectal surgery. Do we get faster? Surg Endosc 11:331–335

13.

Schlachta CM, Mamazza J, Seshadri PA, Cadeddu M, Gregoire R, Poulin EC (2001) Defining a learning curve for laparoscopic colorectal resections. Dis colon Rectum 44:217–222

14.

Dincler S, Koller MT, Steurer J, Bachmann LM, Christen D, Buchmann P (2003) Multidimensional analysis of learning curves in laparoscopic sigmoid resection: eight-year results. Dis Colon Rectum 46:1371–1379

15.

Tekkis PP, Senagore AJ, Delaney CP, Fazio VW (2005) Evaluation of the learning curve in laparoscopic colorectal surgery: comparison of right-sided and left-sided resections. Ann Surg 242:83–91

16.

Greene FLP, Page DL, Fleming ID, Fritz A, Balch CM, Haller DG, Morrow M (2002) AJCC cancer staging manual, 6th edn. Springer, Philadelphia

17.

Marusch F, Gastinger I, Schneider C, Scheidback H, Konradt J, Bruch HP, Kohler L, Barlehner E, Kockerling F, Laparoscopic Colorectal Surgery Study Group (LCSSG) (2001) Experience as a factor influencing the indications for laparoscopic colorectal surgery and the results. Surg Endosc 15:116–120

18.

Choi DH, Jeong WK, Lim SW, Chung TS, Park JI, Lim SB, Choi HS, Nam BH, Chang HJ, Jeong SY (2008) Learning curves for laparoscopic sigmoidectomy used to manage curable sigmoid colon cancer: single-institute, three-surgeon experience. Surg Endosc. doi:10.1007/s00464-008-9753-y

19.

Chen W, Sailhamer E, Berger DL, Rattner DW (2007) Operative time is a poor surrogate for the learning curve in laparoscopic colorectal surgery. Surg Endosc 21:238–243

20.

Tilney HS, Lovegrove RE, Purkayastha S, Heriot AG, Darzi AW, Tekkis PP (2006) Laparoscopic vs open subtotal colectomy for benign and malignant disease. Colorectal Dis 8:441–450

21.

Bennett CL, Stryker SJ, Ferreira MR, Adams J, Beart RW (1997) The learning curve for laparoscopic colorectal surgery. Preliminary results from a prospective analysis of 1194 laparoscopic-assisted colectomies. Arch Surg 132:41–44

22.

Larach SW, Patankar Sk Ferrara A, Williamson PR, Perozo SE, Lord AS (1997) Complications of laparoscopic colorectal surgery. Analysis and comparison of early vs. latter experience. Dis Colon Rectum 40:592–596
About this article
Cite this article
Li, J.C.M., Hon, S.S.F., Ng, S.S.M. et al. The learning curve for laparoscopic colectomy: experience of a surgical fellow in an university colorectal unit. Surg Endosc 23, 1603–1608 (2009). https://doi.org/10.1007/s00464-009-0497-0
Received:

Accepted:

Published:

Issue Date:
Keywords
Colon cancer

Laparoscopic colorectal surgery

Learning curve

Operative time