Abstract
Background
Laparoscope manipulating robots are useful for maintaining a stable view during a laparoscopic operation and as a substitute for the surgeon who controls the laparoscope. However, there are several problems to be solved. A large apparatus sometimes interferes with the surgeon. The setting and repositioning is awkward. Furthermore, the initial and maintenance costs are expensive. This study was designed to develop a new laparoscope manipulating robot to overcome those problems.
Methods
We developed a compact robot applicable for various types of laparoscopic surgery with less expensive materials. The robot was evaluated by performing an in vitro laparoscopic cholecystectomy using extracted swine organs. Then, the availability of the robot to various operations was validated by performing a laparoscopic cholecystectomy, anterior resection of the rectum, and distal gastrectomy using a living swine. The reliability of the system was tested by long-time continuous running.
Results
A compact and lightweight laparoscope manipulating robot by the name of P-arm was developed. The surgical time of an in vitro laparoscopic cholecystectomy with and without the P-arm was not different. The three types of operations were accomplished successfully. During the entire procedure, the P-arm worked without trouble and did not interfere with the surgeons. Continuous 8-h operating tests were performed three times and neither discontinuance nor trouble occurred with the system.
Conclusions
The P-arm worked steadily for various swine operations, without interfering with surgeon's work.
This is a preview of subscription content, log in to check access.
Access options
Buy single article
Instant access to the full article PDF.
US$ 39.95
Price includes VAT for USA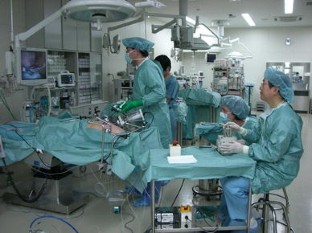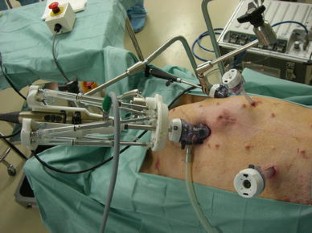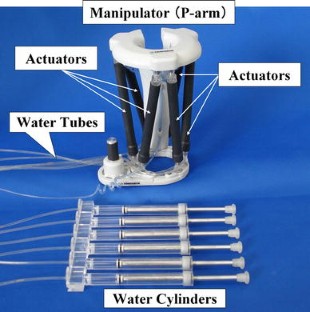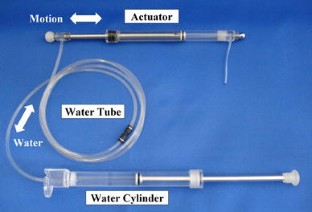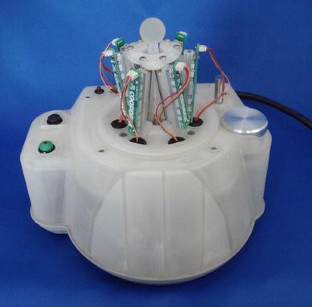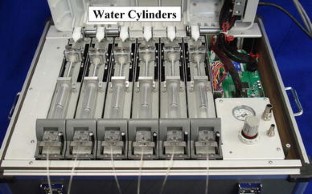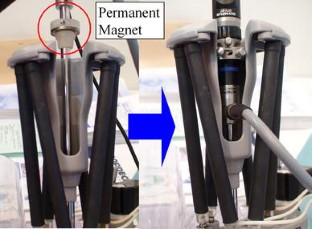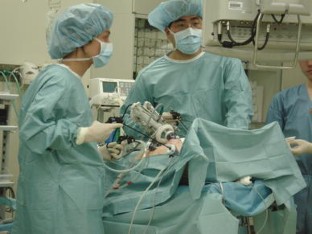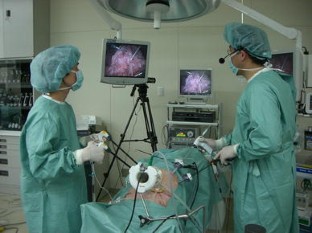 References
1.

Kavoussi LR, Moore RG, Adams JB, Partin AW (1995) Comparison of robotic versus human laparoscopic camera control. J Urol 154:2134–2136

2.

Omote K, Feussner H, Ungeheuer A, Arbter K, Wei GQ, Siewert JR, Hirzinger G (1999) Self-guided robotic camera control for laparoscopic surgery compared with human camera control. Am J Surg 177:321–324

3.

Partin AW, Adams JB, Moore RG, Kavoussi LR (1995) Complete robot-assisted laparoscopic urologic surgery: a preliminary report. J Am Coll Surg 181:552–557

4.

Turner DJ (1996) Solo surgery-with the aid of a robotic assistant. J Telemed Telecare Suppl 1:46–48

5.

Merola S, Weber P, Wasielewski A, Ballantyne GH (2002) Comparison of laparoscopic colectomy with and without the aid of a robotic camera holder. Surg Laparosc Endosc Percutan Tech 12:46–51

6.

Kasalický MA, Sváb J, Fried M, Melechovský D (2002) AESOP 3000 computer assisted surgery, personal experience. Rozhl Chir 81:346–349

7.

Wagner A, Varkarakis IM, Link RE, Sullivan W, Su LM (2006) Comparison of surgical performance during laparoscopic radical prostatectomy of two robotic camera holders, EndoAssist and AESOP: a pilot study. Urology 68:70–74

8.

Kraft BM, Jäger C, Kraft K, Leibl BJ, Bittner R (2004) The AESOP robot system in laparoscopic surgery: increased risk or advantage for surgeon and patient? Surg Endosc 18:1216–1223

9.

Kondraske GV, Hamilton EC, Scott DJ, Fischer CA, Tesfay ST, Taneja R, Brown RJ, Jones DB (2002) Surgeon workload and motion efficiency with robot and human laparoscopic camera control. Surg Endosc 16:1523–1527

10.

Tanoue K, Yasunaga T, Kobayashi E, Miyamoto S, Sakuma I, Dohi T, Konishi K, Yamaguchi S, Kinjo N, Takenaka K, Maehara Y, Hashizume M (2006) Laparoscopic cholecystectomy using a newly developed laparoscope manipulator for 10 patients with cholelithiasis. Surg Endosc 20:753–756

11.

Klopfenstein CE, Schiffer E, Pastor CM, Beaussier M, Francis K, Soravia C, Herrmann FR (2008) Laparoscopic colon surgery: unreliability of end-tidal CO2 monitoring. Acta Anaesthesiol Scand 52:700–707

12.

Valenza F, Vagginelli F, Tiby A, Francesconi S, Ronzoni G, Guglielmi M, Zappa M, Lattuada E, Gattinoni L (2007) Effects of the beach chair position, positive end-expiratory pressure, and pneumoperitoneum on respiratory function in morbidly obese patients during anesthesia and paralysis. Anesthesiology 107:725–732

13.

Taniguchi K, Nishikawa A, Nakagoe H, Kazuhara K, Kobayashi T, Ichihara T, Sekimoto M, Okada K, Takiguchi S, Monden M, Miyazaki F (2007) Development of a novel disposable laparoscope manipulator. Minim Invasive Ther Allied Technol 16:263–264

14.

Nishikawa A, Hosoi T, Koara K, Negoro D, Hikita A, Asano S, Kakutani H, Miyazaki F, Sekimoto M, Yasui M, Miyake Y, Takiguchi S, Monden M (2003) FAce MOUSe: a novel human-machine interface for controlling the position of a laparoscope. IEEE Trans Rob Autom 19:825–841

15.

Belli G, Fantini C, D'Agostino A, Cioffi L, Limongelli P, Russo G, Belli A (2008) Laparoscopic segment VI liver resection using a left lateral decubitus position: a personal modified technique. J Gastrointest Surg 12:2221–2226

16.

Meininger D, Westphal K, Bremerich DH, Runkel H, Probst M, Zwissler B, Byhahn C (2008) Effects of posture and prolonged pneumoperitoneum on hemodynamic parameters during laparoscopy. World J Surg 32:1400–1405

17.

Park A, Gagner M, Pomp A (1997) The lateral approach to laparoscopic splenectomy. Am J Surg 173:126–130

18.

Kobayashi E, Masamune K, Sakuma I, Dohi T, Hashimoto D (1999) A new safe laparoscopic manipulator system with a five-bar linkage mechanism and an optimal zoom. Comp Aid Surg 4:182–192

19.

Yoshino I, Yasunaga T, Hashizume M, Maeharaa Y (2005) A novel endoscope manipulator, Naviot, enables solo-surgery to be performed during video-assisted thoracic surgery. Interact Cardiovasc Thorac Surg 4:4404–4405

20.

Merlet JP (2006) Parallel robots, 2nd edn. Springer, New York

21.

Briot S, Bonev IA (2007) Are parallel robots more accurate than serial robots? Trans Can Soc Mech Eng 31:445–455

22.

Taylor RH, Stoianovici D (2003) Medical robotics in computer-integrated surgery. IEEE Trans Rob Autom 19:765–781

23.

Taylor RH, Funda J, Eldridge B, Gomory S, Gruben K, LaRose D, Talamini M, Kavoussi L, Anderson J (1995) A telerobotic assistant for laparoscopic surgery. IEEE Eng Med Biol Mag 14:279–288

24.

Sackier JM, Wang Y (1994) Robotically assisted laparoscopic surgery. From concept to development. Surg Endosc 8:63–66

25.

Bodner J, Augustin F, Wykypiel H, Fish J, Muehlmann G, Wetscher G, Schmid T (2005) The da Vinci robotic system for general surgical applications: a critical interim appraisal. Swiss Med Wkly 135:674–678

26.

Lotan Y, Cadeddu JA, Gettman MT (2004) The new economics of radical prostatectomy: cost comparison of open, laparoscopic and robot assisted techniques. J Urol 172:1431–1435

27.

Berkelman P, Cinquin P, Boidard E, Troccaz J, Le′toublon C, Ayoubi JM (2003) Design, control and testing of a novel compact laparoscopic endoscope manipulator. Proc Inst Mech Eng 217:329–341

28.

Long JA, Cinquin P, Troccaz J, Voros S, Berkelman P, Descotes JL, Letoublon C, Rambeaud JJ (2007) Development of miniaturized light endoscope-holder robot for laparoscopic surgery. J Endourol 21:911–914

29.

Lopez-Pujals A, Leveillee RJ (2004) Trocar arrangement for HALS. J Endourol 18:319–325

30.

Aalbers AG, Biere SS, e Henegouwen MI, Bemelman WA (2008) Hand-assisted or laparoscopic-assisted approach in colorectal surgery: a systematic review and meta-analysis. Surg Endosc 22:1769–1780

31.

Trelles N, Gagner M, Pomp A, Parikh M (2008) Laparoscopic splenectomy for massive splenomegaly: technical aspects of initial ligation of splenic artery and extraction without hand-assisted technique. J Laparoendosc Adv Surg Tech A 18:391–395

32.

Laxa BU, Carbonell AMII, Cobb WS, Rosen MJ, Hardacre JM, Mekeel KL, Harold KL (2008) Laparoscopic and hand-assisted distal pancreatectomy. Am Surg 74:481–486

33.

Allaf ME, Jackman SV, Schulam PG, Cadeddu JA, Lee BR, Moore RG, Kavoussi LR (1998) Laparoscopic visual field. Voice vs foot pedal interfaces for control of the AESOP robot. Surg Endosc 12:1415–1418
Acknowledgements
This research was supported by "Special Coordination Funds for Promoting Science and Technology: Yuragi Project" of the Ministry of Education, Culture, Sports, Science and Technology, Japan, and Grant-in-Aid for Scientific Research (A) of the Japan Society for the Promotion of Science (Representative Researcher A.N. Project Number19206047). We cordially appreciate the cooperation of Mr. Takeharu Kobayashi, Mr. Kohei Kazuhara, Mr. Takaharu Ichihara, and Mr. Naoto Kurashita of Daiken Medical Co. Ltd. Also, we would like to express our sincere gratitude that the surgeons of Osaka University Hospital agreed to help our research. No authors have any financial involvement in any organization with a financial interest in the subject matter or materials discussed in the manuscript. A part of this work was presented at the annual meeting of Society of American Endoscopic and Laparoscopic Surgeons for Gastroenterology, Philadelphia, Pennsylvania, 2008, and the annual meeting of Computer-Assisted Radiology and Surgery Barcelona, Spain, 2008.
Additional information
The fundamental concept of the robot was made by M.S. and A.N. A.N. was responsible for the fabrication of the robot. The characteristics of the robot reflected the assessment of the demands of the surgeons by M.S. and his own opinion.
About this article
Cite this article
Sekimoto, M., Nishikawa, A., Taniguchi, K. et al. Development of a compact laparoscope manipulator (P-arm). Surg Endosc 23, 2596 (2009). https://doi.org/10.1007/s00464-009-0460-0
Received:

Revised:

Accepted:

Published:
Keywords
Robot

Manipulator

Laparoscopic surgery

Disposable robot

Robotically assisted surgery

Robotic surgery