Abstract
Background
Fetal surgery is receiving considerable attention. However, surgeons must have great skill to perform this surgery. For assisting with the operation, the three-dimensional (3D) endoscope is very useful because it allows the surgeon depth perception. However, the diameter of existing 3D endoscopes is approximately 10 mm. Therefore, the authors have developed a high-resolution, thin, 3D endoscope for use in fetal surgery.
Methods
The authors' system uses two 1/10-in. micro charge-coupled device (CCD) cameras at the tip of the endoscope and achieves a diameter of 5.4 mm. The endoscope's angle of convergence is 2.6º, which very closely approximates the angle of convergence for humans. Thus, the surgeon experiences little visual fatigue. The view angle is 87º.
Results
The authors compared image quality and depth perception between their system and conventional 3D and 2D endoscopes. Theoretical investigation of image quality allowed the surgeon to distinguish a line 0.2 to 0.25 mm wide. Furthermore, the depth perception with the thin 3D endoscope was almost the same as with an 11-mm normal 3D endoscope. In addition, with the 3D endoscope, a higher percentage of questions were answered correctly in the depth perception evaluation experiment in a water environment than with the 2D instrument.
Conclusion
According to these experiments, the thin 3D endoscope has a sufficiently high image quality and depth perception even in a water environment.
This is a preview of subscription content, log in to check access.
Access options
Buy single article
Instant access to the full article PDF.
US$ 39.95
Price includes VAT for USA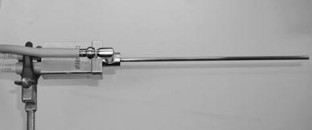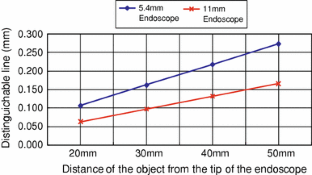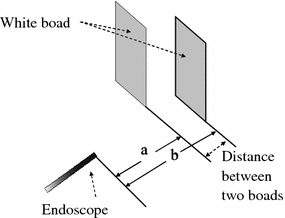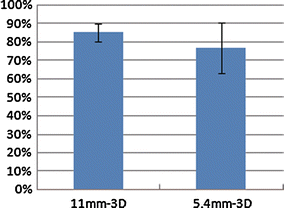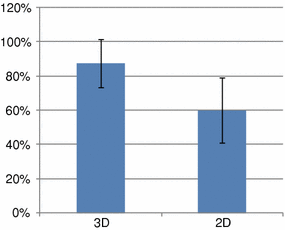 References
1.

van Bergen P, Kunert W, Bessell J, Buess GF (1998) Comparative study of two-dimensional and three-dimensional vision systems for minimally invasive surgery. Surg Endosc 12:948–954

2.

Griffin WP (1995) Three-dimensional imaging in endoscopic surgery. Biomed Instrum Technol 29(3):183–189

3.

Durrani AF, Preminger GM (1995) Three-dimensional video imaging for endoscopic surgery. Comput Biol Med 25:237–247

4.

Wenzl R, Lehner R, Vry U, Pateisky N, Sevelda P, Husslein P (1994) Three-dimensional video-endoscopy: clinical use in gynaecological laparoscopy. Lancet 344:1621–1622

5.

Yamauchi Y, Shinohara K (2005) Effect of binocular stereopsis on surgical manipulation performance and fatigue when using a stereoscopic endoscope. Stud Health Technol Informatics 111:611–614

6.

Muragaki Y, Hashizume M, Hashimoto D, Iseki H, Takakura K (2003) A new concept of three-dimensional endoscope for endoscopic surgery. Surg Endosc 17:1838–1839

7.

Harrison MR, Chiba T (2000) Minimally invasive fetal procedures. J Jpn Soc Pediatr Surg 36:13–22

8.

Liao H, Tsuzuki M, Kobayashi E, Dohi T, Chiba T, Mochizuki T, Sakuma I (2008) Fast image mapping of endoscopic image mosaics with three-dimensional ultrasound image for intrauterine treatment of twin-to-twin transfusion syndrome. In: Proceedings of MIAR 2008, LNCS 5128, pp 329–339
Acknowledgments
This research was supported by in part by Health and Labor Sciences Research Grants of Ministry of Health, Labor and Welfare in Japan and JSPS (#18680041).
About this article
Cite this article
Kobayashi, E., Ando, T., Yamashita, H. et al. A high-resolution, three-dimensional thin endoscope for fetal surgery. Surg Endosc 23, 2450 (2009). https://doi.org/10.1007/s00464-009-0413-7
Received:

Revised:

Accepted:

Published:
Keywords
3D endoscope

Depth perception evaluation

Endoscopic surgery

Fetal surgery