Abstract
Background
Major abdominal surgery is associated with early postoperative gastrointestinal dysfunction, which may lead to abdominal distention and vomiting, requiring nasogastric (NGT) tube insertion. This study aimed to compare the rates of early postoperative NGT insertion after open and laparoscopic colorectal surgery.
Methods
A retrospective chart review was performed for patients who underwent colorectal surgery with removal of the NGT at completion of surgery. Patients who required reinsertion of the NGT in the early postoperative course were identified. The reinsertion rate for patients who underwent laparoscopic surgery was compared with that for the open group.
Results
There were 103 patients in the open group and 227 in the laparoscopic group. In the laparoscopic group, 42 patients underwent conversion to open surgery. Reinsertion of the NGT was required for 18.4% of the patients in the open group, compared with 8.6% of the patients for whom the procedure was completed laparoscopically (p = 0.02). Conversion to open surgery resulted in a reinsertion rate of 17%.
Conclusion
Laparoscopic colorectal surgery is associated with decreased postoperative gastrointestinal dysfunction, resulting in a significantly lower NGT reinsertion rate.
This is a preview of subscription content, log in to check access.
Access options
Buy single article
Instant access to the full article PDF.
US$ 39.95
Price includes VAT for USA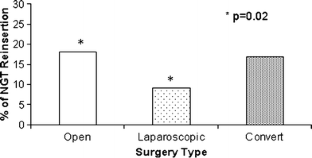 References
1.

Martel G, Boushey RP (2006) Laparoscopic colon surgery: past, present, and future. Surg Clin North Am 86:867–897

2.

Guillou PJ, Quirke P, Thorpe H, Walker J, Jayne DG, Smith AM, Heath RM, Brown JM (2005) Short-term end points of conventional versus laparoscopic-assisted surgery in patients with colorectal cancer (MRC CLASICC trial): multicentre, randomized controlled trial. MRC CLASICC trial group. Lancet 365:1718–1126

3.

Weeks JC, Nelson H, Gelber S, Sargent D, Schroeder G (2002) Short-term quality-of-life outcomes following laparoscopic-assisted colectomy vs open colectomy for colon cancer: a randomized trial. Clinical Outcomes of Surgical Therapy (COST) Study Group. JAMA 287:321–328

4.

Veldkamp R, Kuhry E, Hop WC, Jeekel J, Kazemier G, Bonjer HJ, Haglind E, Pahlman L, Cuesta MA, Msika S, Morino M, Lacy AM (2005) Laparoscopic surgery versus open surgery for colon cancer: short-term outcomes of a randomised trial. Colon cancer laparoscopic or open resection study group (COLOR). Lancet Oncol 6:477–484

5.

Lacy AM, Garcia-Valdecasas JC, Delgado S, Castells A, Taura P, Pique JM, Visa J (2002) Laparoscopy-assisted colectomy versus open colectomy for treatment of nonmetastatic colon cancer: a randomised trial. Lancet 359:2224–2229

6.

Schwenk W, Haase O, Neudecker J, Muller JM (2005) Short-term benefits for laparoscopic colorectal resection. Cochrane Database Syst Rev (3):CD003145

7.

Braga M, Vignali A, Zuliani W, Radaelli G, Gianotti L, Martani C, Toussoun G, Di Carlo V (2002) Metabolic and functional results after laparoscopic colorectal surgery: a randomized, controlled trial. Dis Colon Rectum 45:1070–1077

8.

Ortiz H, Armendariz P, Yarnoz C (1996) Early postoperative feeding after elective colorectal surgery is not a benefit unique to laparoscopy-assisted procedures. Int J Colorectal Dis 11:246–249

9.

Wolff BG, Pemberton JH, Van Heerden JA et al (1989) Elective colon and rectal surgery without nasogastric decompression: a prospective randomized trial. Ann Surg 209:670–673

10.

Cheadle WG, Vitale GC, Mackie CR, Cushieri A (1985) Prophylactic postoperative nasogastric decompression: a prospective study of its requirement and the influence of cimetidine in 200 patients. Ann Surg 202:361–366

11.

Cheatham ML, Chapman WC, Key SP, Sawyers JL (1995) A meta-analysis of selective versus routine nasogastric decompression after elective laparotomy. Ann Surg 221:469–478

12.

Wangensteen OH, Paine JR (1933) Treatment of acute intestinal obstruction by suction with the duodenal tube. JAMA 101:1532–1539

13.

Woods JH, Erikson LW, Condon RE, Schulte WJ, Sillin LF (1978) Postoperative ileus: a colonic problem? Surgery 84:527–533

14.

Whelan RL, Franklin M, Holubar SD, Donahue J, Fowler R, Munger C, Doorman J, Balli JE, Glass J, Gonzalez JJ, Bessler M, Xie H, Treat M (2003) Postoperative cell-mediated immune response is better preserved after laparoscopic vs open colorectal resection in humans. Surg Endosc 17:972–978

15.

Hartley JE, Mehigan BJ, Monson JR (2001) Alterations in the immune system and tumor growth in laparoscopy. Surg Endosc 15:305–313
Additional information
Presented as a poster at the annual meeting of the Society of American Gastrointestinal and Endoscopic Surgeons, (SAGES), Dallas, Texas, 26–29 April 2006, and at the annual meeting of the European Society for Endoscopic Surgeons (EAES), Berlin, Germany, 13–16 September 2006.
About this article
Cite this article
Zmora, O., Hashavia, E., Munz, Y. et al. Laparoscopic colectomy is associated with decreased postoperative gastrointestinal dysfunction. Surg Endosc 23, 87–89 (2009). https://doi.org/10.1007/s00464-008-9919-7
Received:

Revised:

Accepted:

Published:

Issue Date:
Keywords
Colorectal surgery

Conversion

Ileus

Laparoscopy

Laparotomy

Postoperative gastrointestinal dysfunction