Abstract
Background
Reflux is a common medical condition with symptoms ordinarily controlled using drug/medical therapy. However, 20% of patients experience unmanageable symptoms despite twice-daily (BID) proton pump inhibitor (PPI) therapy. Growing clinical evidence shows that delayed gastric emptying (gastroparesis) may be a factor associated with severe reflux, dyspepsia, or both. Gastroparesis, concomitant in 25% of patients with gastroesophageal reflux disease (GERD), has been shown to improve after Nissen fundoplication. Radiofrequency treatment for GERD potentially corrects GERD-associated gastroparesis and resultant PPI BID reflux failures.
Methods
From July 2000 until July 2004, 227 patients undergoing Stretta for GERD were screened for gastric anomalies. Patients with gastroparesis, documented on a standardized nuclear gastric emptying scans, and patients with heartburn and regurgitation uncontrolled by PPI BID medications underwent radiofrequency ablation of the cardia and esophagogastric junction via the Stretta procedure. The patients had esophagogastroduodenoscopy and/or pH studies, manometry, solid-phase gastric emptying, and electrogastrography and completed standardized heartburn and health-related quality-of-life surveys before treatment, then 6 months afterward. Patients with pyloric obstruction and those taking motility agents were excluded from the study. Gastric emptying scans were repeated 6 months after Stretta. The nuclear radiologist was blinded to the study design.
Results
At baseline, 31 patients were classified as abnormal. At 6 months after the procedure, emptying scores had improved significantly, with the percentage of solid food emptied at 90 min improved from 41% to 66% (p < 0.0001) and at 120 minutes from 55% to 84%. Significant improvements were seen at all intervals. Overall, 23 patients (74%) experienced normalization of gastric emptying, and 4 patients were improved but remained abnormal. Four patients showed no improvement on their gastric emptying scans, with one patient electing to undergo a Nissen procedure. All the patients had a 1-year symptom follow-up assessment, which showed significant improvements in GERD health-related quality of life, dyspepsia, and heartburn scores.
Conclusions
Radiofrequency treatment has been demonstrated to correct gastroparesis. Patients' symptoms improved significantly. The mechanism of action is unknown but may be related to reduction in transient lower esophageal sphincter relaxations (TLESRs), increased esophagogastric junction barrier, decreased esophageal venting, alteration of the gastric pacemaker function in the region of radiofrequency therapy administration, removal of medications for symptoms, or a combination of all these.
This is a preview of subscription content, log in to check access.
Access options
Buy single article
Instant access to the full article PDF.
US$ 39.95
Price includes VAT for USA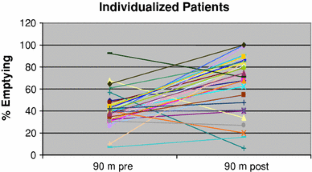 References
1.

Talley NJ, Zinsmeister AR, Schleck CD, Melton LI III (1992) Dyspepsia and dyspepsia subgroups: a population-based study. Gastroenterology 102:1259–1268

2.

Talley NJ, Vakil N (2005) Guidelines for the management of dyspepsia. Am J Gastroenterol 100(10):2324–2337

3.

Metz DC (2004) Managing gastroesophageal reflux disease for the lifetime of the patient: evaluating the long-term options. Am J Med 117(Suppl 5A):49S–55S

4.

Mansfield P, Henry D, Tonkin A (2004) Single-enantiomer drugs: elegant science, disappointing effects. Clin Pharmacokinet 43:287–290

5.

Quartero AO, deWit NJ, Lodder AC, Numans ME, Smout AJ, Hoes AW (1998) Disturbed solid-phase gastric emptying in functional dyspepsia: a metaanalysis. Dig Dis Sci 43:2028–2033

6.

Stanghellini V, Tosetti C, Paternic'O A, Barbara G, Morselli-Labate AM, Monetti N, Marengo M, Corinaldesi R (1996) Risk indicators in delayed gastric emptying of solids in patients with functional dyspepsia. Gastroenterology 110:1036–1042

7.

Sarnelli G, Caenepeel P, Geypens B, Janssens J, Tack J (2003) Symptoms associated with impaired gastric emptying of solids and liquids in functional dyspepsia. Am J Gastroenterol 96:1422–1428

8.

Romagnuolo J (2004) Endoscopic "antireflux" procedures: not yet ready for prime time. Can J Gastroenterol 18:573–577

9.

Spechler SJ, Lee E, Ahnen D, Goyal RK, Hirano I, Ramirez F, Raufman JP, Sampliner R, Schnell T, Sontag S, Vlahcevic ZR, Young R, Williford W (2001) Long-term outcome of medical and surgical therapies for gastroesophageal reflux disease: follow-up of a randomized controlled trial. JAMA 285:2331–2338

10.

Utley DS (2003) The Stretta procedure: device, technique, and preclinical study data. Gastrointest Endosc Clin North Am 13:135–145

11.

Triadafilopoulos G (2004) Changes in GERD symptom scores correlate with improvement in esophageal acid exposure after the Stretta procedure. Surg Endosc 18:1038–1044

12.

Triadafilopoulos G, DiBaise JK, Nostrant TT, Stollman NH, Anderson PK, Wolfe MM, Rothstein RI, Wo JM, Corley DA, Patti MG, Antignano LV, Goff JS, Edmundowicz SA, Castell DO, Rabine JC, Kim MS, Utley DS (2002) The Stretta procedure for the treatment of GERD: 6- and 12-month follow-up of the U.S. open label trial. Gastrointest Endosc 55:149–156

13.

Richards WO, Houston HL, Torquati A, Khaitan L, Holzman MD, Sharp KW (2003) Paradigm shift in the management of gastroesophageal reflux disease. Ann Surg 237:638–647, discussion 648–639

14.

Reymunde A, Santiago N (2007) Long-term results of radiofrequency energy delivery for the treatment of gastroesophageal reflux disease, sustained improvements in symptoms, quality of life and drug use at 4-year follow-up. Gastrointest Endosc 63:361–366

15.

Noar M, Sahar LE (2007) Sustained improvement in symptoms of gastroesophageal reflux disease and antisecretory drug use: four-year follow up of the Stretta procedure. Gastrointest Endosc 63:367–372

16.

Benini L, Sembenini C, Heading RC, Castellani G, Caliari S, Fioretta A, Vantini I (1999) Simultaneous measurement of gastric emptying of a solid meal by ultrasound and scintography. Am J Gastroenterol 94:2861–2865

17.

Velanovich V (1999) Comparison of symptomatic and quality-of-life outcomes of laparoscopic versus open antireflux surgery. Surgery 126:782–788, discussion 788–789

18.

Johnson DA (2004) End points for the assessment of response to gastroesophageal reflux disease therapy: what are the appropriate measures of "success"? Rev Gastroenterol Disord 4:118–128

19.

Yeh RW, Triadafilopolous G (2005) Endoscopic antireflux therapies: the Stretta procedure. Thorac Surg Clin 15:395–403

20.

Pallotta N, Pezzotti P, Calabrese E, Baccini F, Corazziari E (2005) Relationship between gastrointestinal and extragastrointestinal symptoms and delayed gastric emptying in functional dyspeptic patients. World J Gastroenterol 11:4375–4381

21.

Cahan MA, Balduf L, Colton K, Palacioz B, McCartney W, Farrell TM (2006) Proton pump inhibitors reduce gallbladder function. Surg Endosc 20:1364–1367

22.

Richards WO, Houston HL, Torquati A, Khaitan L, Holzman MD, Sharp KW (2003) Paradigm shift in the management of gastroesophageal reflux disease. Ann Surg 237:638–647, discussion 648–639

23.

Torquati A, Houston HL, Kaiser J, Holzman MD, Richards WO (2004) Long-term follow-up study of the Stretta procedure for the treatment of gastroesophageal reflux disease. Surg Endosc 18:1475–1479

24.

Corley DA, Katz P, Wo JM (2003) Improvement of gastroesophageal reflux symptoms after radiofrequency energy: a randomized sham controlled trial. Gastroenterology 125:666–676

25.

Randall C (2005) Electrogastrogram helps narrow down diagnosis of patients with dyspepsia. Am J Gastroenterol 100(s9):S68

26.

Chiba N, De Gara CJ, Wilkinson JM, Hunt RH (1997) Speed of healing and symptom relief in grade II to IV gastroesophageal reflux disease: a meta-analysis. Gastroenterology 112:1798–1810
Additional information
Dr. Noar is responsible for the study design and development, the analysis and interpretation of the study data, drafting and critical revision of the manuscript for important intellectual content and final manuscript approval.
Ms. Noar is responsible for data collection, analysis and interpretation of the study data, and drafting of the manuscript.
This manuscript is submitted in coordination with the acceptance of abstract and presentation for the 2007 SAGES Meeting.
About this article
Cite this article
Noar, M.D., Noar, E. Gastroparesis associated with gastroesophageal reflux disease and corresponding reflux symptoms may be corrected by radiofrequency ablation of the cardia and esophagogastric junction. Surg Endosc 22, 2440–2444 (2008). https://doi.org/10.1007/s00464-008-9873-4
Received:

Revised:

Accepted:

Published:

Issue Date:
Keywords
Endoluminal therapy

Gastroesophageal reflux disease

Gastroparesis

Proton pump inhibitor

Stretta procedure