Abstract
Background
Endoscopic snare papillectomy is increasingly performed with curative intent for benign papillary tumors. This study aimed to evaluate the outcome of endoscopic resection for ampullary tumors at a single center.
Methods
All ampullary tumors without macroscopic features of malignancy identified by the endoscopic retrograde cholangiopancreatography (ERCP) from January 1995 to February 2007 were included in the study. Papillectomy was performed by snare resection using electrocautery. Argon plasma coagulation was effective for fulguration of small tissue remnants not amenable to snare resection.
Results
Of the 21 patients (9 men and 12 women; mean age, 67.2 ± 14.3 years) evaluated, 11 had adenoma (7 had low-grade dysplasia [LGD] and 4 had high-grade dysplasia [HGD]), and 10 had carcinoma. All the patients underwent papillectomy. Of the 21 patients, 18 had extraductal growth or minimal intraductal growth, and 3 had extensive intraductal growth. The endoscopic complications (23.8%) included one case of mild bleeding, two cases of mild pancreatitis, and two cases of moderate pancreatitis. After papillectomy, 15 patients underwent Whipple procedures (endoscopic failure, 74.1%), including 3 patients with extensive intraductal growth (complete removal of the lesion impossible), 9 patients with carcinoma beyond the mucosal layer, and 3 patients with recurrence treated surgically. Endoscopic success (28.5%) was obtained for the remaining six patients (4 with LGD and 2 with HGD). Papillectomy was determined to be curative after a mean follow-up period of 15.9 ± 14.9 months.
Conclusions
In the hands of an experienced endoscopist, endoscopic papillectomy is a clinically effective treatment for ampullary tumors without invasive neoplasia. Evaluation of a prepapillectomy tumor extension is an important criterion for assessment of endoscopic success.
This is a preview of subscription content, log in to check access.
Access options
Buy single article
Instant access to the full article PDF.
US$ 39.95
Price includes VAT for USA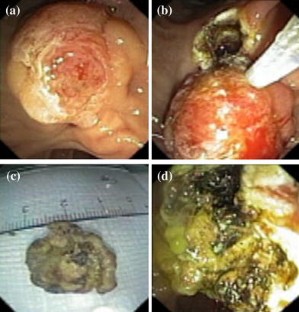 References
1.

Scarpa A, Capelli P, Zamboni G, Oda T, Mukai K, Bonetti F, Martignoni G, Iacono G, Serio G, Hirohashi S (1993) Neoplasia of the ampulla of Vater. Ki-ras and p53 mutations. Am J Pathol 142:163–172

2.

Stolte M, Pscherer C (1996) Adenoma-carcinoma sequence in the papilla of Vater. Scand J Gastroenterol 31:376–382

3.

Menzel J, Poremba D, Dietl KH, Böcker W, Domschke W (1999) Tumors of the papilla of Vater inadequate diagnostic impact of endoscopic forceps biopsies taken prior to and following sphincterotomy. Ann Oncol 10:1227–1231

4.

Binmoeller KF, Boaventura S, Ramsperger K, Soehendra N (1993) Endoscopic snare excision of benign adenomas of the papilla of Vater. Gastrointest Endosc 39:127–131

5.

Beger HG, Treitschke F, Gansauge F, Harada N, Hiki N, Mattfeldt T (1999) Tumor of the ampulla of Vater: experience with local or radical resection in 171 consecutively treated patients. Arch Surg 134:526–532

6.

Fukushima T, Fogel EL, Devereaux BM, Phillips S, Lehman GA, Rerknimtr R, Sherman S (2001) Use of ERCP and papillectomy in management of ampullary tumors: seven-year review of 75 cases at Indiana University Medical Center (abstract). Gastrointest Endosc 53:AB88

7.

Desilets DJ, Dy RM, Ku PM, Hanson BL, Elton E, Mattia A, Howell DA (2001) Endoscopic management of tumors of the major papilla: refined techniques to improve outcome and avoid complications. Gastrointest Endosc 54:202–208

8.

Norton ID, Gostout CJ, Baron TH, Geller A, Peterson BT, Wiersema MJ (2002) Safety and outcome of endoscopic snare excision of the major duodenal papilla. Gastrointest Endosc 56:239–243

9.

Catalano MF, Linder JD, Chak A, Sivak MV Jr, Raijman I, Geenen JE, Howell DA (2004) Endoscopic management of adenoma of the major duodenal papilla. Gastrointest Endosc 59:225–232

10.

Cheng CL, Sherman S, Fogel EL, McHenry L, Watkins JL, Fukushima T, Howard TJ, Lazzell-Pannell L, Lehman GA (2004) Endoscopic snare papillectomy for tumors of the duodenal papillae. Gastrointest Endosc 60:757–764

11.

Han J, Kim M-H (2006) Endoscopic papillectomy for adenomas of the major duodenal papilla. Gastrointest Endosc 63(2):292–301

12.

Bohnacker S, Soehendra N, Maguchi H, Chung JB, Howell DA (2006) Endoscopic resection of benign tumors of the papilla of Vater. Endosc 38(5):521–525

13.

Schlemper RJ, Riddell RH, Kato Y, Borchard F, Cooper HS, Dawsey SM, Dixon MF, Fenoglio-Preiser CM, Fléjou JF, Geboes K, Hattori T, Hirota T, Itabashi M, Iwafuchi M, Iwashita A, Kim YI, Kirchner T, Klimpfinger M, Koike M, Lauwers GY, Lewin KJ, Oberhuber G, Offner F, Price AB, Rubio CA, Shimizu M, Shimoda T, Sipponen P, Solcia E, Stolte M, Watanabe H, Yamabe H (2000) The Vienna classification of gastrointestinal epithelial neoplasia. Gut 47:251–255

14.

Sakorafas GH, Fries H, Dervenis CG (2000) Villous tumors of the duodenum: biologic characters and clinical implications. Scand J Gastroenterol 35:337–344

15.

Larghi A, Waxman I (2005) Endoscopic mucosal resection: treatment of neoplasia. Gastrointest Endoscopy Clin North Am 15:431–454

16.

Seewald S, Omar S, Soehendra N (2006) Endoscopic resection of tumors of the ampolla of Vater: how far up and how deep down can we go? Gastrointest Endosc 6:789–791

17.

Walsh RM, Connelly M, Baker M (2003) Imaging for the diagnosis and staging of periampullary carcinomas. Surg Endosc 17:1514–1520

18.

Itoh A, Goto H, Naitoh Y, Hirooka Y, Furukawa T, Hayakawa T (1997) Intraductal ultrasonography in diagnosing tumor extension of cancer of the papilla of Vater. Gastrointest Endosc 45:251–260

19.

Uchiyama Y, Imazu H, Kakutani H, Hino S, Sumiyama K, Kuramochi A, Tsukinaga S, Matsunaga K, Nakayoshi T, Goda K, Saito S, Kaise M, Kawamuara M, Omar S, Tajiri H (2006) New approach to diagnosing ampullary tumors by magnifying endoscopy combined with a narrow-band imaging system. J Gastroenterol 41:483–490

20.

Singh P, Das A, Isenberg G, Wong RCK, Sivak MV, Agrawal D, Chak A (2004) Does prophylactic pancreatic stent placement reduce the risk of post-ERCP acute pancreatitis? A meta-analysis of controlled trials. Gastrointest Endosc 60:544–560

21.

Harewood G, Pochron N, Gostout CJ (2005) Prospective, randomized, controlled trial of prophylactic pancreatic stent placement for endoscopic snare excision of the duodenal ampulla. Gastrointest Endosc 62:367–370

22.

Hirooka Y, Itoh A, Goto H (2004) EUS/IDUS and endoscopic papillectomy (review). Dig Endosc 16(Suppl):S176–S177
About this article
Cite this article
Boix, J., Lorenzo-Zúñiga, V., Moreno de Vega, V. et al. Endoscopic resection of ampullary tumors: 12-year review of 21 cases. Surg Endosc 23, 45–49 (2009). https://doi.org/10.1007/s00464-008-9866-3
Received:

Accepted:

Published:

Issue Date:
Keywords
Ampullary tumors

Endoscopic resection

Endoscopic snare papillectomy