Abstract
Background
In patients with suspected pancreatico-biliary disease, endoscopic retrograde cholangiopancreatography (ERCP) should be reserved for those requiring therapeutic intervention. However, difficulty arises in identifying patients likely to require therapy in the early phase of diagnostic work-up.
An algorithm has been developed by the authors based upon prospective assessment of ERCP patients for triage of patients to magnetic resonance cholangiopancreatography (MRCP) or ERCP with suspected pancreatico-biliary disease. We aimed to validate this algorithm in an independent group of patients using a different group of endoscopists blinded to the algorithm.
Methods
Patients were stratified into different categories by clinical, ultrasound and liver function test findings. The algorithm stratified patients by the likelihood of therapeutic intervention. The accuracy of the algorithm for a therapeutic outcome was assessed by receiver operator characteristics (ROC) curve analysis.
Results
Hundred and twenty-five consecutive patients (Oct 2005 to July 2006) were prospectively assessed by MRCP or ERCP according to the algorithm, and the outcomes recorded. Fifty-seven patients were triaged to MRCP and 63 patients were triaged to ERCP. A category was not assessable in five patients. Three patients from the MRCP group required subsequent therapeutic ERCP. Diagnostic ERCP was performed in three patients in the ERCP group. ERCP-related complications occurred in four patients. The algorithm performed well in predicting the requirement for intervention as determined by the area under the ROC curve [0.84 (95%CI 0.76–0.92)].
Conclusions
Our study confirms that an algorithm-based approach can reproducibly predict those patients requiring therapeutic biliary intervention.
This is a preview of subscription content, log in to check access.
Access options
Buy single article
Instant access to the full article PDF.
US$ 39.95
Price includes VAT for USA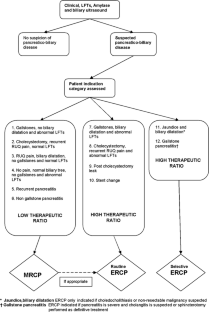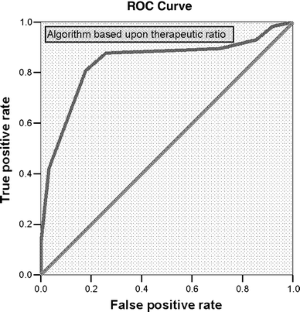 References
1.

Garden OJ. Gallstones. In: Garden OJ (ed) Hepatobiliary and Pancreatic Surgery, 2nd edition. pp 213–237

2.

Loperfido S, Angelini G, Benedetti G, Chilovi F, Costan F, De Berardinis F et al (1998) Major early complications from diagnostic and therapeutic ERCP: a prospective multicenter study. Gastrointest Endosc 48:1–10

3.

Zidi SH, Prat F, Le Guen O, Rondeau Y, Rocher L, Fritsch J et al (1999) Use of magnetic resonance cholangiopancreatography in the diagnosis of choledocholithiasis: prospective comparison with a reference imaging method. Gut 44:118–122

4.

Adamek HE, Albert J, Breer H, Weitz M, Schilling D, Riemann JF (1998) A prospective evaluation of magnetic resonance cholangiopancreatography in patients with suspected bile duct obstruction. Gut 43:680–683

5.

Varghese JC, Liddell RP, Farrell MA, Murray FE, Osborne DH, Lee MJ (2000) Diagnostic accuracy of magnetic resonance cholangiopancreatography and ultrasound compared with direct cholangiography in the detection of choledocholithiasis. Clin Radiol 55:25–35

6.

Romagnuolo J, Bardou M, Rahme E, Joseph L, Reinhold C, Barkun AN (2003) Magnetic resonance cholangiopancreatography: a meta-analysis of test performance in suspected biliary disease. Ann Intern Med 139:547–557

7.

Palazzo L, Girollet PP, Salmeron M et al (1995) Value of endoscopic ultrasonography in the diagnosis of common bile duct stones: comparison with surgical exploration and ERCP. Gastrointest Endosc 42:225–231

8.

Prat F, Amouyal G, Amouyal P et al (1996) Prospective controlled study of endoscopic ultrasonography and endoscopic retrograde cholangiography in patients with suspected common bile duct lithiasis. Lancet 347:75–79

9.

Jenkins JT, Williamson BWA (2006) Prospective study to develop an algorithm for investigation by MRCP or ERCP. ANZ J Surg 76:1–4

10.

The management of pancreatico-duodenal tumours: a regional protocol for the West of Scotland Cancer Network (WoSCAN)—Produced and approved by the WoSCAN upper GI cancer managed clinical network advisory board, March 2007

11.

Duensing RA, Williams RA, Collins JC, Wilson SE (1995) Managing choledocholithiasis in the laparoscopic era. Am J Surg 170:619–623

12.

Cotton PB (1993) Endoscopic retrograde cholangiopancreatography and laparoscopic cholecystectomy. Am J Surg 165:474–478

13.

Koo KP, Traverso LW (1996) Do preoperative indicators predict the presence of common bile duct stones during laparoscopic cholecystectomy? Am J Surg 171:495–499

14.

Menezes N, Marson LP, deBeaux AC, Muir IM, Auld CD (2000) Prospective analysis of a scoring system to predict choledocholithiasis. Br J Surg 87:1176–1181

15.

Prat F, Meduri B, Ducot B, Chiche R, Salimbeni-Bartolini R, Pelletier G (1999) Prediction of common bile duct stones by non-invasive tests. Ann Surg 229:362–368

16.

Abboud PAC, Malet PF, Berlin JA, Staroscik R, Cabana MD, Clarke JR et al (1996) Predictors of common bile duct stones prior to cholecystectomy: a meta-analysis. Gastrointest Endosc 44:450–459

17.

Luman W, Chan ESY (2003) Mathematical model for predicting biliary therapeutic endoscopic retrograde pancreatography (ERCP). Dig Liver Dis 35:486–492

18.

Endoscopic retrograde cholangiopancreatography (ERCP) for diagnosis and therapy. National Institutes of Health State of the Science conference statement 14–16 Jan 2002, final statement, pp 4–6

19.

Cuschieri A, Lezoche E, Morino M et al (1999) E.A.E.S. multicenter prospective randomized trial comparing two-stage versus single-stage management of patients with gallstone disease and ductal calculi. Surg Endosc 13:952–957

20.

Martin DJ, Vernon DR, Toouli J (2006) Surgical versus endoscopic treatment of bile duct stones. The Cochrane Database of Systematic Reviews, vol 2

21.

Davidson BR, Neoptolemos JP, Carr-Locke DL (1988) Endoscopic sphincterotomy for common bile duct calculi in patients with gallbladder in situ considered unfit for surgery. Gut 29:114–120

22.

Welbourn CR, Beckly DE, Eyre-Brook IA (1995) Endoscopic sphincterotomy without cholecystectomy for gallstone pancreatitis. Gut 37:119–120

23.

Uhl W, Warshaw A, Imrie C, Bassi C, McKay C, Lankisch P et al (2002) IAP Guidelines for the surgical management of acute pancreatitis. Pancreatology 2:565–573

24.

Romagnuolo J, Currie G et al (2005) Noninvasive versus selective invasive biliary imaging for acute biliary pancreatitis: an economic evaluation by using decision tree analysis. Gastrointest Endosc 61:86–97

25.

Toh SK, Phillips S, Johnson CD (2000) A prospective audit against national standards of the presentation and management of acute pancreatitis in the South of England. Gut 46:239–243

26.

de Ledinghen V, Lecesne R, Raymond JM, Gense V, Amouretti M, Drouillard J et al (1999) Diagnosis of choledocholithiasis: EUS or magnetic resonance cholangiography? A prospective controlled study. Gastrointest Endosc 49:26–31
About this article
Cite this article
Parnaby, C.N., Jenkins, J.T., Ferguson, J.C. et al. Prospective validation study of an algorithm for triage to MRCP or ERCP for investigation of suspected pancreatico-biliary disease. Surg Endosc 22, 1165–1172 (2008). https://doi.org/10.1007/s00464-008-9775-5
Received:

Revised:

Accepted:

Published:

Issue Date:
Keywords
Magnetic resonance cholangiopancreatography

Endoscopic retrograde cholangiopancreatography

Pancreatico-biliary disease