Abstract
Background
This study aimed to evaluate the accuracy of functional cine-MRI in detecting abdominal adhesions.
Methods
For this study, 89 consecutive patients with adhesion-related complaints after previous abdominal surgery underwent preoperative workup including cine-MRI in transverse and sagittal orientations for a dynamic examination of an induced visceral slide. An abdominal map consisting of nine segments was created to document the location and extent of the adhesion. Cine-MRI and intraoperative findings were correlated.
Results
A total of 59 laparotomies and 30 laparoscopies were performed. Four cases required open surgery due to severe adhesions. The use of cine-MRI scan for the detection of adhesions showed an overall accuracy of 90%, a sensitivity of 93%, and a positive predictive value of 96%. The stronger the adhesions, the more accurate the scan findings. Of 44 patients with second-degree MRI scan findings, 50% had second-degree intraoperative findings. Of 35 patients with third- and fourth-degree adhesions on MRI scans, 74% had exactly the same intraabdominal findings at surgery. The MRI scan showed adhesions located in the small intestines (75%), large intestines (35%), abdominal cavity (42%), and reproductive organs (32%). Intraoperatively, adhesions were found in the small intestines (70%), large intestines (40%), abdominal cavity (42%), and reproductive organs (28%).
Conclusions
Cine-MRI provides valid preoperative information with respect to extent, location, and strength of intraabdominal adhesions. Cine-MRI is a good alternative for diagnosing abdominal adhesions because objective findings of the scan and intraoperative findings correlate very well with each other.
This is a preview of subscription content, log in to check access.
Access options
Buy single article
Instant access to the full article PDF.
US$ 39.95
Price includes VAT for USA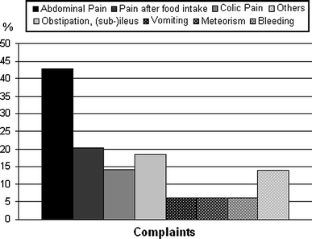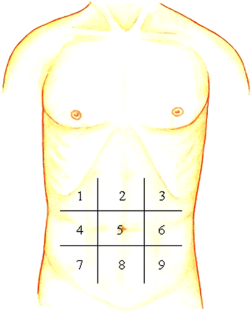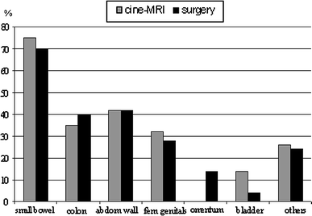 References
1.

Menzies D, Ellis H (1990) Intestinal obstruction from adhesions: how big is the problem? Ann R Coll Surg Engl 72:60–63

2.

Levrant SG, Bieber EJ, Barnes RB (1997) Anterior abdominal wall adhesions after laparotomy or laparoscopy. J Am Assoc Gynecol Laparosc 4:353–356

3.

Cox MR, Gunn IF, Eastman MC, Hunt RF, Heinz AW (1993) The operative aetiology and types of adhesions causing small bowel obstruction. Aust N Z J Surg 63:848–852

4.

Ellis H (1998) The magnitude of adhesion-related problems. Ann Chir Gynaecol 87:9–11

5.

diZerega GS (1997) Biochemical events in peritoneal tissue repair. Eur J Surg Suppl 577:10–16

6.

Hershlag A, Diamond MP, DeCherney AH (1991) Adhesiolysis. Clin Obstet Gynaecol 34:395–402

7.

Mishell DR, Davajan V (1991) Evaluation of the infertile couple. In: Mishell DR, Davajan V, Lobo RA (eds) Infertility contraception and reproductive endocrinology. 3rd ed. Blackwell Scientific Publications Inc., Oxford, MA, chap 26

8.

Ellis H, Moran BJ, Thompson JN, Parker MC, Wilson MS, Menzies D, MCGuire A, Lower AM, Hawthorn RJ, O´Brien F, Buchan S, Crowe AM (1999) Adhesion-related hospital readmissions after abdominal pelvic surgery: a retrospective cohort study. Lancet 353:1476–1480

9.

Lower AM, Hawthorn RJS, Ellis H, O'Brien F, Buchan S, Crowe AM (2000) The impact of adhesions on hospital readmissions over ten years after 8,849 open gynaecological operations: an assessment from the Surgical and Clinical Adhesions Research Study. Br J Obstet Gynaecol 107:855–862

10.

Parker MC, Ellis H, Moran BJ, Thompson JN, Wilson MS, Menzies D, Lower AM, Hawthorn RJ, O'Brien F, Buchan S, Crowe AM (2001) Postoperative adhesions: ten-year follow-up of 12.584 patients undergoing lower abdominal surgery. Dis Colon Rectum 44:822–830

11.

Sigel B, Golub RM, Loicono LA (1991) Technique of ultrasonic detection and mapping of abdominal wall adhesions. Surg Endosc 5:161–165

12.

Uberoi R, D'Costa H, Brown C, Dubbins P (1995) Visceral slide for intraperitoneal adhesions? a prospective study in 48 patients with surgical correlation. J Clin Ultrasound 23:363–366

13.

Kodama I, Loiacono LA, Sigel B, Machi J, Golub RM (1992) Ultrasonic detection of viscera slide as an indicator of abdominal wall adhesions. J Clin Ultrasound 20:375–380

14.

Steitz HO, Meyer G, Schildberg FW (1997) Ultrasonography of adhesions prior to laparoscopic procedures after previous abdominal operations. In: Farthmann EH, Meyer C, Richter HA (eds) Current aspects of laparoscopic colorectal surgery. Springer, New York NY pp 210–216

15.

Steitz HO, Lang RA, Meimarakis G, Schildberg FW (2003) Validity of sonographic evaluation of adhesions. Chir praxis 61:579–584

16.

Freys SM, Fuchs KH, Heimbucher J, Thiede A (1994) Laparoscopic adhesiolysis. Surg Endosc 8:1202–1207

17.

Lienemann A, Sprenger D, Steitz HO, Korell M, Reiser MF (2000) Detection and mapping of intraabdominal adhesions by using functional cine MR Imaging: preliminary results. Radiology 217:421–425

18.

Zühlke HV, Lorenz EM, Straub EM, Savvas V (1990) Pathophysiologie und Klassifikation von Adhäsionen. Langenbeck's Arch Chir Suppl II Verh Dtsch Ges Chir 345:1009–1016

19.

Ivarson ML, Holmdahl L, Franzen G, Risberg B (1997) Cost of bowel obstruction resulting from adhesions. Eur J Surg 163:679–684

20.

Ray NF Denton WG, Thamer M, Henderson SC, Perry S (1998) Abdominal adhesiolysis: inpatient care and expenditures in the United States in 1994; J Am Coll Surg 186:1–9

21.

Kössi JA, Salminen PT, Rantala A, Laato MK (2003) Population-based study of the surgical workload and economic impact of bowel obstruction caused by postoperative adhesions. Br J Surg 90:1441–1444

22.

Kössi JA, Salminen PT, Laato MK (2004) Surgical workload and cost of postoperative adhesion-related intestinal obstruction: importance of previous surgery. World J Surg 28:666–670

23.

Zondervan K, Barlow DH (2000) Epidemiology of chronic pelvic pain. Baillieres Best Pract Res Clin Obstet Gynaecol 14:403–414

24.

Parker MC, Ellis H, Moran BJ, Thompson JN, Wilson MS, Menzies D, Lower AM, Hawthorn RJ, O'Brien F, Buchan S, Crowe AM (2001) Postoperative adhesions: ten-year follow-up of 12,584 patients undergoing lower abdominal surgery. Dis Colon Rectum 44:822–830

25.

Sunderland G (2003) SCAR-2: the risk of adhesions following colorectal surgery. EACP, Sitges

26.

Lower A, Hawthorn RJ, Clark D, Boyd JH, Finlayson AR, Knight AD, Crowe AM (2003) Adhesion-related readmissions following gynaecological laparoscopy or gynaecological laparotomy in Scotland: an epidemiological study of 24,046 patients. ESHRE, Madrid

27.

Coleman MG, Mc Lain AD, Moran BJ (2000) Impact of previous surgery on time taken for incision and division of adhesions during laparotomy. Dis Colon Rectum 43:1297–1299

28.

Van der Krabben AA, Dijkstra FR, Nieuwenhuijzen M, Reijnen MM, Schaapveld M, Goor van H (2000) Morbidity and mortality of inadvertent enterotomy during adhesiotomy. Br J Surg 87:467–471

29.

Diamond MP, Freeman ML (2001) Clinical implications of postsurgical adhesions. Hum Reprod Update 7:567–576

30.

Brill AI, Nezhat F, Nezhat CH, Nezhat C (1995) The incidence of adhesions after prior laparotomy: a laparoscopic appraisal. Obstet Gynecol 85:269–272

31.

English J, Ford J, Giannopoulos T (2004) Long-term follow-up of pain and quality-of-life scores after laparoscopic adhesiolysis. Gynaecol Surg 3:175–177

32.

Makanjuola D (1998) Computed tomography compared with small bowel enema in clinically equivocal intestinal obstruction. Clin Radiol 53:203–208

33.

Ha KH, Kim JS, Lee MS (1997) Differentiation of simple and strangulated small bowel obstructions usefulness of CT criteria. Radiology 204:507–512

34.

Maglinte DD, Gage SN, Harmon BH (1993) Obstruction of the small intestine accuracy and role of CT in diagnosis. Radiology 188:61–64

35.

Herrmann KA, Zech CJ, Michaely HJ, Seiderer J, Ochsenkühn T, Reiser MF, Schoenberg SO (2005) Comprehensive magnetic resonance imaging of the small and large bowel using intraluminal dual contrast technique with iron oxide solution and water in magnetic resonance enteroclysis. Invest Radiol 40:621–629

36.

Borten M (1986) Laparoscopic complications. BC Decker, Toronto pp 285–295

37.

Ellis H (1997) The clinical significance of adhesions: focus on intestinal obstruction. Eur J Surg Suppl 577:5–9

38.

Swank DJ, Swank-Bordewijk SC, Hop WC, van Erp WF, Janssen IM, Bonjer HJ, Jeekel J (2003) Laparoscopic adhesiolysis in patients with chronic abdominal pain: a blinded randomised controlled multi-centre trial. Lancet 361:1247–1251

39.

Luijendijk RW, de Lange DC, Wauters CC (1996) Foreign material in postoperative adhesions. Ann Surg 223:242–248
Additional information
Lang and Buhmann contributed equally to this work.
About this article
Cite this article
Lang, R.A., Buhmann, S., Hopman, A. et al. Cine-MRI detection of intraabdominal adhesions: correlation with intraoperative findings in 89 consecutive cases. Surg Endosc 22, 2455–2461 (2008). https://doi.org/10.1007/s00464-008-9763-9
Received:

Revised:

Accepted:

Published:

Issue Date:
Keywords
Abdomen

Adhesion

Adhesiolysis

Detection

MRI