Abstract
Background
Laparoscopy-assisted distal gastrectomy (LADG) is gaining wider acceptance for treating early gastric cancer (EGC). However, many gastric surgeons are still reluctant to perform LADG, mainly because this procedure entails a considerable learning curve. We aimed to evaluate the technical feasibility and short-term outcomes of performing LADG by a single experienced gastric surgeon who initially had no experience with laparoscopic surgery as compared with open distal gastrectomy (ODG).
Methods
Between January 2006 and December 2007, 177 patients with preoperatively diagnosed EGC located at the middle or lower third of the stomach were enrolled; 102 patients underwent LADG, 4 patients had open conversion, and 71 patients underwent conventional ODG. The operative and early postoperative outcomes from a prospective database were compared between the two groups.
Results
The clinicopathological characteristics were similar between the two groups. No operation-related deaths occurred. Although operation time was significantly longer for LADG than for ODG, time to first flatus was shorter and, consequently, postoperative hospital stay was significantly shorter in the LADG group. There was no significant difference in the overall complication rates between the two groups. On comparing the early (n = 50) and late groups (n = 52) of LADG patients, operation time and postoperative hospital stay were shorter and number of retrieved lymph nodes was greater in the late group (p < 0.05). Major and minor complications were markedly reduced in the late group (p < 0.05).
Conclusions
Although LADG was more time consuming than ODG, it was a feasible, safe procedure that accomplished the oncological requirements. Postoperative morbidity of LADG was similar to that of ODG, and LADG led to faster postoperative recovery. However, LADG should be performed carefully to prevent unexpected complications, especially during the early learning period.
This is a preview of subscription content, log in to check access.
Access options
Buy single article
Instant access to the full article PDF.
US$ 39.95
Price includes VAT for USA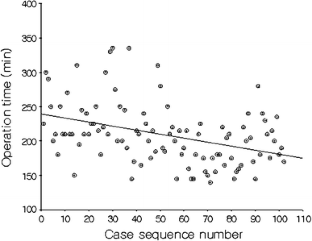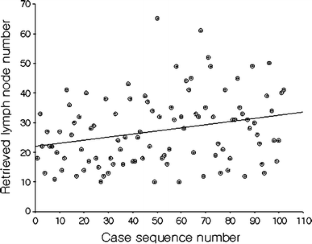 References
1.

Kitano S, Iso Y, Moriyama M, Sugimachi K (1994) Laparoscopy-assisted Billroth I gastrectomy. Surg Laparosc Endosc 4:146–148

2.

Goh PM, Alponat A, Mak K, Kum CK (1997) Early international results of laparoscopic gastrectomies. Surg Endosc 11:650–652

3.

Adachi Y, Shiraishi N, Shiromizu A, Bandoh T, Aramaki M, Kitano S (2000) Laparoscopy-assisted Billroth I gastrectomy compared with conventional open gastrectomy. Arch Surg 135:806–810

4.

Pugliese R, Maggioni D, Sansonna F, Scandroglio I, Ferrari GC, Di Lernia S, Costanzi A, Pauna J, de Martini P (2007) Total and subtotal laparoscopic gastrectomy for adenocarcinoma. Surg Endosc 21:21–27

5.

Varela JE, Hiyashi M, Nguyen T, Sabio A, Wilson SE, Nguyen NT (2006) Comparison of laparoscopic and open gastrectomy for gastric cancer. Am J Surg 192:837–842

6.

Fujiwara M, Kodera Y, Misawa K, Kinoshita M, Kinoshita T, Miura S, Ohashi N, Nakayama G, Koike M, Nakao A (2008) Long-term outcomes of early-stage gastric carcinoma patients treated with laparoscopy-assisted surgery. J Am Coll Surg 206:138–143

7.

Huscher CG, Mingoli A, Sgarzini G, Sansonetti A, Di Paola M, Recher A, Ponzano C (2005) Laparoscopic versus open subtotal gastrectomy for distal gastric cancer: five-year results of a randomized prospective trial. Ann Surg 241:232–237

8.

Kitano S, Shiraishi N, Uyama I, Sugihara K, Tanigawa N (2007) A multicenter study on oncologic outcome of laparoscopic gastrectomy for early cancer in Japan. Ann Surg 245:68–72

9.

Song KY, Park CH, Kang HC, Kim JJ, Park SM, Jun KH, Chin HM, Hur H (2008) Is totally laparoscopic gastrectomy less invasive than laparoscopy-assisted gastrectomy? Prospective, multicenter study. J Gastrointest Surg 12:1015–1021

10.

Fujiwara M, Kodera Y, Kasai Y, Kanyama Y, Hibi K, Ito K, Akiyama S, Nakao A (2003) Laparoscopy-assisted distal gastrectomy with systemic lymph node dissection for early gastric carcinoma: a review of 43 cases. J Am Coll Surg 196:75–81

11.

Jin SH, Kim DY, Kim H, Jeong IH, Kim MW, Cho YK, Han SU (2007) Multidimensional learning curve in laparoscopy-assisted gastrectomy for early gastric cancer. Surg Endosc 21:28–33

12.

Shimizu S, Noshiro H, Nagai E, Uchiyama A, Tanaka M (2003) Laparoscopic gastric surgery in a Japanese institution: analysis of the initial 100 procedures. J Am Coll Surg 197:372–378

13.

Fujiwara M, Kodera Y, Miura S, Kanyama Y, Yokoyama H, Ohashi N, Hibi K, Ito K, Akiyama S, Nakao A (2005) Laparoscopy-assisted distal gastrectomy with systemic lymph node dissection: a phase II study following the learning curve. J Surg Oncol 91:26–32

14.

Kim MC, Kim KH, Kim HH, Jung GJ (2005) Comparison of laparoscopy-assisted by conventional open distal gastrectomy and extraperigastric lymph node dissection in early gastric cancer. J Surg Oncol 91:90–94

15.

Lee JH, Kim YW, Ryu KW, Lee JR, Kim CG, Choi IJ, Kook MC, Nam BH, Bae JM (2007) A phase-II clinical trial of laparoscopy-assisted distal gastrectomy with D2 lymph node dissection for gastric cancer patients. Ann Surg Oncol 14:3148–3153

16.

Lee SI, Choi YS, Park DJ, Kim HH, Yang HK, Kim MC (2006) Comparative study of laparoscopy-assisted distal gastrectomy and open distal gastrectomy. J Am Coll Surg 202:874–880

17.

Nakajima T (2002) Gastric cancer treatment guidelines in Japan. Gastric Cancer 5:1–5

18.

Hyung WJ, Song C, Cheong JH, Choi SH, Noh SH (2005) Percutaneous needle decompression during laparoscopic gastric surgery: a simple alternative to nasogastric decompression. Yonsei Med J 46:648–651

19.

Yoo CH, Son BH, Han WK, Pae WK (2002) Nasogastric decompression is not necessary in operations for gastric cancer: prospective randomised trial. Eur J Surg 168:379–383

20.

Tanimura S, Higashino M, Fukunaga Y, Kishida S, Nishikawa M, Ogata A, Osugi H (2005) Laparoscopic distal gastrectomy with regional lymph node dissection for gastric cancer. Surg Endosc 19:1177–1181

21.

Clevin L, Grantcharov TP (2008) Does box model training improve surgical dexterity and economy of movement during virtual reality laparoscopy? A randomised trial. Acta Obstet Gynecol Scand 87:99–103

22.

Shiraishi N, Yasuda K, Kitano S (2006) Laparoscopic gastrectomy with lymph node dissection for gastric cancer. Gastric Cancer 9:167–176

23.

Hyung WJ, Song C, Cheong JH, Choi SH, Noh SH (2007) Factors influencing operation time of laparoscopy-assisted distal subtotal gastrectomy: analysis of consecutive 100 initial cases. Eur J Surg Oncol 33:314–319

24.

Kawamura H, Okada K, Isizu H, Masuko H, Yamagami H, Honma S, Ueki S, Noguchi K, Kondo Y (2008) Laparoscopic gastrectomy for early gastric cancer targeting as a less invasive procedure. Surg Endosc 22:81–85

25.

Hayashi H, Ochiai T, Shimada H, Gunji Y (2005) Prospective randomized study of open versus laparoscopy-assisted distal gastrectomy with extraperigastric lymph node dissection for early gastric cancer. Surg Endosc 19:1172–1176

26.

Lee JH, Han HS (2005) A prospective randomized study comparing open vs laparoscopy-assisted distal gastrectomy in early gastric cancer: early results. Surg Endosc 19:168–173

27.

Kunisaki C, Shimada H, Nomura M, Akiyama H (2001) Appropriate lymph node dissection for early gastric cancer based on lymph node metastases. Surgery 129:153–157

28.

Ryu KW, Kim YW, Lee JH, Nam BH, Kook MC, Choi IJ, Bae JM (2008) Surgical complications and the risk factors of laparoscopy-assisted distal gastrectomy in early gastric cancer. Ann Surg Oncol 15:1625–1631

29.

Joo YT, Moon HG, Lee SH, Jeong CY, Jung EJ, Hong SC, Choi SK, Ha WS, Park ST, Lee YJ (2007) Laparoscopy-assisted distal gastrectomy with intracorporeal Billroth I stapled anastomosis using a hand access device for patients with gastric cancer. Surg Endosc 21:859–862

30.

Yoo CH, Noh SH, Shin DW, Choi SH, Min JS (2000) Recurrence following curative resection for gastric carcinoma. Br J Surg 87:236–242
About this article
Cite this article
Yoo, C.H., Kim, H.O., Hwang, S.I. et al. Short-term outcomes of laparoscopic-assisted distal gastrectomy for gastric cancer during a surgeon's learning curve period. Surg Endosc 23, 2250–2257 (2009). https://doi.org/10.1007/s00464-008-0315-0
Received:

Revised:

Accepted:

Published:

Issue Date:
Keywords
Laparoscopic surgery

Gastric cancer

Gastrectomy

Complications

Learning curve