Abstract
Background
Leaks of the esophagus are associated with a high mortality rate and need to be treated as soon as possible. Therapeutic options are surgical repair or resection or conservative management with cessation of oral intake and antibiotic therapy. We evaluated an alternative approach that uses self-expandable metallic stents (SEMS).
Methods
Between 2002 and 2007, 31 consecutive patients with iatrogenic esophageal perforation (n = 9), intrathoracic anastomotic leak after esophagectomy (n = 16), spontaneous tumor perforation (n = 5), and esophageal ischemia (n = 1) were treated at our institution. All were treated with endoscopic placement of a covered SEMS. Stent removal was performed 4 to 6 weeks after implantation. To exclude continuous esophageal leak after SEMS placement, radiologic examination was performed after stent implantation and removal.
Results
SEMS placement was successful in all patients and a postinterventional esophagogram demonstrated full coverage of the leak in 29 patients (92%). In two patients, complete sealing could not be achieved and they were referred to surgical repair. Stent migration was seen in only one patient (3%). After removal, a second stent with larger diameter was placed and no further complication occurred. Two patients died: one due to myocardial infarction and one due to progressive ischemia of the esophagus and small bowl as a consequence of vascular occlusion. Stent removal was performed within 6 weeks, and all patients had radiologic and endoscopic evidence of esophageal healing.
Conclusions
Implantation of covered SEMS in patients with esophageal leak or perforation is a safe and feasible alternative to operative treatment and can lower the interventional morbidity rate.
This is a preview of subscription content, log in to check access.
Access options
Buy single article
Instant access to the full article PDF.
US$ 39.95
Price includes VAT for USA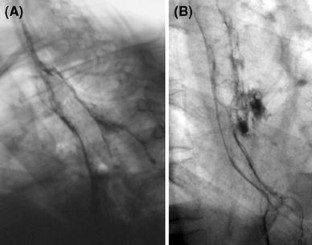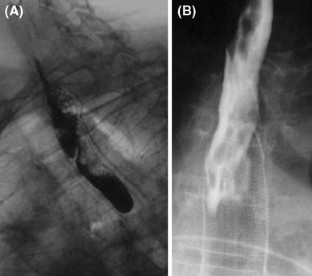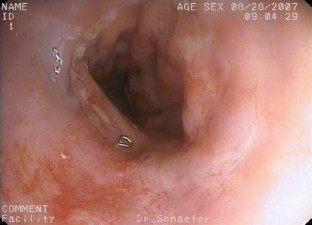 References
1.

Blewett CJ, Miller JD, Young JE, Bennett WF, Urschel JD (2001) Anastomotic leaks after esophagectomy for esophageal cancer: a comparison of thoracic and cervical anastomoses. Ann Thorac Cardiovasc Surg 7:75–78

2.

Hofstetter W, Swisher SG, Correa AM, Hess K, Putnam JB Jr, Ajani JA, Dolormente M, Francisco R, Komaki RR, Lara A, Martin F, Rice DC, Sarabia AJ, Smythe WR, Vaporciyan AA, Walsh GL, Roth JA (2002) Treatment outcomes of resected esophageal cancer. Ann Surg 236:376–385

3.

Frimberger E (1983) Expanding spiral: a new type of prosthesis for the palliative treatment of malignant esophageal stenoses. Endoscopy 15(Suppl 1):213–214

4.

Fischer A, Thomusch O, Benz S, von Dobschuetz E, Baier P, Hopt UT (2006) Nonoperative treatment of 15 benign esophageal perforations with self-expandable covered metal stents. Ann Thorac Surg 81:467–472

5.

Peters JH, Craanen ME, van der Peet DL, Cuesta MA, Mulder CJ (2006) Self-expanding metal stents for the treatment of intrathoracic esophageal anastomotic leaks following esophagectomy. Am J Gastroenterol 101:1393–1395

6.

Freeman RK, Van Woerkom JM, Ascioti AJ (2007) Esophageal stent placement for the treatment of iatrogenic intrathoracic esophageal perforation. Ann Thorac Surg 83:2003–2008

7.

Johnsson E, Lundell L, Liedman B (2005) Sealing of esophageal perforation or ruptures with expandable metallic stents: a prospective controlled study on treatment efficacy and limitations. Dis Esophagus 18:262–266

8.

Hunerbein M, Stroszczynski C, Moesta KT, Schlag PM (2004) Treatment of thoracic anastomotic leaks after esophagectomy with self-expanding plastic stents. Ann Surg 240:801–807

9.

Kauer WK, Stein HJ, Dittler HJ, Siewert JR (2008) Stent implantation as a treatment option in patients with thoracic anastomotic leaks after esophagectomy. Surg Endosc 22:50–53

10.

Schubert D, Scheidbach H, Kuhn R, Wex C, Weiss G, Eder F, Lippert H, Pross M (2005) Endoscopic treatment of thoracic esophageal anastomotic leaks by using silicone-covered, self-expanding polyester stents. Gastrointest Endosc 61:891–896

11.

Gelbmann CM, Ratiu NL, Rath HC, Rogler G, Lock G, Scholmerich J, Kullmann F (2004) Use of self-expandable plastic stents for the treatment of esophageal perforations and symptomatic anastomotic leaks. Endoscopy 36:695–699

12.

Freeman RK, Ascioti AJ, Wozniak TC (2007) Postoperative esophageal leak management with the Polyflex esophageal stent. J Thorac Cardiovasc Surg 133:333–338

13.

DeMeester TR (1986) Perforation of the esophagus. Ann Thorac Surg 42:231–232

14.

Alanezi K, Urschel JD (2004) Mortality secondary to esophageal anastomotic leak. Ann Thorac Cardiovasc Surg 10:71–75

15.

Brinster CJ, Singhal S, Lee L, Marshall MB, Kaiser LR, Kucharczuk JC (2004) Evolving options in the management of esophageal perforation. Ann Thorac Surg 77:1475–1483

16.

Siersema PD (2005) Treatment of esophageal perforations and anastomotic leaks: the endoscopist is stepping into the arena. Gastrointest Endosc 61:897–900

17.

White RE, Mungatana C, Topazian M (2003) Expandable stents for iatrogenic perforation of esophageal malignancies. J Gastrointest Surg 7:715–720

18.

Bethge N, Kleist DV, Vakil N (1996) Treatment of esophageal perforation with a covered expandable metal stent. Gastrointest Endosc 43(2 Pt 1):161–163

19.

Muir AD, White J, McGuigan JA, McManus KG, Graham AN (2003) Treatment and outcomes of oesophageal perforation in a tertiary referral centre. Eur J Cardiothorac Surg 23:799–804

20.

Wadhwa RP, Kozarek RA, France RE, Brandabur JJ, Gluck M, Low DE, Traverso LW, Moonka R (2003) Use of self-expandable metallic stents in benign GI diseases. Gastrointest Endosc 58:207–212

21.

Low DE, Kozarek RA (2003) Removal of esophageal expandable metal stents: description of technique and review of potential applications. Surg Endosc 17:990–996

22.

Siersema PD, Homs MY, Haringsma J, Tilanus HW, Kuipers EJ (2003) Use of large-diameter metallic stents to seal traumatic nonmalignant perforations of the esophagus. Gastrointest Endosc 58:356–361
About this article
Cite this article
Leers, J.M., Vivaldi, C., Schäfer, H. et al. Endoscopic therapy for esophageal perforation or anastomotic leak with a self-expandable metallic stent. Surg Endosc 23, 2258–2262 (2009). https://doi.org/10.1007/s00464-008-0302-5
Received:

Revised:

Accepted:

Published:

Issue Date:
Keywords
Intrathoracic esophageal leak

Self-expandable metallic stent

Esophageal perforation

Anastomotic leak

Esophagus